India Tablet Market recorded 0.78 Mn unit shipments in 2Q 2018
4G Tablet shipments recorded 41% sequential growth.
Price band (20K-30K) clocks 49% sequential increase in 2Q CY2018
New Delhi/Gurugram, 27 Aug 2018: India's Tablet PC Market witnessed 4% decline in 2Q CY2018 compared to 1Q CY2018, according to CMR's Tablet PC Market Report Review for 2Q 2018.
According to Menka Kumari, Analyst-IIG, CyberMedia Research, "The retail market saw a decline in 1Q 2018. However, the decline was offset by the continued demand from the corporate and government fronts."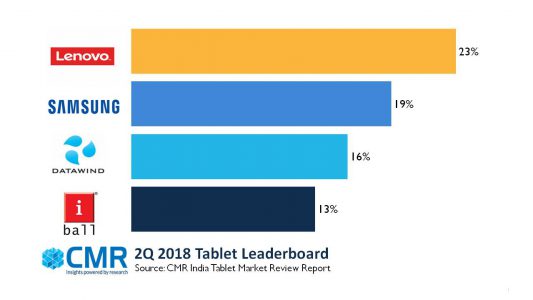 The tablet market currently is dominated by Lenovo, Samsung, and Datawind.
"60% of Lenovo tablets are 4G versions now, which is preferred by majority of the buyers. Major deals from the educational institutions like IIT, MIIT, Anna college in Tamil Nadu and UP respectively has helped Lenovo to maintain the lead in the tablet market in 2Q CY2018. A good number of tablets these days are being used for keeping attendance records in education institutions. Besides the education sector, the tablets are being used in animal husbandry and health department," added Menka.
Samsung is repeating its older strategy in B2B and has not launched any new model this quarter. Samsung as of now is betting on BFSI and government sector deals. The market for Datawind has been declining slowly in the last couple of quarters.
The launch of iPad 6 Gen has boosted Apple's sale in the current quarter in the education sector and helped the vendor to clock 82% growth over the past quarter.
Future Outlook
"The smartphone market has already been overtaken by 4G and in the coming quarter it is likely to happen in the tablet market as well. BFSI, Pharmaceutical, and hospitality sector will continue to use tablets which will not only increase the sales of the devices in these sectors but will eventually grow the overall tablet market as well. The retail market, on the other hand, has been slowing down and hence, needs to be more aggressive in the coming quarters," added Menka.
****
Notes for Editors
This release is based on the CyberMedia Research (CMR) India Quarterly Tablet PC Market Review published at the conclusion of every calendar quarter.
The figures captured are of both enterprise and consumer shipments.
CyberMedia Research (CMR) uses the term 'shipments' to describe the number of Tablets leaving the factory premises for OEM sales or stocking by distributors and retailers. For the convenience of media, the term 'shipments' is sometimes replaced or used interchangeably with "sales" in the press release, but this reflects the market size in terms of units of Tablets and not their absolute value. In the case of Tablets imported into the country it represents the number leaving the first warehouse to OEMs, distributors and retailers. CyberMedia Research does not track the number of Tablets brought on their person by individual passengers landing on Indian soil from overseas destinations or 'grey' market Tablets (if any).
For queries, and more information on CMR's Tablet Report, please contact Amit Sharma at +919650453646 or asharma@cmrindia.com
About CMR
CMR offers industry intelligence, consulting and marketing services, including but not limited to market tracking, market sizing, stakeholder satisfaction, analytics and opportunity assessment studies.
Its bouquet of consulting services includes incubation advisory, go-to-market services, market mapping and scenario assessment services. CMR is servicing domestic as well as international clientele in India and few global destinations. The clientele serviced represents SMBs, Large Enterprises, Associations and Government. CMR's core value proposition encompasses a rich portfolio of syndicated reports and custom research capabilities across multiple industries, markets and geographies.
A part of CyberMedia, South Asia's largest specialty media and media services group, CyberMedia Research (CMR) has been a front-runner in market research, consulting and advisory services since 1986. CMR is an institutional member of Market Research Society of India (MRSI).