Traditional IT can no longer support the growing business demands of the digital era. Chander Khanduja, CIO, Luminous Power Technologies, speaks to Anil Chopra, VP-Research and Consulting, CMR about how IT should be managed in the digital era for organizations to be successful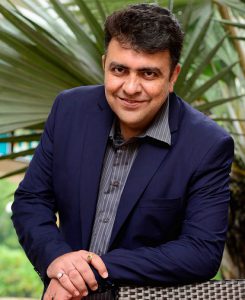 Luminous, a Schneider Electric company, is a leading manufacturer of power solutions and home electrical products in the country. The company was primarily into inverters and batteries, but after having thrived in the domain, it ventured into fans, switches, wires, LED lighting, stabilizers and solar solutions. This obviously happened on a solid backdrop of IT and digital technologies. Both IT and business have to go hand-in-hand to enable such solid growth.
Chander Khanduja, CIO, Luminous Power Technologies, speaks to Anil Chopra, VP-Research and Consulting, CMR about how IT should be managed in the digital era for organizations to be successful.
Excerpts…
What changes do you see in the market and how are they impacting IT's functioning?
Chander: For every organization, last 3 years have been a journey from IT enablement to becoming a digital partner. So, people who used to talk about hardware, software, etc. have started talking about cloud, mobility, AI, RPA, bots, IoT, etc. now. This is a transition and the entire landscape has changed, where it's no longer about what tech is doing to organizations, but rather what is your consumer demanding from you.
Consumers have become digitally savvy and want power in their hand. They feel that they should be able to get everything they want on their mobile. So, organizations must look at this as a greater need and start creating customer delight, whether in terms of offering the right product at the right time or offering the right service, or creating the right platform for them to reach you, or to create the right kind of experience through the customer's ordering journey.
All these aspects have forced organizations to look at various pieces of technologies, whether AI for doing consumer sensitivity analysis or in manufacturing to reduce faults, or in using bots to enhance the consumers' journey in terms how they interact with the company, or RPA to not only enhance consumer experience but also ops efficiency in the entire eco-chain.
How has the CIO's role changed considering this transition?
Chander: Most CIOs have transitioned from keeping the lights on in the data center to 'how to make the lights blink'. Keeping lights on is being outsourced in a big way because it doesn't add much value to a CIOs' role. Once CIOs start looking at how to add value, the entire thought process changes, so instead of maintaining server uptime or ensuring software SLAs, they start looking at other areas like how to re-define internal and external processes. Then those re-defined processes can be translated into a digital journey. So, it's no longer about technology here, but rather working with the business teams to identify non-value ad processes, creating new ones along with the right digital eco-system to run them.
In such a role, technology becomes just a byproduct, for which CIOs need not be tech wizards. They just need to be aware of tech and master the art of understanding business issues. That's because implementing technology is the easy part. The difficulty lies in implementing it to get the right kind of returns not only in terms of RoI, but also in terms of KPIs that ensure customer delight. This capability differentiates a traditional CIO from a modern-day CIO.
Since digital is the base in every organization's journey, shouldn't CIOs actually have to know a lot of tech, instead of being just tech aware?
Chander: CIOs are a little lucky in that sense because we're living in digital times. Most people sitting in board rooms understand the power of mobile. Even if they don't have a physical wallet, they know how to go around the world using just their mobile. Earlier you were required to carry your license or car's registry, but now, simply download the mParivahan app and put everything on your mobile. Earlier, it was difficult for CIOs to even taken an approval for a new firewall because businesses never appreciated the need for it. Today everyone understands what cyber threats are and what digital is, so the job has become very easy. Now, CIOs should know that they understand the business pains and how to resolve them.
With organizations focusing more on bringing consumer delight using tech, what should be the role of CIOs and CDOs to enable this? How has your own organization's journey been?
Chander: Any CIO or CDO typically looks at internal customers because IT serves all departments in the organization. Progressive CIOs and CDOs however, ensure satisfaction not only for internal customers but external stakeholders as well, like customers, suppliers, distributors, etc. They create an eco-system to address both needs because they see how everything is getting interlinked today. This is where digital experience comes in. Progressive and mature CIOs have started realizing this.
Regarding our own journey, connected products, processes, people, and plants are all important parts of our journey. There are various initiatives around that which are giving us a leading edge. Some of our IoT connected products are already available in the market, like the Connected Solar Inverter that's on IOT platform. IT involvement starts from the identifying technology to control and support the device, like putting in an edge device, enabling a cloud platform, creating mobile application, etc. This is so that the entire journey is smoothly integrated. There are many other initiatives in our digital journey.
What are the new challenges faced by IT leaders and CIOs nowadays?
Chander: CIOs are fighting a battle with themselves only, where they're unsure of the results that implementing a new technology would get. So one learning here is not to implement a technology that a vendor tries to sell you because they will make excellent presentations to convince you that their tech is the best. This is a major challenge because there's a new tech coming out every day and the vendor will show you the moon whether or not it has matured. New age IT leaders have to judge whether the tech will solve a business problem, and for how many of years.
How have management expectations changed from CIOs? Do they for instance, expect CIOs to also help in penetrating new markets?
Chander: IT has a role to play everywhere now. To enter a new market, IT has to decide how to create an effective B2C platform and what should be the consumer's journey on it. No new customer acquisition initiatives can be taken without keeping digital in mind. Here, the role is not only to help in new customer acquisition, but to extend existing customer to new products.
Is a re-architecture of tech required, considering that CIOs have a different role to play now, with customers interacting over so much data channels and so much data being generated?
Chander: This is an answer between structured and unstructured data. There's so much happening around the world in tech that It's not possible to have a single tech base initiative running in an organization. What you can ensure however is that anything that's being implemented is a part of your Big Data architecture. If that's not there, then the real power of that initiatives gets diluted and limited to a particular function.
On the skillset part, the core IT team must possess business knowledge and have the ability to manage the projects. The tech delivery has to be taken care of by an outsourced team.
How do you see IT moving in the next 2-3 years?
Chander: IT has already moved in the last two years. Now, what I see is a challenge for IT in trying to break the barriers and move from IT enablement to becoming digital disruptors. This is difficult because traditionally IT is seen as a backroom function, so in order for IT to become a digital disruptor, both internal and external challenges must be handled. So in the next two years, CIOs will require a lot of patience to become digital leaders.
Many progressive organizations are very clear that they don't want highly tech savvy IT leaders, but rather people who can create their digital eco-system.