Majority of the mobile handsets are now being manufactured in India at CKD level
Three Homegrown brands including Reliance Retail's Jiophone, Lava and, surprisingly Micromax featured in the top 5 leaderboard
Multi-camera smartphones grew by 70% in 3Q 2018
New Delhi/Gurugram, 31 October 2018: According to CMR's India Mobile Handset Market Review Report for 3Q 2018, India mobile handset market recorded 9% sequential growth during the quarter. Smartphones grew sequentially by 29% where as Feature phone shipments improved by 24%. Fusion phones witnessed sequential decline of 41% .
Make in India boosting CKD-level manufacturing
Make in India program is contributing to significant rise in domestic manufacturing of mobile handsets.
According to Prabhu Ram, Head – Industry Intelligence Group (IIG), CMR, "As of 3Q 2018, local manufacturing has now seen a significant boost, with almost 94% being manufactured in India. CKD level manufacturing constitutes almost half of the overall market. Major smartphone brands such as Oppo, Vivo, Xiaomi have moved largely to SMT. Reliance Retail Jiophone also entered into SMT production in 3Q 2018.  Among domestic players, Lava has the major share in SMT production."
The contribution of Indian domestic smartphone brands has increased sequentially by 2.5X during 3Q 2018. Micromax's deal with Chhattisgarh Government to supply 5 million Smartphones has given it a fillip. If other Indian States were to follow suit, domestic smartphone players would see some positive tailwinds to return to growth, over the long-term. In 3Q 2018, CKD level manufacturing has surpassed SKD manufacturing.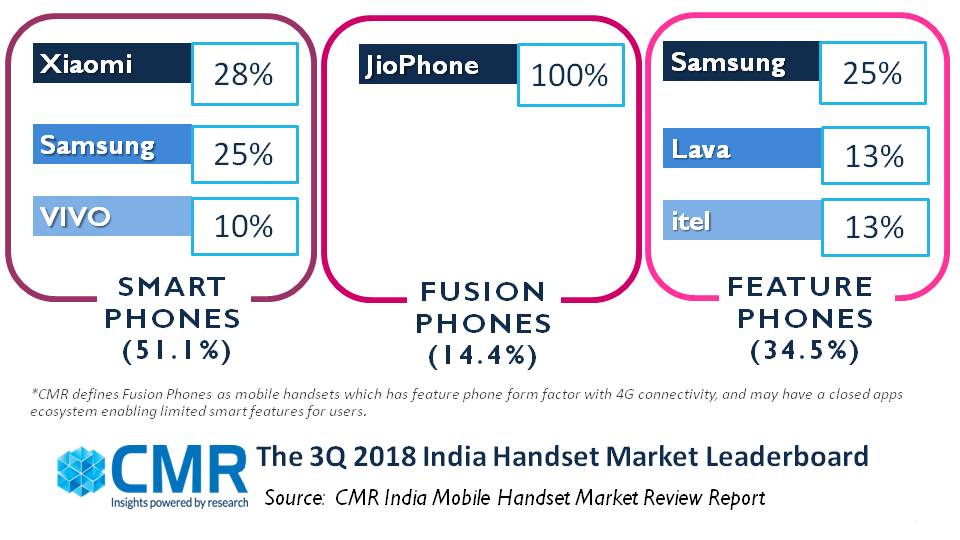 Booming Festive Season Sales
During the quarter, many smartphone brands went for aggressive launches, and contributing to the decreasing shelf-life of smartphone models.
According to Narinder Kumar, Lead Analyst, IIG-CMR, "3Q 2018 saw sharp growth in Smartphones as well as feature phones meant for festive season. Highly competitive smartphone market witnessed traction towards online sales supported by online sales with attractive discounts, buy back offers and financing schemes in October."
Multi-camera Smartphones rising                
During 3Q 2018, multi-camera Smartphones came to the fore, with primary multi-camera mobiles growing by 70% during the quarter.
"From a technology perspective, it is interesting to see the spurt in multi-camera Smartphones. With all things equal, smartphone brands are turning to multi-cameras as a unique proposition to attract buyers. We anticipate growth in multi-camera Smartphones to constitute half of all smartphones shipped in India by end-2018," said Anand Singh, Analyst, IIG-CMR.
****
Notes to Editor:
The Fusion Phones Segment is a new classification introduced by CMR to define mobile handsets that have a feature phone interface, possess 4G connectivity, and have a closed apps ecosystem enabling smart features for users.
About CMR India Mobile Handset Review Report
The CMR Mobile Handset Review Report is based on CMR's research methodology and proprietary tools, covering >100 unique datasets, and delivered to CMR clientele. The report is available in monthly, quarterly and half-yearly formats. The report deliverables include top-line findings and summary snapshot for India market in powerpoint, and in a user-friendly excel format. For more information on CMR's Mobile Handset Report, please contact Prabhu Ram at +91 9899440380 or pram@cmrindia.com