In line with previous insights from CMR, the 3Q'2016 for Mobile Handset Industry in India ended with a strong reaffirmation of the fact that it would take a longer than expected time for India to become a Smartphone-only market. Feature Phones still form about 59% of the overall market and can't be wiped off anytime soon.
New Delhi/Gurugram: CMR's India Monthly Mobile Handset Market Review Report for 3Q 2016 revealed today that by the end of September 2016, India shipped 197.5 million mobile handsets, of which 78.4 million were alone shipped during the third quarter of the calendar year.  (Read CMR expects shipments to cross 75 million for the first time in India in 3Q 2016).
The report pegs shipments to clock 265 million by the year end, of which 116 million would be Smartphones.
Commenting on the major trends witnessed, Faisal Kawoosa, Principal Analyst for Telecoms at CMR said, "All these years, Smartphone makers have been focusing on making the handsets affordable for more and more hands-on experience. This has paid off well, but cannot promise continuous sustainable growth for Smartphones in the country.  Time has come when the things need to be looked at holistically and increase the relevance of Smartphones in the lives of wider user base.  That will spur the era of next growth for Smartphones."
Faisal further added, "There is a mismatch between the technology road-map and the user priorities.  While the ecosystem is working on to make data services more affordable, accessible and meaningful for the subscribers, the majority is still looking for a reliable voice communications.  This is forcing even a future ready network like Jio to work on innovative models of launching Volte-enabled 4G Featurephones to tap the voice potential.  For this no single entity in the ecosystem is to be blamed, but we have to share the responsibility collectively."
Going forward, the report cautions that while the handset vendors in particular have a pivotal role in 'Connecting India', there is an immediate need for them to 'Connect with India' as well and understand the requirements of the users to align their product roadmaps with the expectations of actual users.
Leadership Board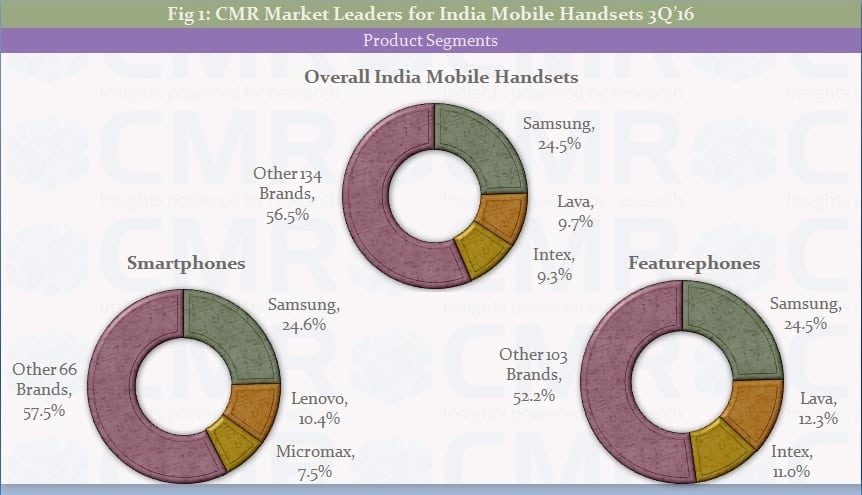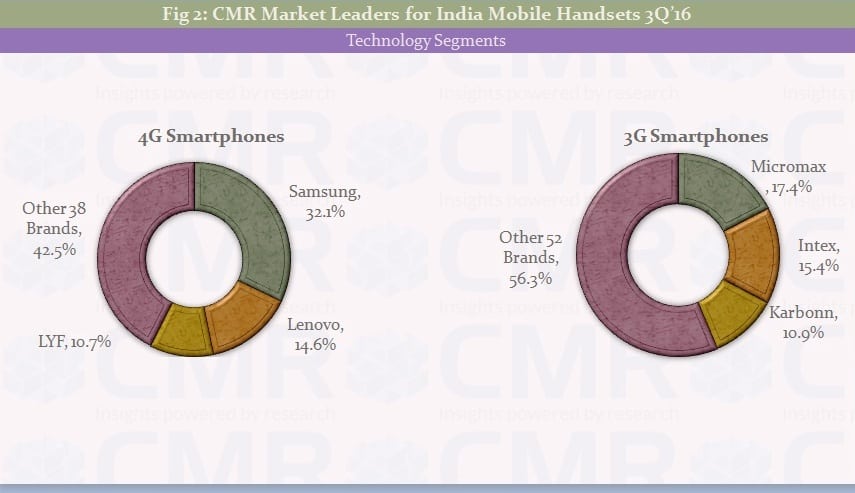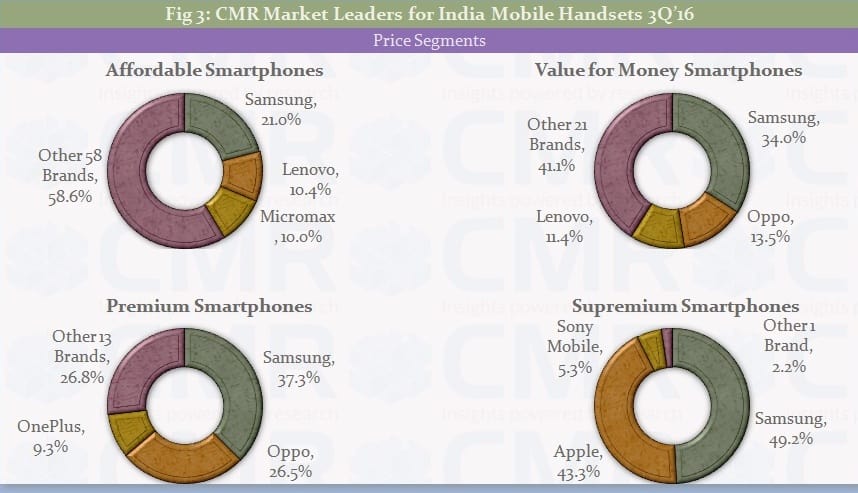 Other Highlights
66% of the phones in 3Q were Made in India.
Every 2nd 4G Smartphone shipped during 3Q 2016, using 3rd party chipset solution had a Qualcomm Chipset.
A total of 137 brands shipped Mobile phones, of which 69 shipped Smartphones.
83% of the 4G Smartphones shipped supported Volte.
Over 98% of the Smartphones were using Google's Android OS with more than 25% preloaded with Android 6 (Marshmallow).
Close to half a percent of the Smartphones had 6 GB of RAM, while 32% (majority) were shipped with 1 GB RAM.  3 GB also picking up fast.
Nearing 64% of the Smartphones were quad core, while 29% had a processor with clock rate of 1.3 GHz.
66% of the Smartphones shipped were Phablets.
NOTES TO EDITORS
This release is a part of the CyberMedia Research (CMR) Smart Mobility Market Review Programme.
CyberMedia Research (CMR) uses the term "shipments" to describe the number of handsets leaving the factory premises for OEM sales or stocking by distributors and retailers. For the convenience of media, the term shipments is sometimes replaced by 'sales' in the press release, but this reflects the market size in terms of units of mobile handsets and not their absolute value. In the case of handsets imported into the country it represents the number leaving the first warehouse to OEMs, distributors and retailers. CyberMedia Research does not track the number of handsets brought on their person by individual passengers landing on Indian soil from overseas destinations or 'grey market' handsets. These are, therefore, not part of the CyberMedia Research numbers reported here.
CyberMedia Research (CMR) tracks shipments of mobile handsets on a monthly basis. However, as per convention, the market size is reported on a calendar quarter basis where appropriate to the context; in all such cases this refers to an aggregated number for the three calendar months in the quarter to which the press release refers.
As per CMR, Smartphones up to INR 10,000 are categorized as 'Affordable Smartphones'; INR 10,000 – 20,000 as 'Value for Money' Smartphones; INR 20,000 – 50,000 as 'Premium Smartphones' and above INR 50,000 as 'Supremium' (Super Premium) smartphones.