New Delhi/Gurugram, 3 Feb 2020:  According to CMR's India Mobile Handset Market Review Report for Q4 2019 released today, CMR forecasts pin 5G smartphone sales in India to potentially top 144Mn by 2025.
According to Prabhu Ram, Head-Industry Intelligence Group (IIG), CMR, "In 2020, India will see the first wave of 5G devices from leading smartphone OEMs, mostly Chinese, aiming to establish their 5G leadership early. We anticipate around 10-12 5G smartphone models to hit the market during the year. While 5G shipments will remain nascent, for early tech adopters, it represents more choices, than before."
In CY2020, the first wave of 5G smartphones will appear in India and will contribute to roughly 1% of the shipment volumes. This will be primarily driven by a hypercompetitive market conditions, with smartphone OEMs aiming to establish their market leadership early.
"With the onset of 5G, the field of play will get increasingly limited for Indian brands. Unless they start investing, and upscaling their R&D and innovation efforts around 5G, they will be further marginalized," added Prabhu.
Q4 CY 2019 Highlights
In Q4 2019, the smartphone market grew by 3% in India, while feature phones declined by a whopping 40%. Xiaomi remained at the top of the smartphone leaderboard, while vivo dethroned Samsung. In the feature phone segment, itel finished at the top (22%), followed by Lava (18%), and Samsung at third place (13%).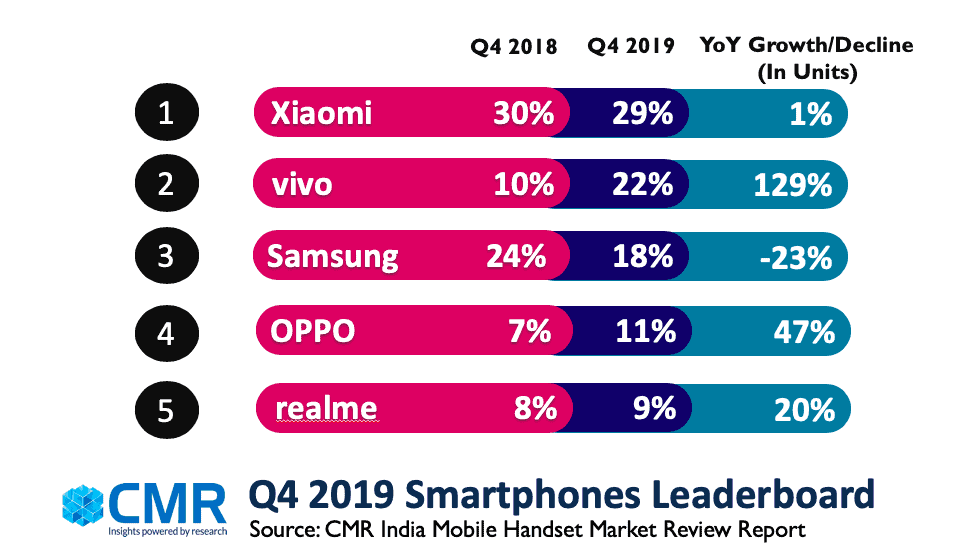 Commenting on the Q4 2019 trends, Kanika Jain, Analyst-Industry Intelligence Group (IIG), CMR, "Historically, the  fourth quarter remains a point of slower growth for the mobile handset industry as it coincides with the end of festive season in India. The overall market in Q4'19 declined by 14% QoQ, as compared to 3Q'19. While the featurephone market decreased by 7%, smartphone market declined by 18%." 
CY 2019 Highlights
In CY2019, the India smartphone market grew at 7%, with the top five smartphone vendors now accounting for 86% of the smartphones shipped in India.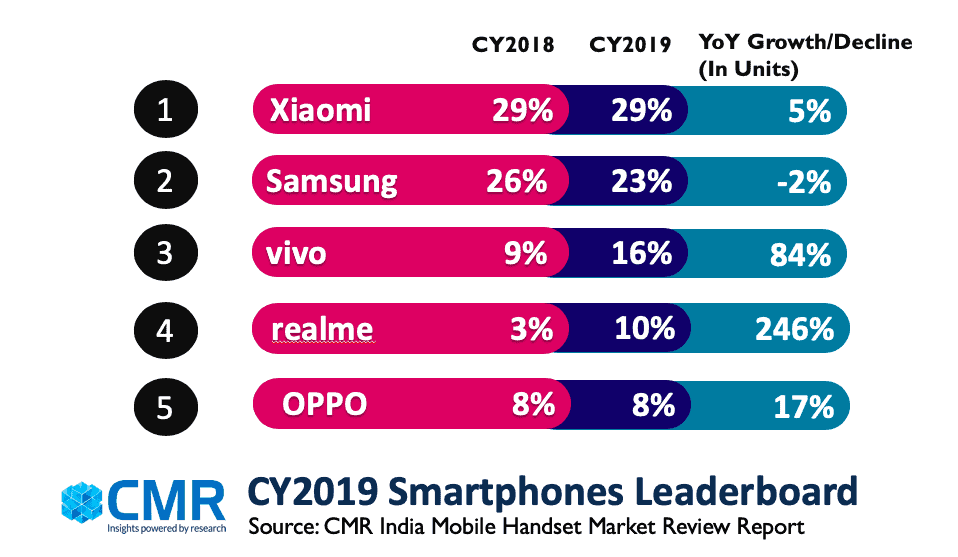 "In the year ahead, Xiaomi has to execute its new multi-brand strategy in India well for it to take the BBK Group onslaught head-on. In 2019, the BBK Group brands, including realme (246%), vivo (84%) and OnePlus (54%) were amongst the fastest-growing smartphone brands," commented Anand Priya Singh, Analyst, Industry Intelligence Group.
CY2019 – Key Market Highlights
Xiaomi remained the smartphone market leader in CY2019, growing 5% YoY, driven by its successful Redmi Note series. In 2020, Xiaomi will have to develop creative market strategies to hold on its existing user base, as well as look at acquiring new ones. Specifically, with its new multi-brand strategy it must ensure avoiding cannibalization within the group's product portfolio.
Samsung saw its smartphone market share decline by -2% YoY in CY2019. In the year ahead, it would need to intensify its market approach, by targeting various consumer personas with aggressively priced new devices.
vivo had an impressive YoY growth of 129% in Q4 2019, and 84% annually, driven by the S and Y series.
OPPO grew 47% YoY in Q4 2019, on the back of its successful A series. With its Reno series, OPPO is now scaling the price band, and competing in the premium smartphone segment.
realme enjoyed a YoY growth of 246%, and made possible by its strong product portfolio that brought forth industry-leading specs at aggressive value for money pricepoints, and backed by a strong market push.
Apple had a YoY growth of 84% in Q4 2019, and its shipments grew by 17% in 2019.  Increased local manufacturing, prudent pricing and refined go-to-market strategies helped Apple attain market success. In 2020, Apple is potentially slated for a breakout performance in India with its strong product portfolio, online and offline retail forays, and Make in India moves.
"All said, the shadow of coronavirus looms large on the Indian smartphone industry.  China accounts for almost 85% of the mobile phone components imported into India. If the coronavirus-infected lockdown in China continues, it will spell serious trouble for smartphone brands in India in H1 2020, and potentially even beyond," cautioned Prabhu.