Samsung, Itel and Xiaomi are the top market players with 27%, 9% and 6% market shares, in terms of volume, respectively.
India's Mobile Handsets Market touches revenues of INR 346,295 million in Q1′ CY 2017, down 8% sequentially QoQ.
Tertiary sales recoup after demonetization towards the end of first quarter.
It was all about LOVE (Lenovo, Oppo, Vivo and Xiaomi) versus MILK (Micromax, Intex, Lava and Karbonn) brands in 1Q' CY 2017.
In terms of revenue, Chinese brands contributed 49% (Overall Mobile Handsets) and 51% in only smartphones, while global handset makers made up to 40% share (Overall Mobile Handsets ) and 41% in smartphones.
Gurugram/New Delhi: According to CMR's India Quarterly Mobile Handset Market Review, 1Q' CY 2017, the industry hit revenues of INR 346,295  million, recording an eight per cent decline over the previous quarter.
The revenues of Chinese vendors grew 180% in 1Q' CY 2017 as against the same quarter last year. In volume terms, these vendors captured 40% of the market during the quarter and in value terms, about 49% of the market was invaded. About 57 million mobile handsets were sold (shipped) in India, recording a fall of about 11% over Q4' CY 2016.The market saw an aggressive war between LOVE (Lenovo, Oppo, Vivo, Xiaomi) and MILK (Micromax, Intex, Lava and Karbonn) brands, big fours of Chinese and Indian brands.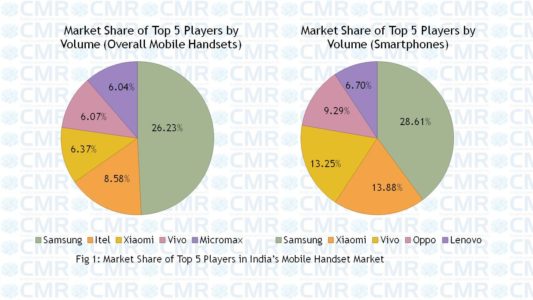 According to Krishna Mukherjee, Telecom Analyst with CMR, "In the smartphone arena, the Chinese brands have already kicked out domestic players from the top five list and in the near future, we will see Chinese players wiping out the Indian brands from the top five chart of overall mobile handset segment too. We can't deny the fact that in the next quarter we may see that happening. For the first time in 33 quarters that might happen. Since 2009, brands like Micromax and Intex have shown their presence in the top five list."
In terms of revenues, the ranking of some of the players is undergoing a change. In 1Q' CY 2016, Samsung, Apple, Micromax, Lenovo and Intex were the top five players with 35.2%, 10%, 9.7%, 8.3% and 6.5% market shares, respectively.  While, during 1Q' CY 2017, Samsung, Xiaomi, Vivo, Oppo and Apple were the top players with 29%, 11.7%, 11.5%, 10.6% and 8.8%, market shares, respectively.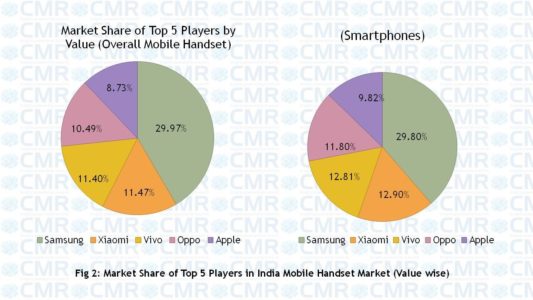 At present, there are about 151 OEMs and Samsung India Electronics topped the list during Q1, CY 2017 with 29% share, followed by Rising Stars and Shenzhen Tecno with 8.08% and 7.53% shares, respectively. However, in the smartphone space , the number third rank is bagged by Vivo Mobile India followed by GDN Enterprises.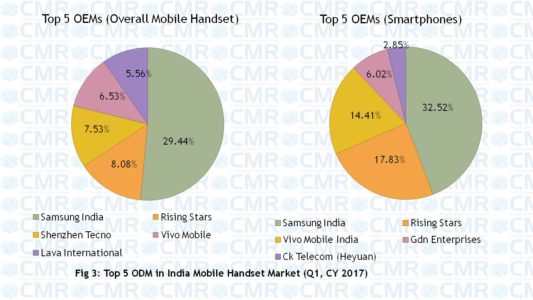 According to Narinder Kumar, Telecom Analyst with CMR, "Market consolidation in the number of overall brands operating in India took a temporary pause in 1Q' CY 2017. It witnessed decline in number of OEMs which was to the tune of 20% for Indian OEMs as well as Foreign OEMs. Shipments from Foreign OEMs declined sequentially by 40% in 1Q' CY 2017. In the future, we will further see consolidation in number of OEMs for Indian mobile handset market. Contract manufacturers in India like Rising Stars and GDN Enterprises will see growth in the coming quarters."
CMR's Guidance
The Indian Mobile Handset Market is estimated to be at around 65 million units in the second quarter, and the growth will come from replacement/upgrade market that would continue to benefit the Chinese brands. As this would be the last quarter before GST is implemented, a lot of push by way of schemes and offers from various handset makers is expected during the quarter.
 For Market Leader Samsung
The impact of the growing cult of Chinese brands will continue to be minimal on the market leader.  The biggest thing to watch for would be the success of flagship S8. As Chinese brands intensify strengthening their offline channels, Samsung will leverage the most as it will take a long time for them to replicate the strengths of Samsung in Offline selling mode where it has been managing the distribution, presence and other factors for over a decade now.
LOVE Vs MILK Brands
Overall LOVE (Lenovo-Oppo-Vivo-Xiaomi) brands have been mono-channel brands, offering great value for money with aggressive marketing on top.  The success in the transition to Omni-channel would be a key factor for them to maintain their standing in the market with internal competition intensifying.  At the same time, what Oppo did a couple of years back, has been recently replicated by Vivo considerably and such marketing strategies have had a direct bearing on the market standings. The biggest challenge for LOVE brands would be to sustain such a campaign through all the quarters and at the same time, not enter each others' territories resulting in internal competition. While they were affecting Indian brands' market share for a while, now we are at the cusp of seeing them eating into each other's market share.
 Lenovo: Lenovo MBG has to now come out clear with strategies for Lenovo and Motorola portfolios.  There isn't enough clarity in the market about positioning of the two portfolios. Further, as other Chinese brands are rapidly increasing their standing in the market, Lenovo needs to intensify the aggression.
 Oppo: Oppo was the first to project Cameras, including Selfies, as the trendsetter as well as building an Offline network aggressively.  But these have been replicated fast by other competing brands.  The challenge for Oppo now would be to create a new threshold, which can't be replicated easily.
 Vivo: Vivo has been the anchor brand in terms of marketing in the first quarter.  It has also leveraged on the cricket season so far.  It needs to be observed whether it can withhold the same intensity to maintain its market standing as it brings the marketing activities to a normal level.
 Xiaomi: Xiaomi needs to exhibit its competencies in newer areas as it graduates to an Omni-Channel brand.  Establishing the Offline Mi-Homes as well as getting into conventional marketing techniques would be the two primary areas to watch out for.
Quarter on quarter we are witnessing the MILK (Micromax-Intex-Lava-Karbonn) brands not being able to leverage any of the anchors they enjoyed over the years. Be it establishing themselves across the country or becoming the first choice for first time mobile (Feature as well as Smart) users, the brands have not been able to support a consumer's journey. While they could not have matching marketing campaigns as their Chinese counterparts and preferred to 'wait' till they burnt their money, their grip on the market became weak impacting their market standings.  The success of itel and Xiaomi, brands, which are not aggressively marketing by spending crores, are case studies for MILK brands to take cues from–on how to manage visibility. It is high time for MILK brands to strengthen their digital presence, not only from selling perspective but also from the angle of influencing youth, which directly or indirectly are responsible for two out of three Smartphone sales in India.
Micromax: For Micromax, it would be worth to see how it's able to break the threshold of historically strong sub 10k segment with Dual 5 around. The second quarter will be very critical for the brand to regain its market standing, else it may slip further with itel strengthening in Feature phones and Xiaomi and Vivo intensifying within Smartphones.
Intex: It needs to disassociate itself from the 'first smartphone user' target group. It has got all the right building blocks for exploring more.
Lava: It has been among the few stable homegrown brands.  However, it has not been able to capitalize upon being the first 4G Feature phone maker, while there is a definite segment for the proposition. Another thing to notice would be checking its success in the 'Value for Money' Smartphone segment through Z series.
Karbonn: It needs a 360 degree approach overall in terms of portfolio to offer, markets to focus, marketing and well as its channel strategy.
Other Brands to Watch Out
Apple: Its entry into the bandwagon of 'Make in India' brands via iPhoneSE will change the market dynamics as it will open up a serious competition for players like Vivo and Oppo, which have been strong in the INR 15,000 to INR 25,000 price range.
Itel: Itel has impressively emerged in the Feature phone segment. However, as the opportunity for new market squeezes in India, it may not be able to sustain the same growth rate.
HTC: Having some of the best products in the market in U series, what HTC lacks is a compelling digital campaign to support that image.
Smartron: A second inning for the personality (Sachin Tendulkar) driven brand.  However, this time it seems to be fully geared with effective net practice and should be able to record a 'safe' score on the score board to establish for the Test innings.
 Honor: The brand is aggressively building its offline channel. It has strengthened the focus by on-boarding a senior retail expert to build its retail network and experience.  This is first time in the industry to have a person driving retail separately, which has been generally a function entrusted to the sales or business head.