Samsung establishes lead in the 4G/LTE device segment

Growth in 4G/LTE devices propelled by 387% growth in Datacard shipments and 111% increase in Smartphone shipments

47% of 4G/LTE devices shipped were exclusively available online for sale.

Qualcomm SoC used in 80% of the 4G/LTE mobile handsets shipped in the quarter.
New Delhi/Gurgaon: According to CMR's India Quarterly LTE (4G) Device Market Review, May 2015 release announced today, total LTE device shipments in the country reached 2.2 million units during 1Q (January-March) CY 2015. Smartphones continued to dominate the space contributing 97% of the 4G/LTE devices shipped.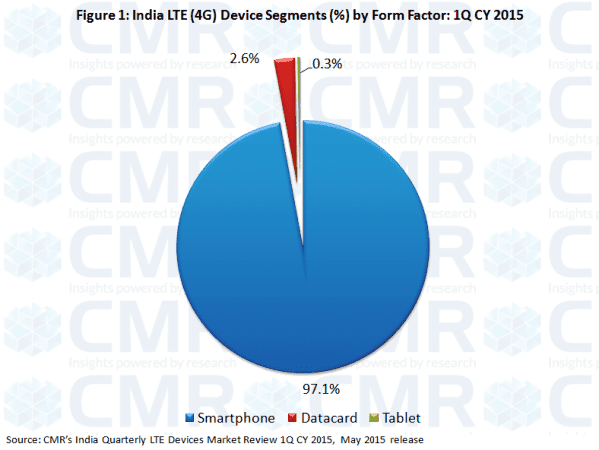 Commenting on the findings, Faisal Kawoosa, Lead Analyst, CMR Telecoms Practice said, "The 4G/LTE device space is getting interesting as every quarter passes. The market more than doubled quarter-on-quarter and we see this momentum continuing for at least a few more quarters. Other than the need to appear distinctive in the market as well as move with worldwide industry trends, device vendors are also trying to create a 'cult' follower-ship in the emerging Broadband Wireless Access technology space."
"With the kind of expected paradigm shift in quality as well as types of services after RJio goes 'live', device vendors are busy showcasing their competencies in the 4G/LTE space, not only to have an early mover advantage but also to position themselves as reliable vendors in the space." Faisal added further.
Market Leadership: India 4G/LTE Device Market
Samsung, the overall leader in mobile handset shipments as well as Smartphone shipments in the country, established its leadership in the 4G/LTE device segment as well in the January-March 2015 quarter. The company recorded 27% market share in terms of units shipped, displacing Apple from the top slot. The other two players in the space were Xiaomi with 17% and Apple with 15% share of units shipped during 1Q CY 2015.
The 4G/LTE Datacard market is another significant contributor to 4G/LTE device shipments in the country. Although in terms of contribution Datacard shipments were only 2.64% of the total devices shipped, the segment has started showing exponential growth as predicted in CMR's 'Trends for 2015'.  In 1Q CY 2015, the QoQ growth was 287% for Datacards.  This segment was led by ZTE with 77% of shares followed by Alcatel 17% and Huawei 5%.
Commenting on the market players, Vikrant Singh, Analyst, CMR Telecoms Practice said, "Samsung made a jump from third spot to top spot mainly on account of the launch of new handset models like A5, A6 and S6. New brands entering this segment during the quarter were Huawei, Blackberry and ZTE. The total number of players shipping 4G/LTE devices in the quarter were 19, up from 12 in the previous quarter."
"The total models of 4G/LTE handsets shipped during the January-March 2015 quarter were 55, with Lenovo's A6000 leading with maximum units," Vikrant concluded.
Notes for Editors
This release is based on the CyberMedia Research (CMR) India Quarterly 4G/LTE Device Market Review published at the conclusion of every calendar quarter.

CyberMedia Research (CMR) uses the term 'shipments' to describe the number of 4G/LTE devices leaving the factory premises for OEM sales or stocking by distributors and retailers. For the convenience of media, the term 'shipments' is sometimes replaced or used interchangeably with "sales" in the press release, but this reflects the market size in terms of units of 4G/LTE devices and not their absolute value. In the case of 4G/LTE devices imported into the country it represents the number leaving the first warehouse to OEMs, distributors and retailers. CyberMedia Research does not track the number of 4G/LTE devices brought on their person by individual passengers landing on Indian soil from overseas destinations or 'grey' market 4G/LTE devices (if any). These are, therefore, not part of the CyberMedia Research numbers reported here.
About CyberMedia Research
A part of CyberMedia, South Asia's largest specialty media and media services group, CyberMedia Research (CMR) has been a front runner in market research, consulting and advisory services since 1986.
CMR offers research-based insights and consulting services - market intelligence, market sizing, stakeholder satisfaction, growth opportunity identification, incubation advisory and go-to-market services - covering the Information Technology, Semiconductors, Electronics & Smart Infrastructure, Government, Energy & Utilities and LifeSciences sectors, as well as the large enterprise, SMB and consumer user segments.
Cyber Media Research & Services Ltd. is an institutional member of the Market Research Society of India (www.mrsi.in).
CMR's core value proposition encompasses a rich portfolio of syndicated reports and custom research capabilities across multiple industries, markets and geographies. CMR's forthcoming studies include stakeholder satisfaction surveys, mega spender assessments and market mapping studies for these domains.
For more details, please visit http://www.cybermediaresearch.co.in or http://www.cmrindia.com/
For Media Inquiries, please contact Krishna Mukherjee +91-9871072319 releases@cmrindia.com For Industry Inquiries, please contact Faisal Kawoosa General Manager - Research & Consulting Industry Intelligence Group fkawoosa@cmrindia.com