3 of the 4 Tablets sold supported cellular Internet access
CY 2015 Highlights
Samsung, Datawind and Micromax took the top 3 leadership positions.
Top 5 brands garnered 66% of the market share. However, a total of 66 brands shipped their Tablets in 2015.
iPad sales dipped 22% in units. Android still the 'default' OS choice with 92% share. Windows rose by 1 percent at 3%.
4G Tablets constituted 7% of the total Tablets shipped; however 9% of the cellular Tablet devices.
4Q 2015 Highlights
Datawind, Samsung and Pantel Technologies took the top 3 leadership positions.
Top 5 brands garnered 81% of the market share. By the year end, only 18 brands were selling Tablets.
Shipments declined at 31% QoQ and 21% YoY.
4G Tablets formed 9% of the total Tablets shipped; however 12% of the cellular Tablet devices.
Gurgaon/New Delhi: According to CMR's India Annual Tablet PC Market Review, CY 2015, 4.4 million Tablet PCs were sold (shipped) in India, registering a growth of 13% compared to 2014.

As per the report, the appetite for cellular access devices is increasing in India, where 3 of the 4 devices sold in 2015 were supporting cellular internet access technologies. The uptake of 4G enabled Tablets is also on the rise; with a little over 7% of the total Tablets shipped supporting 4G.
Commenting on the Tablet performance, Tanvi Sharma, Analyst for Tablet Devices at CMR, said, "The marginal rise in tablet performance could be attributed to a few government deals. However, with the rising demand for Phablets/Smartphones, the challenge for the industry would be to make it more exciting and bring in features attracting consumer segment especially, which should be other than the screen size."
"The trend could be seen shifting towards convertibles tablets that come with a detached keyboard. At the same time, price sensitive consumers are resorting to sub-5K band, instead of 5k-10k tablets, which was the trend last year," Tanvi further added.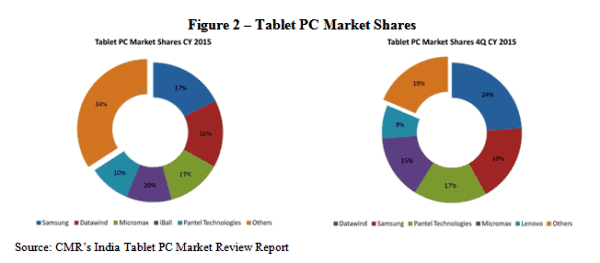 Commenting on the performance of the India Tablet PC market, Faisal Kawoosa, Lead Analyst CMR Telecoms Practice, said, "Tablets have to re-emerge to revitalize as a distinct product. We are seeing, whatever sustainability capabilities, primarily driven by government procurement that keeps the volumes going."
"We expect 2016 to be even more challenging for the Tablet market. Other than the government support through demand creation, the industry has to evolve them as solutions for the market to grow. This is the right moment for augmentation as we expect 4G to grow its 'real' base in India and such users will be using a lot of video content for which screen size definitely matters, to the advantage of Tablets," Faisal concluded.
Notes for Editors
1. This release is based on the CyberMedia Research (CMR) India Quarterly Tablet PC Market Review published at the conclusion of every calendar quarter.
2. The figures captured are of both enterprise and consumer shipments.
3. CyberMedia Research (CMR) uses the term 'shipments' to describe the number of Tablets leaving the factory premises for OEM sales or stocking by distributors and retailers. For the convenience of media, the term 'shipments' is sometimes replaced or used interchangeably with "sales" in the press release, but this reflects the market size in terms of units of Tablets and not their absolute value. In the case of Tablets imported into the country it represents the number leaving the first warehouse to OEMs, distributors and retailers. CyberMedia Research does not track the number of Tablets brought on their person by individual passengers landing on Indian soil from overseas destinations or 'grey' market Tablets (if any).
About CyberMedia Research
A part of CyberMedia, South Asia's largest specialty media and media services group, CyberMedia Research (CMR) has been a front runner in market research, consulting and advisory services since 1986.
CMR offers research-based insights and consulting services - market intelligence, market sizing, stakeholder satisfaction, growth opportunity identification, incubation advisory and go-to-market services - covering the Information Technology, Semiconductors, Electronics & Smart Infrastructure, Government, Energy & Utilities and LifeSciences sectors, as well as the large enterprise, SMB and consumer user segments.
Cyber Media Research & Services Ltd. is an institutional member of the Market Research Society of India (www.mrsi.in).
CMR's core value proposition encompasses a rich portfolio of syndicated reports and custom research capabilities across multiple industries, markets and geographies. CMR's forthcoming studies include stakeholder satisfaction surveys, mega spender assessments and market mapping studies for these domains.
For more details, please visit http://www.cybermediaresearch.co.in or http://www.cmrindia.com/
For Media Inquiries, please contact Krishna Mukherjee +91-9871072319 releases@cmrindia.com For Industry Inquiries, please contact Faisal Kawoosa General Manager - Research & Consulting Industry Intelligence Group fkawoosa@cmrindia.com