Samsung overtakes Nokia in overall shipments with Nokia and Micromax at #2 and #3, respectively
Smartphone shipments cross 14.5 million units, a Y-o-Y growth of 219.4% and Q-o-Q growth of 1.9%; Samsung leads followed by local handset players Micromax and Karbonn at #2 and #3 spots, respectively
According to CMR's India Monthly Mobile Handsets Market Review, 1Q CY 2014, May 2014 release, India recorded 58.9 million mobile handset shipments during 1Q (January-March) 2014. During the same period, 14.5 million smartphones were shipped in the country.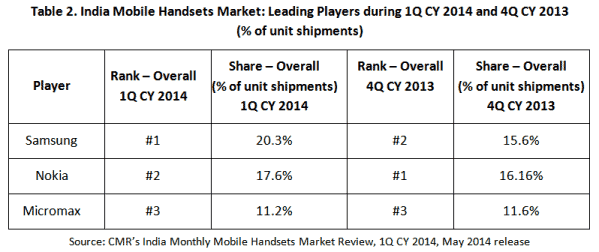 Commenting on the results, Faisal Kawoosa, Lead Analyst, CMR Telecoms Practice said, "Nokia's slip down was inevitable as the vendor's smartphone portfolio came very late and hasn't been able to impress the potential customer base to a large extent.  At the same time, Samsung continues to serve all the price segments of the market very well.  With 'Asha' portfolio, Nokia tried to create a new segment of smart featurephones and that did help Nokia to record an impressive share in the featurephones segment.  But as newer companies, particularly the domestic brands, came out with disruptive propositions, the concept of smart featurephone seems to be dying."
"In hindsight, it may be said that Nokia did not capitalise on the gains from the strategy of creating the new sub-segment of smart featurephones, by not making the next upgrade available for such consumers.  However, this opening was very well exploited by its more nimble-footed competitors, who have witnessed an upsurge in consumers buying their smartphone offerings. In a sense, Nokia's smart featurephones really helped other brands push up the sales of smartphones in India", Faisal further added.
India Smartphones Market
The India smartphones market during 1Q CY 2014 saw a marginal growth in shipments of 1.9% over 4Q CY 2013, taking the contribution of smartphones to overall shipments to 24.6%. Further, as many as 68.3% of the smartphones shipped in the country during 1Q CY 2014 were 3G-enabled smartphones.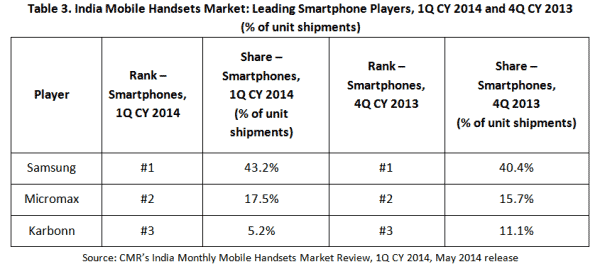 Tarun Pathak, Analyst, Devices, CMR Telecoms Practice said, "The India smartphones market is growing at a significant pace and consumer buying patterns and preferences are continuously evolving. The next wave of demand will come from consumers who are data hungry and want to use their device for wide range of activities. Hence, in such a scenario those vendors will be successful who focus on providing a great device experience to users, rather than simply marketing their offerings on the basis of certain set of specifications."
"Going forward we can expect the India smartphone OS war to heat up as Microsoft recently waived the Windows Mobile licence fee for devices less than 9 inches screen size. This is expected to help bring more Windows Phone 8.1 device offerings into the market from OEMs who want to use Windows Mobile as the underlying OS. It will be interesting to watch how consumers in India react to the Windows Mobile offerings from vendors like Micromax, Karbonn, Lava and others, who are likely to launch their Windows Phone 8.1 devices shortly ", Tarun stated.
Notes for Editors
This release is a part of the CyberMedia Research (CMR) Smart Mobility Market Review Programme.
CyberMedia Research (CMR) uses the term "shipments" to describe the number of handsets leaving the factory premises for OEM sales or stocking by distributors and retailers. For the convenience of media, the term shipments has been replaced by 'sales' in the press release, but this reflects the market size in terms of units of mobile handsets and not their absolute value. In the case of handsets imported into the country it represents the number leaving the first warehouse to OEMs, distributors and retailers. CyberMedia Research does not track the number of handsets brought on their person by individual passengers landing on Indian soil from overseas destinations or 'grey market' handsets. These are, therefore, not part of the CyberMedia Research numbers reported here.
CyberMedia Research (CMR) tracks shipments of mobile handsets on a monthly basis. However, as per convention, the market size is reported on a calendar quarter basis where appropriate to the context; in all such cases this refers to an aggregated number for the three calendar months in the quarter to which the press release refers.