Top 5 5G brands accounted for 72% share
In CY2021, Samsung led the overall India mobile market
Xiaomi led the smartphone market in CY2021 with 25% market share, followed by Samsung at 18%
Affordable smartphone segment (INR <7000) declined 25% YoY in CY2021.
One in every eight smartphone shipped in CY2021 was a Premium smartphone.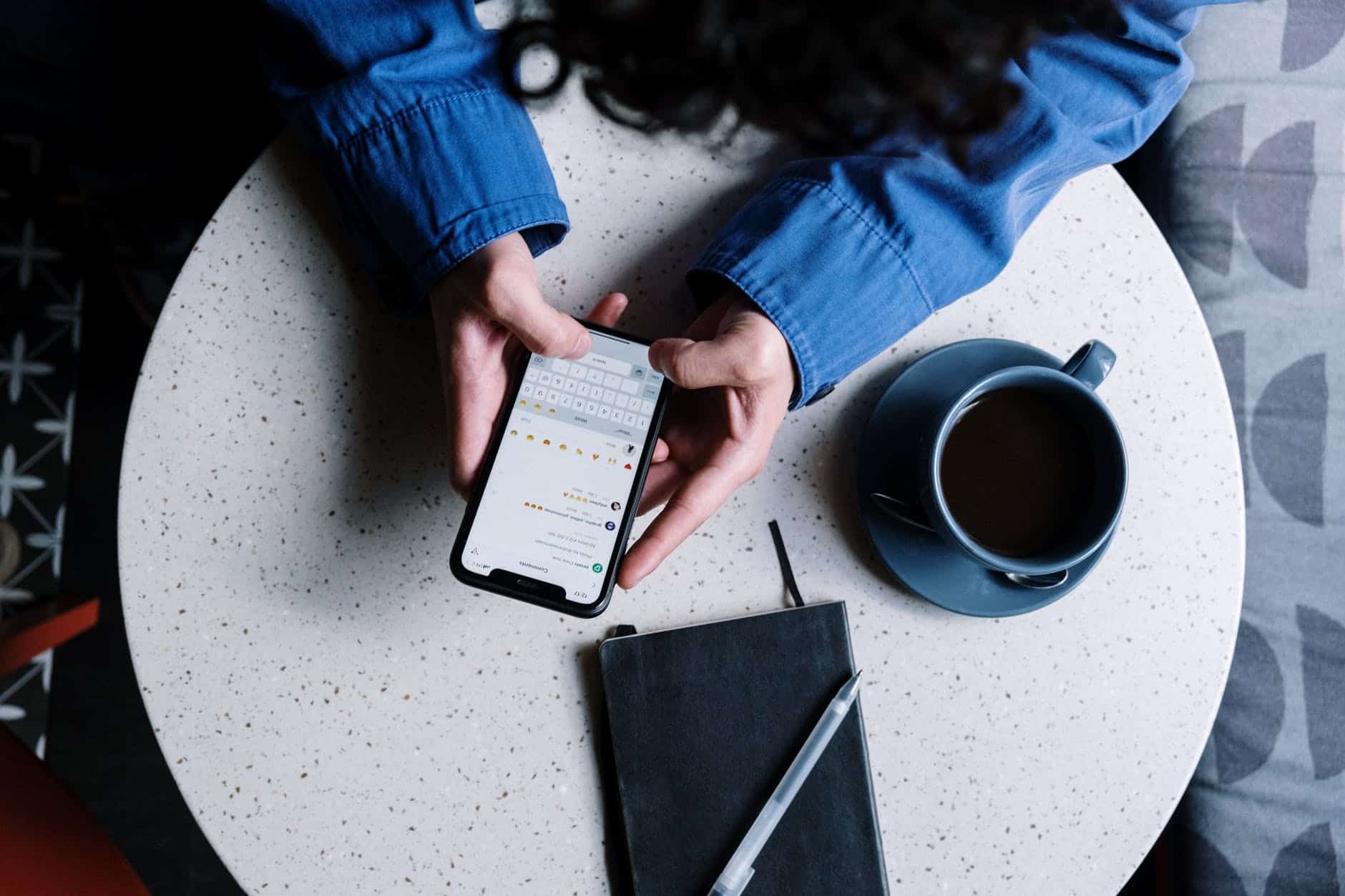 New Delhi/Gurugram, 9 February 2021:  According to CMR's India Mobile Handset Market Review Report for Q4 2021 released today, total smartphone shipments touched an all-time high of 166Mn units by the end of CY2021, growing 11% YoY. 5G shipments grew >600% YoY. Smartphone revenue in CY2021 touched $37Bn.
According to Shipra Sinha, Analyst-Industry Intelligence Group, CMR, "Smartphone continues to be an essential life driver. This is clearly reflected in the robust growth in the India smartphone market amidst the second pandemic wave, and despite component shortages. 5G played a key role in this overall growth with its contribution increasing to 17% in CY2021. 5G shipments increased significantly (43%) in the value for money (INR 7,000 – INR 24,999) smartphone segment."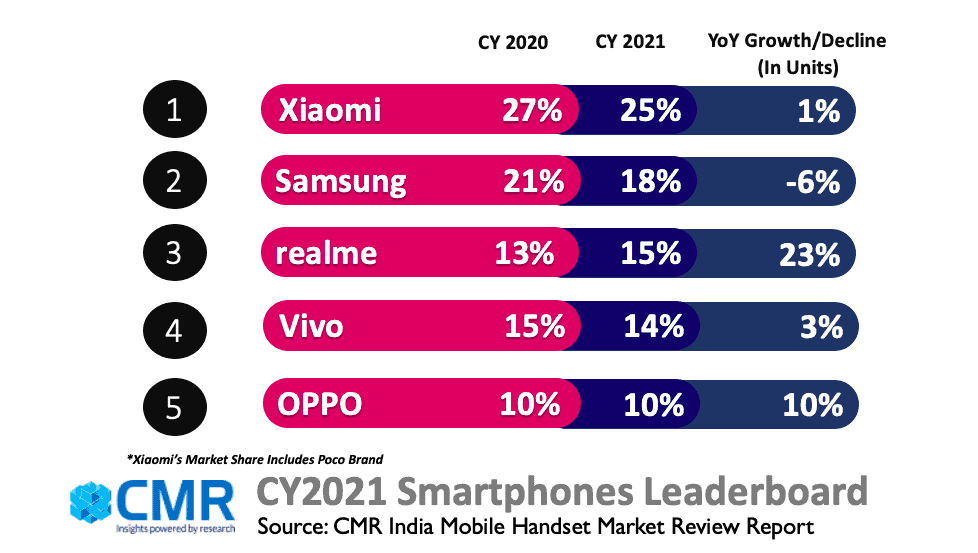 Xiaomi (21%), realme (17%) and Samsung (16%) captured the top three spots in the smartphone leaderboard in Q4 2021 followed by Vivo and OPPO. In Q4 2021, Samsung led the 5G smartphone segment with 23% market share followed by Apple at 14%.
While affordable smartphone shipments (sub-INR 7000) declined, premium smartphones (>INR 25000) registered an uptick in their growth.
"One in every eight smartphones shipped in CY2021 was a premium smartphone. During the year, the premium smartphone segment grew 79% YoY. This is where more smartphone brands, including the likes of Xiaomi, realme, OPPO, iQOO and vivo are seeking to challenge the current market incumbents, such as OnePlus, Apple and Samsung in the affordable premium tier segment.," Shipra added.
Feature Phone Market.
In Q4 2021, the overall feature phone segment declined 21% YoY, driven by continued consumer transition towards smartphones. The 2G feature phone and 4G feature phone segment also declined by 13% and 53% YoY respectively. Motorola was the newest entrant in the 2G feature phone market capturing 2% share in Q4 2021.
Q4 2021: Key Smartphone Market Highlights
Xiaomi captured the top spot with 21% market share. Redmi 9A, note 10S and 9 Active were the most popular models. Its 5G shipments grew 76% QoQ owing to launch of its 11 series models. It garnered 24% share in Value for Money handsets (7,000-25,000) and captured the top spot. Its sub-brand Poco recorded a 62% YoY decline in its shipments in Q4 2021. Xiaomi shipped worth $1.7Bn worth of handsets including Poco in Q4 2021.
realme captured the second spot with 17% market share with its shipments growing 47% YoY. realme C11(2021) and realme C21Y were the top selling models and accounted for most of realme's market share. Amidst the prevailing supply constraints, realme did well in terms of inventory management.  During the festive period, it diversified into UNISOC chipsets in the affordable smartphone segment. It shipped around $1.1 Bn worth of handsets in Q4 2021.
Samsung was placed third with 16% market share in the smartphone market. Samsung topped the 5G Smartphone leaderboard. Almost one-third of all Samsung smartphones shipped in Q4 2021 were 5G-capable. Samsung Galaxy M02, Galaxy A12 and Galaxy A52s 5G accounted for 35% of its shipments. Samsung dethroned OnePlus in the premium smartphones (INR 25000-50000) segment. Samsung's third-generation foldable phones, Galaxy Z Fold3 and Galaxy Z Flip3 performed well during Q4 2021, with >100K foldables shipped during Q4 2021 contributing to 8% of its smartphone revenue. Samsung shipped worth $2 Bn worth of smartphones in Q4 2021.
Vivo garnered 13% market share along with its sub-brand iQOO. In Q4 2021, its growth was driven by the vivo Y12 series and vivo Y20T. Vivo's Y72, V21 and V21e models accounted for the bulk of its 5G shipments. The Vivo Y72 was the most shipped Value for Money (INR 7000-25000) 5G smartphone.
OPPO was placed fifth with 10% share. The OPPO A16 and A54 series were highest shipped models. OPPO captured 9% share in the overall 5G shipments.
OnePlus shipments witnessed 9% YoY decline owing to enhanced competition in the premium smartphone segment. OnePlus Nord 2 accounted for > 40% of OnePlus's market share and was the top selling overall model in the Premium segment (INR 25000-50000). The OnePlus Nord series accounted for > 70% of OnePlus market share.
Apple shipments recorded 31% YoY growth. 2021 was the most successful year for Apple. It topped the Super-premium (INR 50000-100000) segment with 81% market share. Aggressive marketing initiatives and affordability initiatives contributed to its success.  Apple's overall CY2021 revenue was around $5Bn.
Transsion Group brands (Itel, Infinix and Tecno) overall (SP+FP) shipments declined 5% YoY. Transsion revenue stood at $1.7Bn.
Future Outlook
In CY2022, CMR estimates point to a potential 15-18% YoY growth in smartphone shipments. H1 2022 will continue to see supply-side constraints, with gradual easing in the second half of the year. CMR estimates 5G smartphone shipments to hover around 64Mn, with the overall smartphone shipments topping the 190+ Mn mark.
"With 5G auction in late 2022 and roll-out thereafter, we foresee greater momentum for 5G smartphone shipments. Smartphone OEMs will prioritize 5G, by leveraging favorable supply side dynamics, and will continue to drive 5G, especially at lower price tiers. After two years of pandemic, smartphone market players will be better prepared to navigate supply constraints in the new never normal." added Anand Priya Singh, Analyst- Industry Intelligence Group, CMR.
– ENDS –
About CyberMedia Research and Services Ltd
CMR offers industry intelligence, consulting and marketing services, including but not limited to market tracking, market sizing, stakeholder satisfaction, analytics and opportunity assessment studies.
A part of CyberMedia, South Asia's largest specialty media and media services group, CyberMedia Research (CMR) has been a front-runner in market research, consulting and advisory services since 1986. CMR is an institutional member of Market Research Society of India (MRSI).
For queries, please contact Shipra Sinha, ssinha@cmrindia.com