5G Tablet market registered 170% YoY growth.
Wi-Fi Tablet market registered 21% YoY growth.
Premium Tablets (>INR 20,000) grew 24% during CY2022.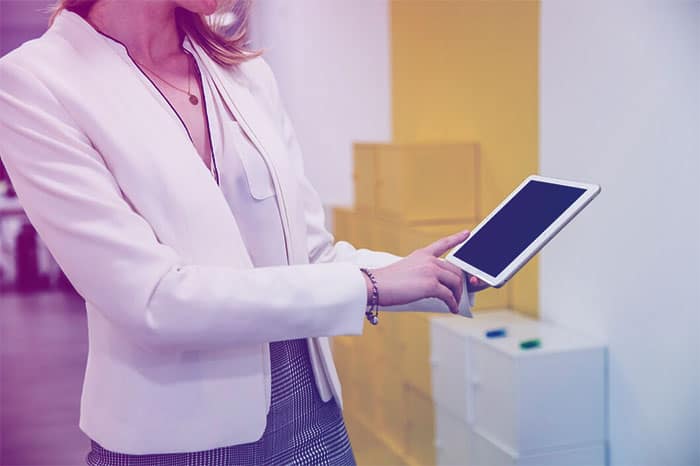 New Delhi/Gurugram, 20 Feb 2023: As per new insights from CyberMedia Research (CMR)'s Tablet PC Market Report Review for CY2022 released today, the India 5G Tablet shipments grew 170% year-on-year (YoY). The overall tablet market registered a 6% YoY growth.
According to Menka Kumari, Analyst-Industry Intelligence Group (IIG), CMR, "Driven by a strong consumer appetite to future-proof themselves, and with 5G networks rolling out, the shipments of 5G tablets continued to gain strength through 2022. Consumers continue to seek tablets as companion devices for work, learn and play. Given the increased time spent on tablets, premiumization is also setting in, with consumers prioritizing premium tablets (>INR 20,000)."
Lenovo (29%), Apple (23%) and Samsung (22%), captured the top three spots in the Tablet leaderboard in CY2022. Shipment of Tablets with above 10-inch display constituted 63% of the overall shipments in the Indian market.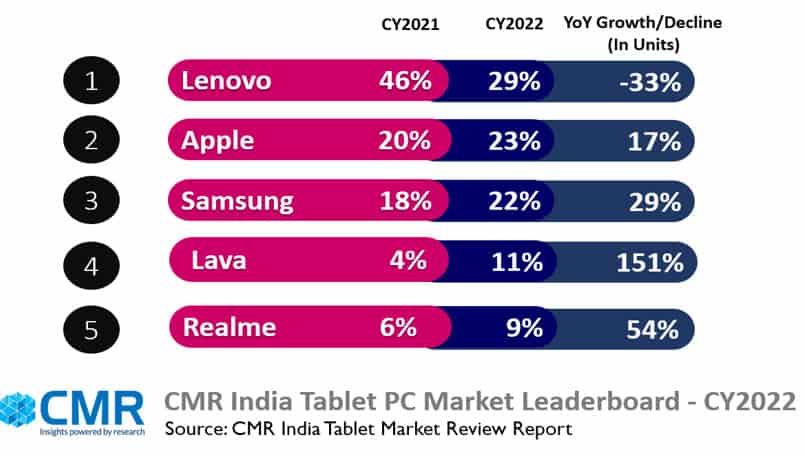 India Tablet Market: Vendor Highlights CY2022:
Lenovo led the tablet market with a 29% market share. Lenovo tablet shipments witnessed 33% YoY decline in CY2022. Lenovo Tab M8 (HD) (Wi-Fi+4G) and Lenovo Tab M8 (HD) (Wi-Fi) series had a 21% and 12% market share respectively.
Apple was placed second with 23% market share. Apple iPad shipments recorded 17% YoY growth in CY2022. Apple iPad 9 (Wi-Fi) and Apple iPad Air 2022 (Wi-Fi) had a 45% and 17% market share respectively.
Samsung was placed third with a 22% market share. Samsung shipments recorded 29% YoY growth in CY2022 owing to the launch of Samsung A8 series, S8 series and S6 series with aggressive features.
Future Outlook
In CY2023, CMR anticipates tablet shipments to record a growth of around 10-15%.
"At CyberMedia Research (CMR), we believe that the tablet market will continue to maintain its growth momentum in the neo normal. With supply chain constraints easing out, and consumers spending more time on-the-go, tablets will continue to find favor. Enterprise tablet demand will continue to hold, especially in healthcare, education and manufacturing. The entry of new market players, such as OnePlus and others, continue to illustrate the potential of the tablet market," added Menka.
Notes for Editors:
This release is based on the CyberMedia Research (CMR) India Quarterly Tablet PC Market Review published at the conclusion of every calendar quarter.
The figures captured are of both enterprise and consumer shipments.
CyberMedia Research (CMR) uses the term 'shipments' to describe the number of Tablets leaving the factory premises for OEM sales or stocking by distributors and retailers. For the convenience of media, the term 'shipments' is sometimes replaced or used interchangeably with "sales" in the press release, but this reflects the market size in terms of units of Tablets and not their absolute value. In the case of Tablets imported into the country it represents the number leaving the first warehouse to OEMs, distributors and retailers. CyberMedia Research does not track the number of Tablets brought on their person by individual passengers landing on Indian soil from overseas destinations or 'grey' market Tablets (if any).
Email: releases@cmrindia.com