4G Tablet market registered 65% YoY growth.
The value for money tablets in the price range of INR 10,000 – INR 20,000 posted a stupendous sequential growth of 142% in Q2 2022.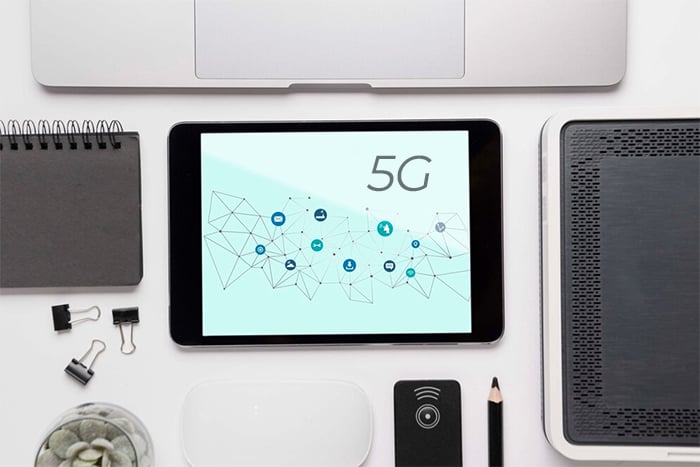 New Delhi/Gurugram, 17 Aug 2022: As per new insights from CMR's Tablet PC Market Report Review for Q2 2022 released today, the India Tablet market grew 68% year-on-year (YoY). 4G Tablets recorded growth of 65% YoY.
According to Menka Kumari, Analyst-Industry Intelligence Group (IIG), CMR, "Driven by the 5G roll-outs in the near future, we foresee an impetus in 5G tablet shipments in the tablet market, similar to the trends observed in the 5G smartphone market. The gradual opening-up of the Indian economy is translating to a growth in the commercial tablet business. During the quarter, OPPO and Xiaomi entered the tablet market with new offerings."
Shipment of Tablets with 8-inch display constituted 78% of the overall shipments in the Indian market. On the other hand, Tablets with 10-inch and above displays contributed to 227% of the YoY shipments.
Lenovo (26%), Apple (19%), and Samsung (19%) captured the top three spots in the tablet leaderboard in Q2 2022.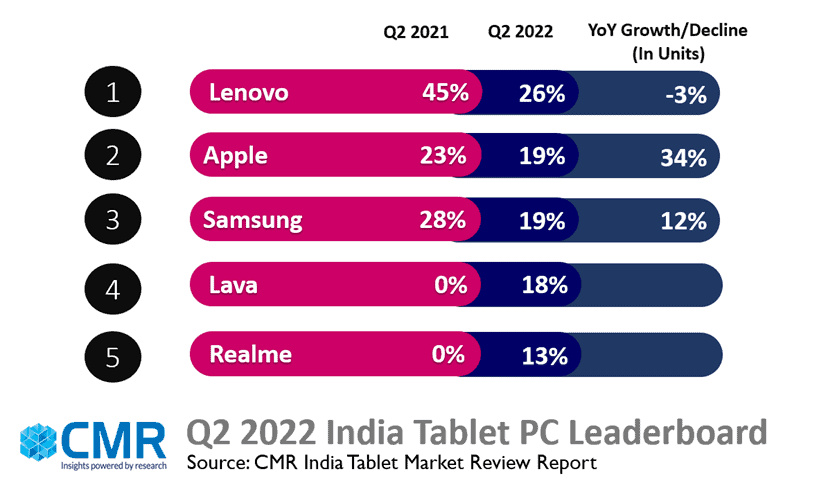 Vendor Highlights – Q2 2022
Lenovo maintained the first position in the region, mainly driven by its commercial business and retail market. Lenovo Tab M10 (HD) (Wi-Fi+4G) series garnered 58% market share, primarily in the Value for Money tablet (INR 7,000-INR 25,000) segment.
Apple maintained the second position for Q2 2022 with a 19% market share. Apple iPad 9 (WiFi) and iPad 9 (WiFi +4G) had a 52% and 10% market share respectively, followed by iPad Air 2022 (WiFi) and iPad Air 2022 (WiFi +5G) at 18% and 8% share in the tablet market. Apple iPad shipments recorded a remarkable 34% YoY growth in Q2 2022.
Samsung was placed third on the market leaderboard with a 19% market share. Samsung Tab A8 (Wi-Fi) and Tab A8 (Wi-Fi +4G) had a 20% and 12% market share respectively. Samsung shipments recorded 12% YoY growth in Q2 2022.
Future Outlook
CMR anticipates the Tablet PC shipments to record a healthy 8-10% growth in 2022.
"Driven by consumer and enterprise demand for new specialized use cases, such as intense gaming and productivity use cases, we foresee new hardware and software innovations, including larger tablet screen size, increased RAM, enhanced cameras, and battery amongst others. In the run-up to the festive season, we foresee the tablet market to witness intensified competition and increased market growth," added Menka.
Notes for Editors
This release is based on the CyberMedia Research (CMR) India Quarterly Tablet PC Market Review published at the conclusion of every calendar quarter.
The figures captured are of both enterprise and consumer shipments.
CyberMedia Research (CMR) uses the term 'shipments' to describe the number of Tablets leaving the factory premises for OEM sales or stocking by distributors and retailers. For the convenience of media, the term 'shipments' is sometimes replaced or used interchangeably with "sales" in the press release, but this reflects the market size in terms of units of Tablets and not their absolute value. In the case of Tablets imported into the country it represents the number leaving the first warehouse to OEMs, distributors and retailers. CyberMedia Research does not track the number of Tablets brought on their person by individual passengers landing on Indian soil from overseas destinations or 'grey' market Tablets (if any).
– ENDS –
About CyberMedia Research and Services Ltd
A part of CyberMedia (www.cybermedia.co.in), South Asia's largest specialty media and media services group, CyberMedia Research (CMR) has been a front runner in market research, consulting and advisory services since 1986.
CMR's core value proposition encompasses a rich portfolio of syndicated reports and custom research capabilities across multiple industries, markets and geographies. CMR's forthcoming studies include stakeholder satisfaction surveys, mega spender assessments and market mapping studies for these domains.
CyberMedia Research, a division of Cyber Media Research and Services Ltd., is a member of the Market Research Society of India (www.mrsi.in).
Contact: Menka Kumari, mkumari@cmrindia.com