Two in every three Apple users open to buying a foldable phone
Seven in every eight Samsung are open to upgrade to the latest foldable phones
Need for productivity tools and stylish lifestyle statement top consumer purchase motivators.
Pricing and Device Durability top consumer concerns.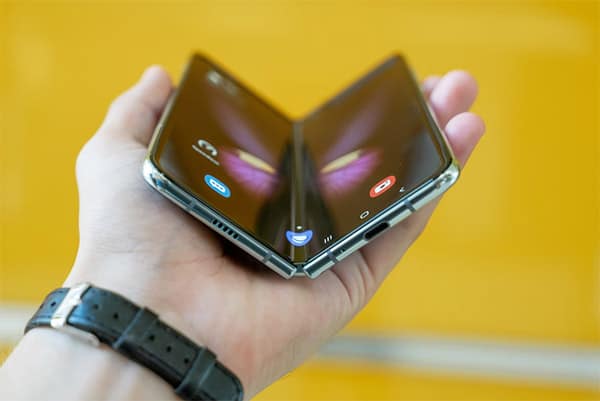 New Delhi, Dec 22, 2021:  Since the time they were first introduced, foldable phones have seen significant improvements with each successive generation. For instance, the hinge and folding displays have become more durable, and the addition of water resistance makes such phones more attractive. Circa 2021, there are distinct foldable phones aimed at specific consumer cohorts – productivity focused vs uber-cool lifestyle statements. New consumer survey insights from CyberMedia Research (CMR), India's trusted technology research and consulting firm, point to Indian consumers warming upto foldable phone form factors. An overwhelming 81% of those surveyed as part of CMR's Unfold The Future Survey 2021 are positive and open to factoring a foldable phone in their future smartphone purchase.
Commenting on the Unfold The Future survey insights, Prabhu Ram, Head-Industry Intelligence Group, CMR, "Until now, the foldable phones remained a novelty that early tech adopters sought. Beginning 2021, and the launch of the third-generation foldable phones from Samsung, we are now witnessing an early mainstreaming of the foldable form factor. Our survey insights point to the early majority being warm to foldable phones. In 2022 and beyond, with new category entrants in the fray, we believe the foldable phone market will see a boom."
Shifting Brand Dynamics at Play.
87% of Samsung users stated that they are interested in upgrading to a foldable phone.
67% of Apple iPhone owners indicated their interest in factoring a foldable phone as their next smartphone purchase.
76% of OnePlus users, and 52% of vivo users are open to purchasing a foldable.
Purchase motivators differ by consumer cohort.
Productivity enthusiasts believe foldable phones will help them on the go (38%). On the other hand, the fashion aficionados prefer to make a cool and stylish statement with the foldable phones (34%).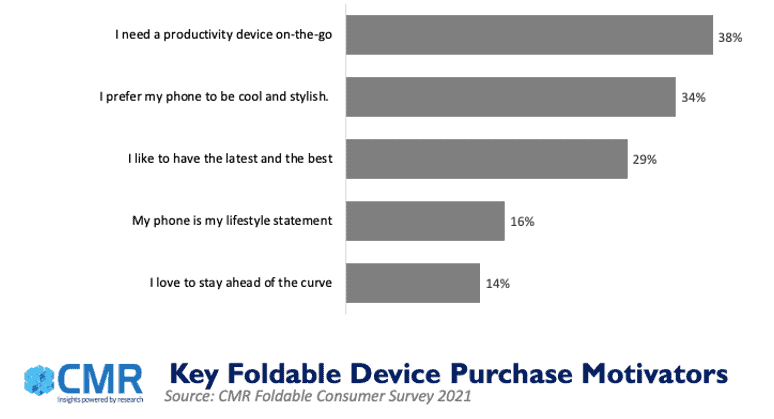 Foldable phone features shaping consumer interest
Our earlier consumer surveys highlighted consumer concerns with the durability of the foldable devices. However, as per the latest Unfold The Future Survey 2021, consumers love water resistance (46%), increased portability (38%), and device durability (34%) that the latest foldable phones in the market offer.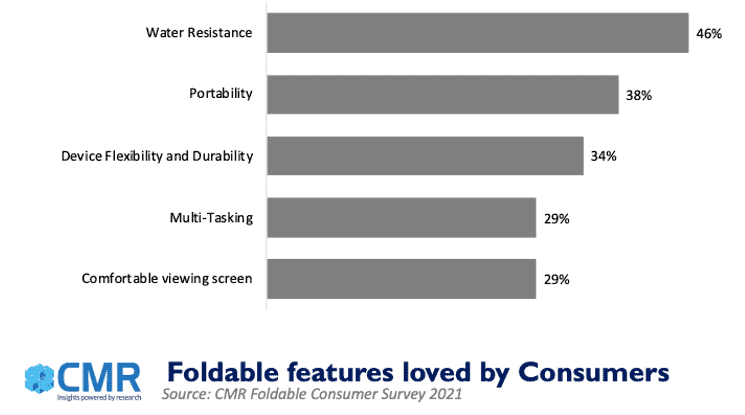 Key Consumer Concerns
All said, consumer concerns around foldable phones persist. Four in every five of those surveyed are concerned about pricing. The battery life (59%) and device durability (56%) of foldable phones are the other major concerns that consumers have.
Commenting on the future trends, Sugandha Srivastava, Manager-Research, CMR said, "With technological advancements, and more foldable phones debuting in the market, consumer interest around foldable phones will continue to witness an upward trend. OEMs should focus on driving awareness and enabling product experience for furthering mainstream foldable adoption."
Note for Editors:
The CMR study titled "Unfold The Future Survey 2021" is based on a digital survey covering 2500 respondents in the age groups of 21-60 years in SEC A. The study was conducted across twelve cities of India, including New Delhi, Mumbai, Kolkata, Chennai, Bengaluru, Hyderabad, Pune, Ahmedabad, Chandigarh, Kochi, Nagpur and Vadodara.
For results based on a randomly chosen sample of this size, there is 95% confidence that the results have a statistical precision of plus or minus 3% of what they would be if the entire population had been surveyed.
About CMR:
CMR offers industry intelligence, consulting and marketing services, including but not limited to market tracking, market sizing, stakeholder satisfaction, analytics and opportunity assessment studies. CMR's core value proposition encompasses a rich portfolio of syndicated reports and custom research capabilities across multiple industries, markets and geographies. A part of CyberMedia, South Asia's largest specialty media and media services group, CyberMedia Research (CMR) has been a front-runner in market research, consulting and advisory services since 1986.
For queries, please contact: Sugandha Srivastava, Manager-Research, CMR at ssrivastava@cmrindia.com