In a hyper-competitive smartphone market, differentiation is key – this could be differentiation in terms of design, looks or performance. With more customers than before being interested in smartphone performance, especially battery juice, smartphone brands have embraced wireless charging capabilities. This does away with the need to fumble with cables to add battery juice.
With the OPPO Ace 2, OPPO has introduced wireless charging capability of 40W. On the other hand, brands such as OnePlus and Xiaomi with OnePlus 8 Pro and Xiaomi Mi 10 5G respectively have come up with 30W. For the rest of the brands, 5W is a base, and a few handsets support 7.5W, 10W and even up to 15W.
So, these are some of the questions I seek to answer here
What precisely is wireless charging?
How does it work? Does your smartphone even support it?
What are the trends that we see in wireless charging?
The transmitter, the receiver and the power supply are typically the three key elements in Wireless charging.The adapter usually regulated with a DC voltage between 5V and 20V which connects to the main supply and powers the transmitter.
Inductive and Resonant are the two main technologies behind the wireless charging.The mainstream wireless technology standard is Qi (pronounced "chee"). Qi is a standard that has been developed by the Wireless Power Consortium (WPC). The technology involved is known as magnetic induction, uses an electrical current to generate a magnetic field, creating voltage that powers the phone without your plugging a wire into it, which greatly limits the distance and comparatively new feature for powering iPhones and popular Android phones.
An ever-increasing number of smartphone manufacturer shave embraced the Qi wireless charging standard in almost all major flagships. Many major smartphone manufacturers such as Samsung, Apple, Sony, LG, Huawei, Nokia and Motorola have adopted the Qi wireless charging technology.
As per insights gleaned from CMR India Mobile Handset Review Report, smartphones with wireless charging capabilities are anticipated to touch 7% by Q4 2020.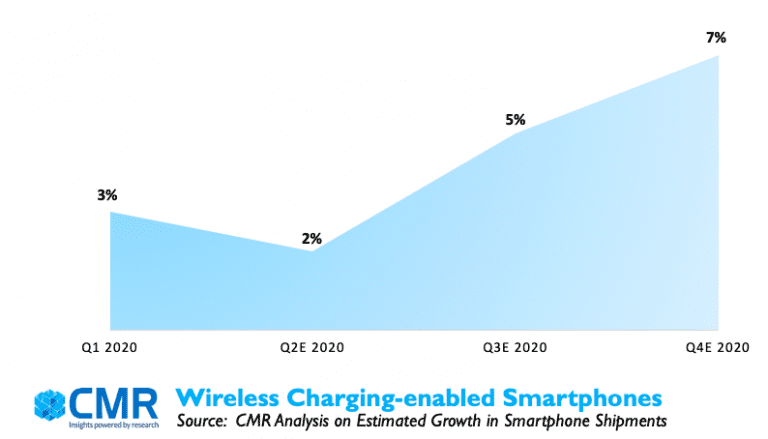 Similar to the Fast charging adoption trends seen in smartphones, the wireless charging initially featured in flagship smartphones. At the end of 2019 and early 2020, the adoption of wireless charging in smartphones increased significantly in the super premium price bands. With the launch of recent Samsung and Apple smartphones, the trend towards smartphones with wireless charging capabilities have intensified further.
In the Value for Money smartphones (INR 7000 -INR 25000) segment <1% of smartphones have wireless charging capability, mainly driven by the brands like LG and Panasonic.
In the premium smartphones(INR 26000-INR 50000) segment, Apple iPhone XR, Samsung Galaxy S9 Plus and Google Pixel 3 are some wireless charging capability Smartphones which are fastest growing under this segment.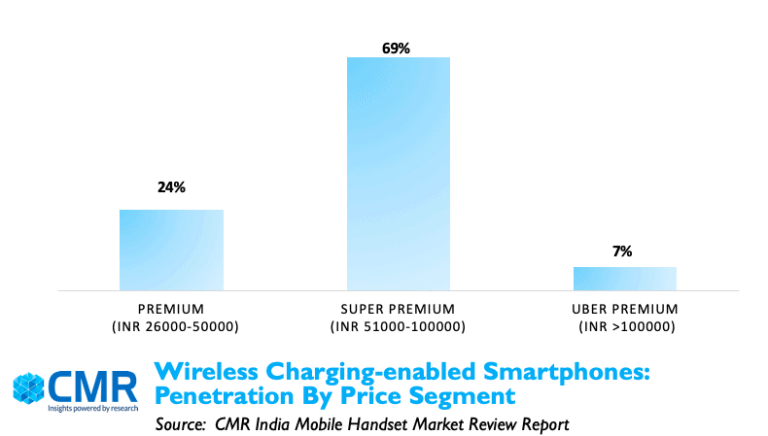 In the super premium (INR51000 – INR 100000) segment, wireless charging smart phones are predominantly dominant and account for 69% of the smartphones. Some popular smartphone models in this price segment, include the likes of Apple iPhone 11 and Samsung Galaxy S10 Plus.
Apple and Samsung are the only two smartphone brands in Uber Premium (>INR 100000) segment with 7% cumulative contribution and mainly driven by Apple iPhone 11 Pro Max and Samsung Galaxy Fold.
Conclusion
However, from wired to wireless charging, current wireless charging mechanism meant for mobile phones are recognised to be slow and energy inefficient as compared to wired charging. But this wireless charging makes life easier and more secure for individuals, enabling them to focus on their daily life functions and overcome the challenge associated with the rise of multiple wired devices that are all-pervasive in everyday setting.
Some wireless chargers are faster than others and capable of charging a large battery smartphone in less than 2 hours because of the modern higher-powered chargers.With the continuous technological shift in wireless charging, now the phones also support reverse wireless charging where you can charge other devices from the phone.