53 Mn mobile phones were shipped in the first quarter of 2016 with 4% degrowth
23.6 Mn Smartphones shipped in 1Q'2016, contributing 45% to the overall shipments.
Make in India contribution at 67% of the total shipments.  Contribution rising in Smartphones as well as 4G sub-categories highlighting the latest being manufactured in India.
Samsung, Micromax and Intex still remain the 'top three' players in the overall market.
Rs 10,000 – 15,000 price category of Smartphones sees maximum traction. First time displaces Rs 6,000 – 8,000 bracket to 2nd rank.
Average Selling Prices of Smartphones up 5.7% QoQ and 25% YoY.
New Delhi/Bangalore:  According to CMR's India Mobile Handset Report for 1Q CY 2016, India shipped a total of 52.6 million handsets against 55.4 million in 1Q CY 2015, registering a decline of 4% YoY.  The QoQ decline was 12.8%.
Contribution of India brands was at an all-time high of 45%, up 7% compared to 4Q'15, while the handsets actually made out of India contributed 67% to the sales.  (CMR had estimated this potential to be 62.4% in the beginning of 2015).  The contribution of Chinese and Global brands has though declined QoQ by few percentage points.
The report further identified that Average Selling Prices for Smartphones were going up.  While in the 4Q'15, the Average Selling Price for a Smartphone was Rs 12,285, this has shot up to Rs 12,983 in 1Q'16. The same was Rs 10,364 in the first quarter of 2015.
Commenting on the results, Faisal Kawoosa, Lead Analyst CMR's Telecom Practice said, "We saw for the first time, price band of Rs 10,000 – 15,000 contributing the maximum (22%) towards the Smartphone shipments.  Usually, the prime contributor used to be the price bracket of Rs 6,000 – 8,000."
"This increase has been primarily due to introduction of shipments by LeEco and launch of new handsets / significant increase in shipments from Lenovo, Oppo, LG, Panasonic, Micromax, Intex, LYF (RJio) and Vivo in Rs 10,000 – 15,000 price bands.  Some of the Smartphones that have done exceptionally well in this price band include Lenovo's K4 Note, LeEco's Le  1S, Micromax's Canvas Mega 4G, Huawei's Honor 5X and Intex's Aqua Freedom," Faisal added.
Regarding Make in India, Faisal said, "While the total contributions as of 1Q'16 were 67% of the shipments, the apprehension that many had in the industry about attracting obsolete technology is proven wrong.  Among the handsets produced out of India, 66% of the Smartphones and 60% of the 4G Smartphones were manufactured in India itself.  Now, it is time to look at the premium segment where the contribution is negligible."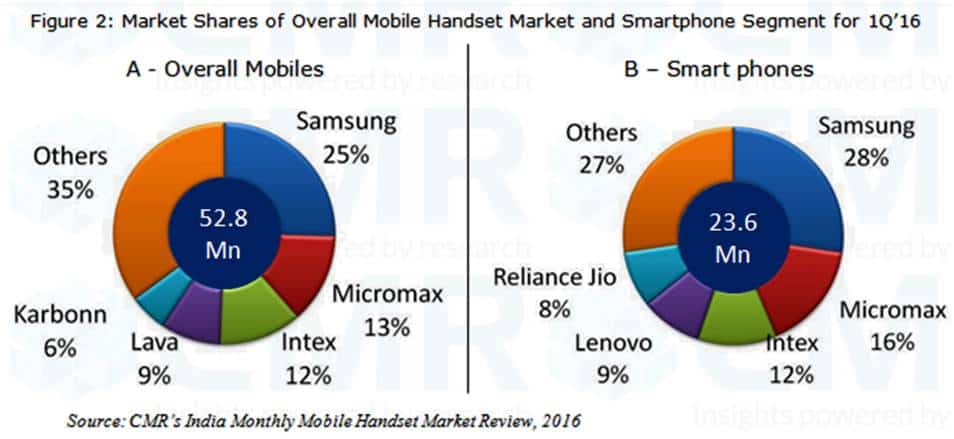 Krishna Mukherjee, Analyst, Telecoms at CMR said, "Rankings of major players remain static; Samsung secured the top slot, followed by Micromax and Intex. While the global players are increasingly focusing on 4G LTE technology, domestic players could still see some profits in 3G technology. Moving forward, it would be all about 4G LTE and 2016 is the year when a major transformation is expected in the telecom sector with respect to change in technology."
"In the second quarter, we are waiting to see how Micromax performs after tweaking its brand logo and creating a new approach towards marketing and sales strategy," Krishna added.
NOTES TO EDITORS
This release is a part of the CyberMedia Research (CMR) Smart Mobility Market Review Programme.
CyberMedia Research (CMR) uses the term "shipments" to describe the number of handsets leaving the factory premises for OEM sales or stocking by distributors and retailers. For the convenience of media, the term shipments is sometimes replaced by 'sales' in the press release, but this reflects the market size in terms of units of mobile handsets and not their absolute value. In the case of handsets imported into the country it represents the number leaving the first warehouse to OEMs, distributors and retailers. CyberMedia Research does not track the number of handsets brought on their person by individual passengers landing on Indian soil from overseas destinations or 'grey market' handsets. These are, therefore, not part of the CyberMedia Research numbers reported here.
CyberMedia Research (CMR) tracks shipments of mobile handsets on a monthly basis. However, as per convention, the market size is reported on a calendar quarter basis where appropriate to the context; in all such cases this refers to an aggregated number for the three calendar months in the quarter to which the press release refers.