With devices and data in India becoming more affordable, available and accessible, more number of Indians are getting online, and getting connected with new possibilities everywhere. 4G has enabled Indians everywhere to raise above their social and economic challenges.
At CMR, we have been tracking the 4G devices growth story on an annual basis, cutting across three 4G device segments: mobile phones, tablets and data cards. Our latest deep dive, the Annual 4G LTE Devices India Market Review Report 2018 paints a bright picture for 4G technology movement and 4G adoption trends. In 2018, the 4G LTE devices shipments in India grew at a 50% YoY, with  device shipments touching 220M units. In 2018, 4G devices had a 64% market share, growing from 49% a year before.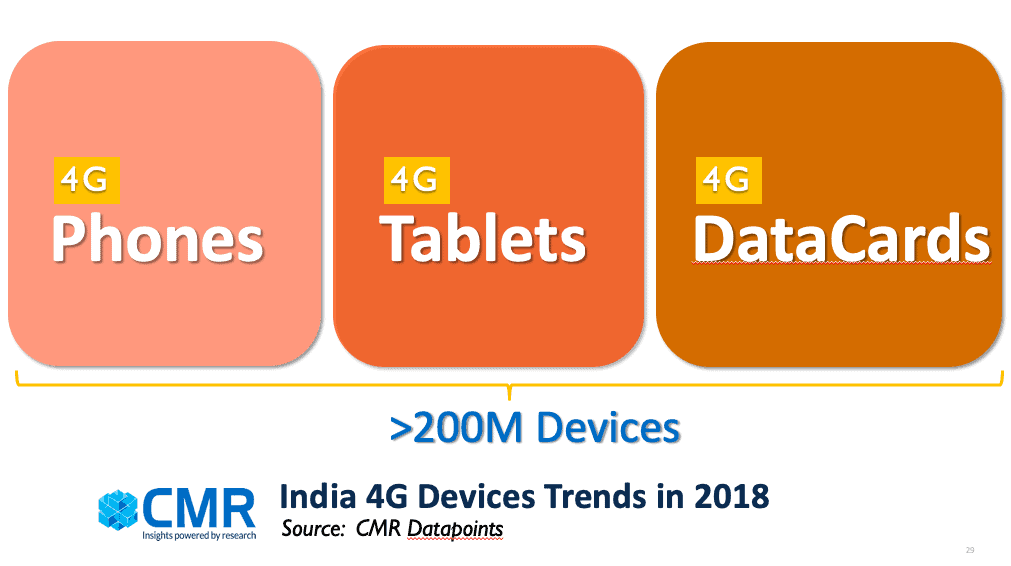 Mobile Phones
In 2018, 4G LTE mobile phones grew at 59% YoY. While Chinese brands contributed to around 40-42% of the mobile shipments, Indian brands saw a spike, accounting for 37-39% share, with Global brands contributing around 18-20% of the total mobile device shipments. Undoubtedly, Jio was the key driving force behind increased affordable mobile phone penetration in India, during this period.
Reliance Jio (including Reliance Retail's LYF), Xiaomi, and Samsung emerged as the top 4G mobile phone players with 33%, 20%, and 17% market shares.
Data Cards
4G LTE data cards completely dominated the data cards market in CY2018. 100% of the data card device shipments in India were 4G LTE based. However, purely in terms of unit shipments, the 4G LTE data cards witnessed 67% decline in comparison to CY2017 as a result of the drop in the sales. Reliance Retail's JioFi 3 sustained its popularity and contributed 56% market share in terms of unit shipments. Reliance Retail's JMR1040 MiFi was the second most popular model with 16% market share in terms of unit shipments.
Tablets
In 2018, the 4G tablet market continued to witness growth. The 4G LTE tablets accounted for 44% of the total tablet shipments. As per CMR estimates, while the overall tablet market is anticipated to further shrink by 2-3%, the 4G LTE tablet devices are expected to growth further, at around 18-20% during the year. Lenovo, Samsung and iBall secured 40%, 26% and 14% market shares, respectively.
In Conclusion
As we stand on the verge of 5G, the next generation of wireless technology, the promise is of substantial improvements in terms of speed, capacity, and latency. For India, this translates into significant opportunities to shape its future, whether it be in the realms of Agriculture, Education, Healthcare, or in the roll-out of Smart Cities. We believe the outlook for 5G in India is modest, with 8% adoption seen by 2024. During this time, 4G will continue to be the mainstay for India. CMR anticipates 4G adoption to touch 80% potentially by 2024.
As Head – Industry Intelligence Group at CMR, Prabhu Ram advises industry participants on the dynamic technology market in India and other Asian geographies through proprietary and custom technology research, cutting across technology domains. Prabhu oversees an analyst team that tracks smartphones, data cards, tablets, storage, display, wearables and smart homes.