Metros nearing saturation, while sales in Category C circles yet to pick up for new Smartphone market.

Samsung and Lenovo see maximum uptake in Category A circles, rest 3 brands dominate Category B.

Lenovo to give stiff competition to market leader Samsung, if it strengthens presence in Punjab, Haryana, Rajasthan, UP.

There is a need to launch specific campaigns in Metros driving consumers towards premium Smartphones.
Gurugram: Announcing its first edition of 'Mobilytiks' program, CMR-MXpresso revealed that the top five Smartphone brands (excluding LYF of Reliance Retail) held 68% combined market share in 1Q CY 2016 and 93% of their sales took place in Category A and B telecom circles. These include Andhra Pradesh, Maharashtra, Karnataka, Gujarat, Uttar Pradesh (East & West), among others.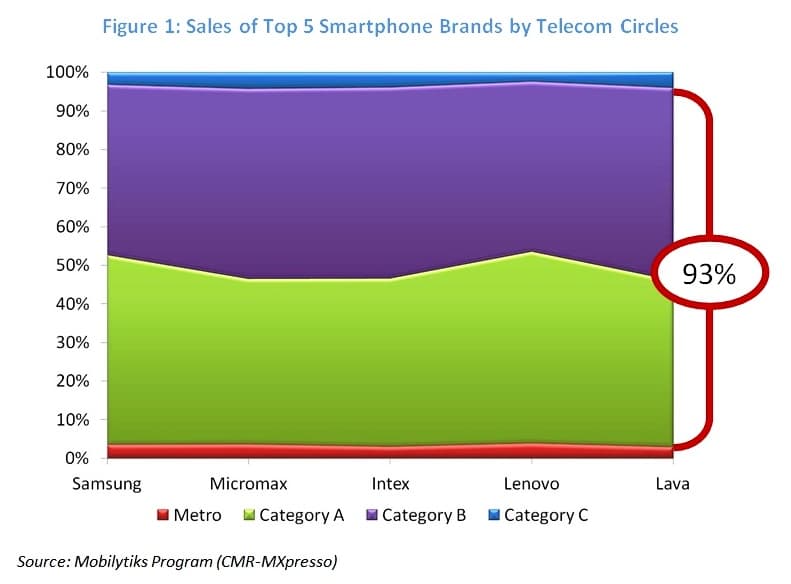 Category A and B constitute 13 of the 23 telecom circles in the country, representing 73% of the telecom subscribers base.
While for Samsung and Lenovo, Category A circles resulted in maximum sales, it was Category B circles for the rest three brands in the top five. Although, Samsung witnessed balanced sales from these two categories of telecom circles, Lenovo's sales from Category A circles were almost double compared to Category B circles. Lenovo can give a very tough competition to the market leader Samsung, if it strengthens its hold in the telecom markets of Punjab, Haryana, UP (E & W), Rajasthan, Madhya Pradesh and Kerala.
Launching the program, Thomas George, SVP and Head CMR said, "Today, there is a strong need for faster action oriented insight for the marketer. With Mobilytiks Program, it is our foray into big world of analytics providing data driven action oriented insights catering to the entire telecom ecosystem stakeholders. This is going to change the way insights are served to our customers, providing deeper level analysis, unique insights with largest possible sample base and coverage. We are pleased to bring this along with our technology partner MXpresso, which is among pioneers in analytics based solutions."
"Mobilytiks' aim is not only to become more data fluent and confident in how to go from a collection of insights to action, but maintaining a vicarious connection with all major constituents like the users and customers, serving every function and layer in our customer organizations," Thomas further added.
On this occasion, Dhiraj Gupta, CoFounder MXpresso said, "We have the vision to provide cutting edge data analytics to organizations which helps them in improving their understanding of the market. Mobilytiks is a step in the same direction to allow brands to get deeper insights into their markets and fine tune their strategy in the most effective way. User analytics based on millions on data points creates a completely different level of accuracy and assurance for the device industry specifically and the digital ecosystem in general."
Moving ahead, Category C that includes Bihar, Odhisa, Himachal Pradesh, Assam, North Eastern States and Jammu & Kashmir, which are also the markets for new entry level affordable Smartphones, could see some subscriber additions. Beyond this, there is also some scope in the circles within Category B.
While Metros and Category A circles are not adding any new subscribers due to the fact that contribution is still high from Category A circles, which also indicates the replacements / up-gradations taking place within the subscriber base.  However, to give impetus to the Smartphone market in Metros, there is a need to launch specific campaigns driving consumers in these markets towards premium Smartphones, which is also witnessing growth otherwise.  Perhaps, these are the markets where Apple should be focusing for now to further grow its business in India in 2016.
About Mobilytiks Program
Mobilytiks is the first prescriptive analytics based insights program pioneered by CMR and MXpresso serving the next levels of decision making for the industry.  The program gives detailed micro-level analysis of the telecom devices and services that is becoming the fundamental block of the connected society and world.
While the program will facilitate the industry in understanding and sensing the competitive landscape in a deeply engaged mode, it will also help in identifying the new markets and opportunities for the value chain.
Further, the program has much to offer to satisfy the inquisitiveness of the knowledge driven society where learning and knowing is the key to success.
About CMR & MXpresso
CMR
A part of CyberMedia, South Asia's largest specialty media and media services group, CyberMedia Research (CMR) has been a front runner in market research, consulting and advisory services since 1986.
CMR offers research-based insights and consulting services – market intelligence, market sizing, stakeholder satisfaction, growth opportunity identification, incubation advisory and go-to-market services – covering the Information Technology, Semiconductors, Electronics & Smart Infrastructure, Government, Energy & Utilities and LifeSciences sectors, as well as the large enterprise, SMB and consumer user segments.
Cyber Media Research & Services Ltd. is an institutional member of the Market Research Society of India (www.mrsi.in).
CMR's core value proposition encompasses a rich portfolio of syndicated reports and custom research capabilities across multiple industries, markets and geographies. CMR's forthcoming studies include stakeholder satisfaction surveys, mega spender assessments and market mapping studies for these domains.
For more details, please visit http://www.cybermediaresearch.co.in or https://www.cmrindia.com/
MXpresso
Founded by industry experts and veterans, mXpresso is a technology-focused mobile first company committed to deliver cutting-edge solutions that enable highly accurate targeting and segmentations for brands and advertisers. mXpresso is part of 6d Technologies, a tech enterprise catering to the telecom sector since 2002. An ISO 9001:2008 certified organization with operations in 45+ countries across five continents, the fast-growing company of more than 450 team members is headquartered in Bangalore. For more information, visit www.mXpresso.com.
---
For Media Inquiries, please contact
Krishna Mukherjee
+91-9871072319
releases@cmrindia.com
For Industry Inquiries, please contact
Faisal Kawoosa
General Manager – Research & Consulting
Industry Intelligence Group
fkawoosa@cmrindia.com