The 3Q'2017 for Mobile Handset Industry in India continued to reaffirm the dominance of feature phones in the India market, accounting for 53% of the overall market pie. The highly competitive smartphone market witnessed interesting trends, with Xiaomi leveling with Samsung at the top of the leaderboard for the first time, fueled by an impressive 84% growth.
New Delhi/Gurugram, 15 November 2017: According to CMR's India Monthly Mobile Handset Market Review Report for 3Q 2017 released today, mobile handset vendors shipped 80 million mobile handset units in 3Q.
Since the beginning of 2017, mobile handset vendors have shipped around 200 million mobile handset units in India. The smartphone market recorded 29% sequential growth in 3Q 2017, with 37.5 million units shipped, on the back of the festive season sales. Alongside, promotional offers on online and offline channels contributed to the growth.
Commenting on the major trends witnessed, Prabhu Ram, Head – Industry Intelligence Group (IIG), CMR said, "3Q 2017 witnessed the continued leadership of Samsung in mobile handset shipments with a 22% market share, and a comfortable 11% lead over Xiaomi. 3Q also witnessed Indian mobile handset manufacturers offering bundled entry-level feature phones (Reliance Jio LYF), which was later replicated by its competition in the entry-level smartphone segment. We anticipate this trend to increase in 4Q, resulting potentially in an increased market share for Indian brands. This would also lead to consolidation of handset vendors in sub-INR 5K smartphone segment. It remains to be seen how this move will benefit Indian brands in countering the Chinese dominance."
"Interestingly, Xiaomi recorded 84% sequential growth in 3Q 2017 to be on par with Samsung in smartphone shipments. However, Xiaomi's future growth will be dependent on its offline channel strategy to counter competition. 3Q also saw the return of Nokia to the top 10 mobile handset brands list, with its growth fueled by its feature phones," Narinder Kumar, Analyst, CMR-IIG.
"While 4Q will see the introduction of several marquee flagship brands, the India market will continue to be driven by the affordable (INR <7K) and value for money (INR 7K-25K) segments. We anticipate a modest uptake for marquee brands in the initial run." Prabhu added.
India Market Highlights
Mobile handset shipments likely to touch 262 million units by end of Q4 2017

CMR estimates the mobile handset shipments to clock 262 million units by the year end, with feature phones ruling the roost with 141.6 million units and smartphones accounting for 124 million units.
Shipments of Global brands recorded 52% sequential growth in 3Q 2017, while Indian brands grew by 28%.
Chinese brands had a market share of 44%, while Indian brands had a 28% share.
3Q 2017 Technology Insights
Continued growth of 4G Smartphone Shipments
In 3Q 2017, 4G smartphones grew sequentially by 37%, dominating the market with a 96% market share. In comparison, 3G smartphones saw a sequential decline of 27%.
Quest for Higher Camera Megapixels
Smartphone Shipments of 13 MP recorded 34% sequential growth in 3Q 2017 underlining the trend towards higher camera megapixels.
Quad core remained market leader in 3Q 2017.
India Market witnessed movement towards Octa core, with Octa core shipments recording 37% sequential growth in 3Q 2017.
CMR 3Q Brand Leaderboard
Samsung remained the market leader with 22.1% market share, and a sequential growth of 38% in 3Q 2017. In 3Q 2016, Samsung had achieved a 25% market share.
Xiaomi with 84% sequential growth in 3Q 2017 was at number two spot with 11% market share, on the back of online sales in the quarter, followed by itel with 9% market share at number three position.
Nokia made a return to the top 10 vendors, with its feature phones contributing to its growth in 3Q 2017.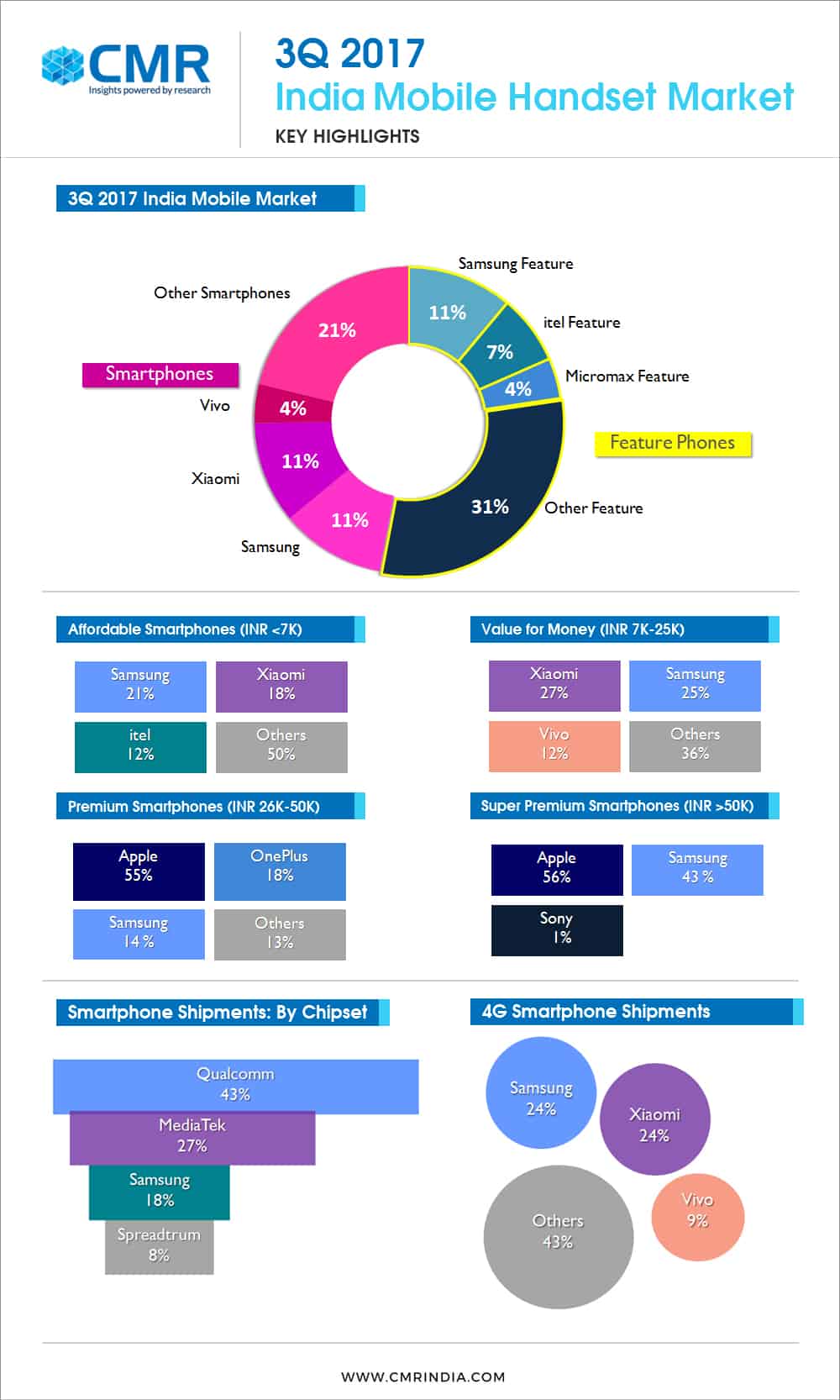 ###
About CMR India Mobile Handset Review Report
The CMR Mobile Handset Review Report is based on CMR's research methodology and proprietary tools, covering >100 unique datasets, and delivered to CMR clientele. The report is available in monthly, quarterly and half-yearly formats. The report deliverables include top-line findings and summary snapshot for India market in powerpoint, and in a user-friendly excel format. For more information on CMR's Mobile Handset Report, please contact Amit Sharma at +919650453646 or asharma@cmrindia.com
About CMR
CMR offers industry intelligence, consulting and marketing services, including but not limited to market tracking, market sizing, stakeholder satisfaction, analytics and opportunity assessment studies.
Its bouquet of consulting services includes incubation advisory, go-to-market services, market mapping and scenario assessment services. CMR is servicing domestic as well as international clientele in India and few global destinations. The clientele serviced represents SMBs, Large Enterprises, Associations and Government. CMR's core value proposition encompasses a rich portfolio of syndicated reports and custom research capabilities across multiple industries, markets and geographies.
A part of CyberMedia, South Asia's largest specialty media and media services group, CyberMedia Research (CMR) has been a front-runner in market research, consulting and advisory services since 1986. CMR is an institutional member of Market Research Society of India (MRSI). For more information, please visit CMR's website, Twitter and LinkedIn pages. For queries, please contact: releases@cmrindia.com
###