New Delhi/Gurugram, 16 Dec 2020: The Tablets market in India witnessed a stellar 77% quarter-on-quarter (QoQ) growth in Q3 2020 primarily driven by buoyed consumer demand for various use cases, including learn from home, and unwind at home. In addition, enterprise demand picked-up during the quarter.  According to CMR's Tablet PC Market Report Review for Q3 2020, Samsung led the tablet market with 37% market share, dislodging Lenovo at the top.
According to Menka Kumari, Analyst-Industry Intelligence Group (IIG), CMR, "For consumers, tablets have been key as a companion device to support learning at home and unwinding at home. Whether it be teachers or students alike, tablet PCs enabled them to cope with the demands of remote learning. Consumer demand was largely fulfilled through an array of attractive festive offers. On the enterprise side, tablets played a key role in the nascent digital transformation efforts of small and medium businesses (SMBs) to face-up to the pandemic."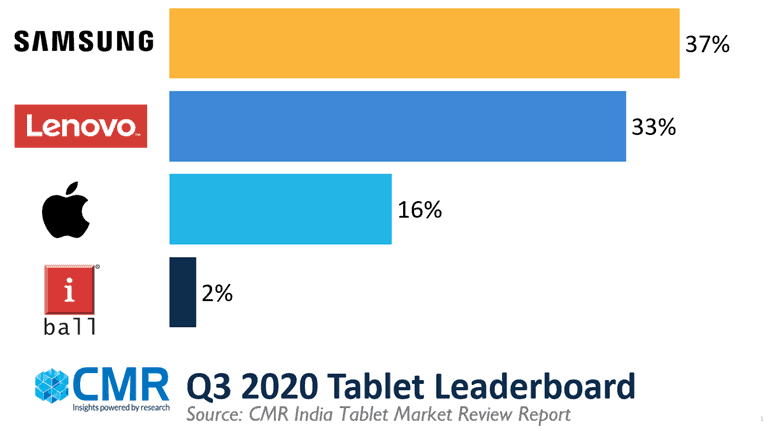 Vendor Highlights – Q3 2020
Samsung replaced Lenovo at the top with 37% market share. During the quarter, Samsung saw its overall sales grow by a whopping 120% QoQ. Samsung Galaxy Tab A 8.0 LTE (2019) series contributed up to 12% of Samsung's market share. As uncertainties owing to COVID-19 pandemic continue to persist, Samsung has a good opportunity to increase its market share in the overall tablet market. Samsung has recently launched Tab S7 and S7 plus series to further leverage on its recent growth in the tablet market.
Lenovo was placed second in the market leaderboard with 33% market share. Lenovo's enterprise tablet business saw a good growth, driven by government and education verticals.  Lenovo continued to maintain its QoQ growth and sought to capitalize on new market opportunities with an array of tablet launches, with new updates and features. Lenovo aggressively launches new tabs with update and new features. Lenovo Tab M10 HD has been accepted by consumers more favorably in this quarter.
Apple maintained the third position for Q3 2020 with 16% market share. During the quarter, Apple iPad sales grew by a humungous 135% QoQ. The newly launched Apple iPad 8 contributed to this market growth with 8% of the overall iPad shipments during the quarter.
Future Outlook
In Q4 2020, the tablet market will continue to grow steadily amidst COVID-19 at 10-15%
"We believe the tablet market will continue to maintain its current growth owing to the persistent homebound conditions. As uncertainties remain around when a potential return to the normal could be attained – whether it be for work or school, tablets will find favor with consumers and enterprises. The tablet shipments will continue to see a steady spike through Q4 2020, to meet the increased demand," added Menka.
Notes for Editors
This release is based on the CyberMedia Research (CMR) India Quarterly Tablet PC Market Review published at the conclusion of every calendar quarter.
The figures captured are of both enterprise and consumer shipments.
CyberMedia Research (CMR) uses the term 'shipments' to describe the number of Tablets leaving the factory premises for OEM sales or stocking by distributors and retailers. For the convenience of media, the term 'shipments' is sometimes replaced or used interchangeably with "sales" in the press release, but this reflects the market size in terms of units of Tablets and not their absolute value. In the case of Tablets imported into the country it represents the number leaving the first warehouse to OEMs, distributors and retailers. CyberMedia Research does not track the number of Tablets brought on their person by individual passengers landing on Indian soil from overseas destinations or 'grey' market Tablets (if any).