In Emerging India, multi-brand smartphone retailers in cities like Bhopal and Nashik give a thumbs-up to a fresh youth-centric brand, Comio, ranking it next only to established brands like Lava.
New Delhi/Gurugram, 19 March 2018:  CyberMedia Research today released their latest Budget Smartphones Channel Audit Survey 2018, capturing preferences and perspectives of traditional multi-brand smartphone retailers around 'Value for Money' (100 brands vying for consumer attention.
Satya Mohanty, Head- User Research Practice at CMR said, "The key takeaway from our Channel Audit Survey is that Offline cannot be ignored by smartphone brands, if they intend to connect and capture mindshare and market share in Emerging India, especially in cities such as Panipat, Dehradun and Bhopal."
"It is interesting to note that retailers have ranked, Comio, a relatively young youth-focused brand, first amongst emerging smartphone brands launched in 2017. Comio has performed exceptionally well, scoring high on both product satisfaction and sales support. More remarkably, at an overall level, Comio is ranked equally, or next only to an established brand, like Lava on various parameters," added Satya.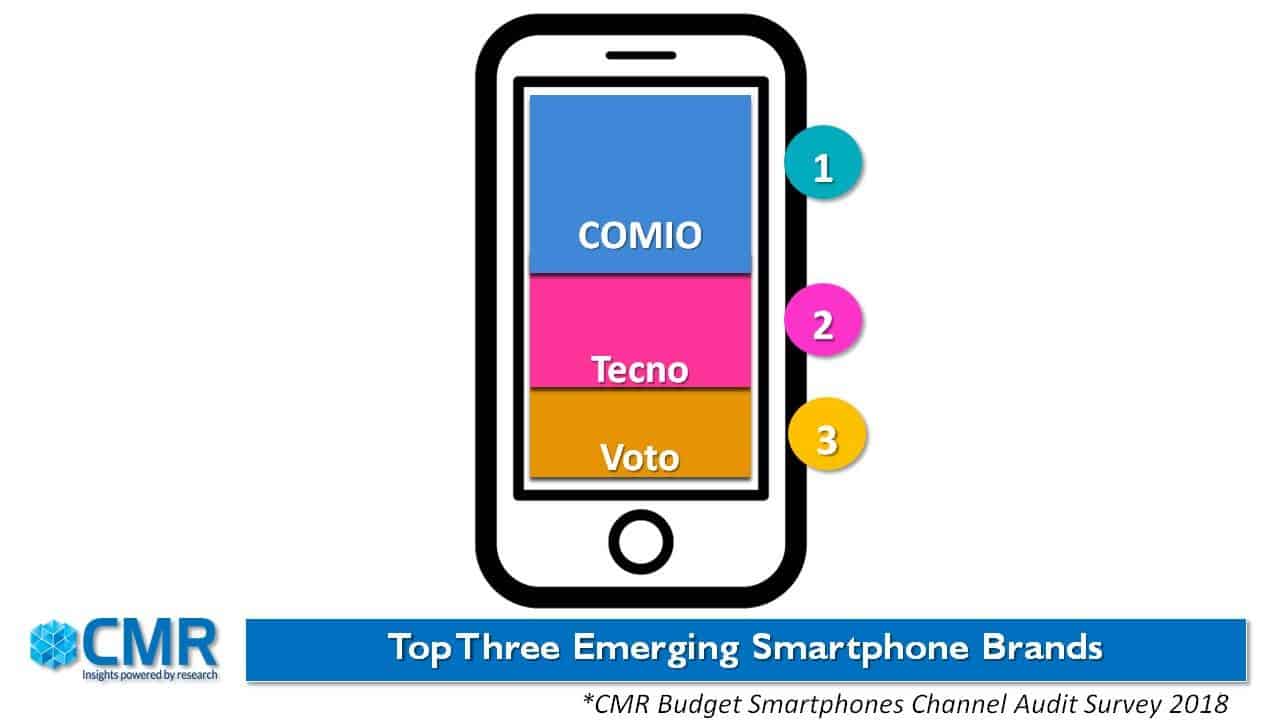 According to the survey findings, the key parameters contributing towards high levels of brand retail satisfaction include good product quality, and excellent sales support.
The survey excluded smartphone brands having their own retail/experience store. As part of the survey, >250 traditional smartphone retailers across eight cities of India shared their views on the value for money smartphone brands.
Here is a snapshot of the major findings:
On Overall Brand Satisfaction, among all the 'value for money' smartphone brands launched in 2017, Comio scored the highest, followed by Tecno and Voto. Across brands, Lava emerged as the distinct leader amongst retailers. On the other hand, brands like Jivi and Spice need to improve their brand satisfaction to compete with others.
In 'Product Satisfaction', Lava scored the highest, followed by Comio. Despite being a new entrant, Comio was ranked first as an emerging brand, with retailers giving it the thumbs-up on various parameters, including product quality, product pricing, product reliability, product aesthetics, packaging and performance.
On 'Overall Sales Support', Comio was placed first alongside Lava. Comio scores highly on trade/sell out schemes, promotional offers, product margins, timely visits by key sales personnel, and credit period.
When it comes to 'After sales service', Lava, Tecno and itel were the top three ranked brands. On the other hand, brands such as Karbonn need to improve upon their after-sales service.
In 'Distribution', Comio scores high for availability of running models, as well as for on-time delivery next only to Lava.
Notes to Editors:
About CMR
Notes to Editors:
CyberMedia Research conducts the Budget Smartphones Channel Audit to capture the perspectives, preferences, challenges and dislikes of retailers around 'value for money' (INR <10,000) smartphone brands, capturing a compelling picture of smartphone brands in the market.
About CMR