New Delhi/Gurugram, 16 September, 2019: On 10th September, Apple unveiled its 2019 generation of iPhones, alongside a greater emphasis on content, via Apple TV+ and Apple Arcade.
Apple debuted the iPhone 11, 11 Pro and 11 Pro Max, with the 11 being the cheapest one. The iPhone 11 debuted with a dual-camera configuration and a new design. The incremental upgrades to the new iPhones include an ultra wide camera lens and enhanced camera features, along with a power boost in the form of a new A13 Bionic processor (with a faster graphics processor).
Lately, Apple had made it a strategy to increase the ASV (Average Sales Value) of its new launches to counter its falling sales numbers. This worked initially to maintain its annual revenues, but with its Chinese counterparts offering similar specs or to say better specs for lower value, Apple seems to have learned its lesson the harder way.
Also, China and some other Asian countries are in the throes of an early 5G era adoption phase. In sharp contrast, Apple is still atleast 12-24 months away from introducing its 5G compatible iPhones, with the delay attributable to its dispute with Intel and Qualcomm. Given this background, India is one of the most strategic Asian markets for Apple, more than ever before.
The Apple iPhone 11's biggest feature that will really matter to users, and more so than any other element is its pricing. The iPhone 11's price in India starts at ₹ 64,900 for the base variant with 64GB of storage and will go up to ₹ 79,900 ($849) for 128GB variant.
Interestingly, iPhone XR, launched in Oct 2018, had a starting price of Rs. 76,900 for the base variant of 64GB storage. After a massive price cut on the XR in Q2 2019, iPhone XR's base variant is now available for ₹ 49,990, and is currently Apple's bestseller in iPhones, striking a chord with price-conscious Indian consumers.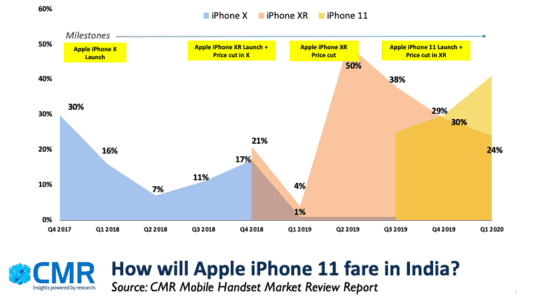 As per insights gleaned from CMR's India Mobile Handset Market Review, each Apple device attains a maxima at debut, that sustains it for the first quarter, and then hits a plateau. What Apple has achieved with its price cuts strategy, is to get consumer interest rekindled.
The CMR Mobile Industry Consumer Insights Survey (MICI) peep into consumer mindset underlines that Apple continues to be the most aspirational brand in India. Given that Apple's new iPhones have a clear run leading onto the festive season, the new as well as old generation iPhones will find favor with consumers.
The current economic slowdown may have a potential effect on the Apple performance. However, Apple's initiatives to bring new incentives and trade-in offers will help keep it in good stead. With this trend, CMR estimates that Apple iPhone 11 will hit a high of 35-38% market share on debut. The India manufactured, iPhone XR, whose current share is around 38% will continue to enjoy its current run, and dip slightly as the 11 takes over. Apple has also slashed the price of older iPhone models, starting from iPhone 7 by at least ₹10,000. Apple iPhone 7 is now available at ₹29,900 while the 128 GB variant is priced at ₹34,900. We believe this move will help Apple to mark a presence in the ₹20,000 – 30,000 price range which is typically dominated by Samsung and Chinese players.
The Apple iPhone 11 Pro is the new kid on the block is expected to dominate and slowly eat away Apple iPhone X market share in the subsequent quarters. The Apple iPhone 11 Pro Max market share is expected to increase to 4% within Apple's portfolio by the end of Q1 2020 whereas Apple iPhone XS Max is expected to decline to 0.5% for the same period.
Apple has all the advantage going forward in increasing its market share in India with its new launches. A conducive policy environment, along with new retail stores in the near future will help it press forward.