New Delhi/Gurgaon, 9 Nov 2022.  With strong and conducive Government policy push, including its flagship EV scheme, Faster Adoption and Manufacturing of Electric Vehicles (FAME), and more automotive OEMs prioritizing electric vehicles (EVs), India's EV momentum is gaining strength.
However, there have been many persistent concerns around India's nascent public EV charging infrastructure, as well as EV range anxiety, amongst others. As per a new study by CyberMedia Research (CMR), India's trusted technology research and consulting firm, Indian consumers are not shying away from EVs owing to 'EV range anxiety' or 'upfront costs', or 'limited EV charging infrastructure'. In fact, an overwhelming 50% of Indian consumers are open to buying EVs, but with a caveat. 54% of consumers are concerned about 'EV quality'. This trend is more pronounced in the case of tech-aware, digital natives in the age group of 30-44 years.
According to John Martin, Analyst – Smart Mobility Practice, CMR, "For long, limited EV charging infrastructure and range anxiety have been construed as barriers for EV adoption. However, automotive OEMs have already designed EVs with a sufficient range of up to 200kms or more. So, range anxiety seems to be a misperception. As CMR's consumer pulse indicates, the potential consumer for EVs is more concerned by the overall EV quality. EV quality includes, not just external build quality, but refers to the overall quality of internal components used – including battery and others."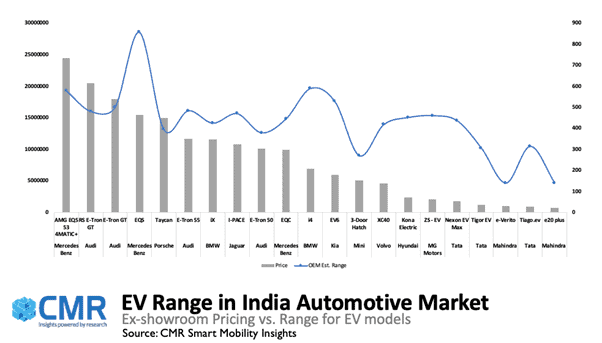 In Q3 2022, the passenger EV segment (ePVs) grew by an overwhelming >300% YoY as per CMR's Smart Mobility insights, with automotive OEMs bringing many new models in the entry passenger vehicle segment, including hatchbacks, compact sedans, and midsize SUVs, amongst others. Alongside, many Tier I OEMs are planning to propose ePVs in the near future.
India's EV charging infrastructure is accelerating, with more public EV charging stations coming-up. Alongside, cross-industry collaborations in the EV ecosystem will also contribute to the ramping-up of charging infrastructure.
"Driven by ongoing policy thrust at the central and state levels for EV infrastructure development, alongwith upstream R&D in battery development will ensure a significant uptick in ramping-up e-mobility. For OEMs, the focus should be on continuous awareness generation around the quality and potential of EVs," added John.
further policy thrust at the central and state levels, alongwith growing EV infrastructure development will ensure a significant uptick in ramping-up e-mobility
About CMR:
CMR offers industry intelligence, consulting and marketing services, including but not limited to market tracking, market sizing, stakeholder satisfaction, analytics and opportunity assessment studies.
The CMR Smart Mobility Practice focuses on unlocking key technological and market insights in the
automotive sector. The team tracks and reports on the evolving ACES trends in India.
CMR's core value proposition encompasses a rich portfolio of syndicated reports and custom research capabilities across multiple industries, markets and geographies. A part of CyberMedia, South Asia's largest specialty media and media services group, CyberMedia Research (CMR) has been a front-runner in market research, consulting and advisory services since 1986.
For queries, please contact releases@cmrindia.com