Around 314 Petabytes memory was added to the overall market.
32GB capacity was most favored with 35% market share.
OTG Pen Drives captured 18% of the overall pen drive market.
Gurugram/New Delhi,Aug21, 2020:According to CMR's India Consumer Storage Flash Devices Market Review Report for H1CY2020 released today, the India Consumer Storage market (Micro SD,Pen Drive and SD card) shipments declined 55% YoY in H1 2020.Micro SD and Pen drive category shipments dropped down by 58%and 54% YoY respectively during the same period.
"Arrival of COVID-19 started slowing down the market in Q1 itself,despite brands being well prepared for the Chinese New Year. National lockdown during the major part of Q2 further disrupted the supply and demand.Anti-China sentiments along with scrutiny of imports at the customs also acted as a catalyst leading to this downturn. Additionally, Q1 inventories were carried forward in Q2 thus lowering down the overall shipments," observed Shipra Sinha, Lead Analyst, CyberMedia Research. 
"Continuous growth in huge inbuilt storage smartphones has replaced the need of an additional space.Hence, Micro SD cards category, that holds the major chunk of the market has seen constant decline since quite some time. Pen drive,the second major contributor also did not add much due to severe lack of supply and demand in Q2," added Shipra.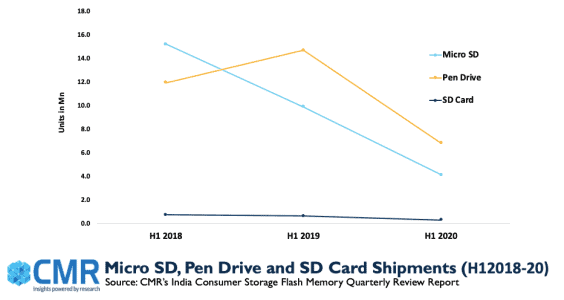 Market Leadership
Overall Market: SanDisk topped the leader board with 74% market share.However,SanDisk shipments witnessed 49% YoY decline. HP continued to be on the second spot with 4% market share followed by Toshiba.Samsung shipments witnessed significant 69% YoY decline.
Micro SD: SanDisk was the leader with 50% market share with Samsung at 5% on the second spot.
SD Card: SanDisk captured 94% market share followed by Sony contributing 4%.
Pen Drive: SanDisk lead the market with 88% market share followed by HP contributing 6% in terms of unit shipments.
While Type C pen drives captured 6% market share, USB 3.0 contributed 56%.SanDisk's Cruzer Blade SDCZ50 (64GB) pen drive model was most favored and contributed 24% market share to the overall pen drives market.
Capacity Trend:
A notable shift towards higher capacities like 64GB,128GB and above was observed in H1 majorly due to minimal price gap. 32GB was the highest contributor capturing 35% market share. 64GB market share increased to 14% from 9% in H1 2019.Similarly,128GB captured 3% in terms of unit shipments.
Future Trends
CMR anticipates 35-40% QoQ growth in the Micro SD and Pen Drives shipments collectively in Q3 with pen drives being the prime growth driver. OTG pen drives will become more popular as they create more space in the smartphones with their on the go data transfer feature.
According to Shipra, "Extended Work from Home (WFH) and Learning from Home (LFH) in the new normal will generate large storage requirement encouraging preference towards higher capacities. In addition, in a home bound economy, content creation is on the rise, with people sharing more content online.Going forward, online sales will fuel this growth with all the major e-commerce sites kick starting their flagship sales early during this festive quarter."
Notes for Editors
CyberMedia Research (CMR) is a pioneering market intelligence and consulting firm that runs a comprehensive quarterly market update on the India Consumer Storage market. CMR's India Quarterly Consumer Storage Flash Memory Market Review covers Micro SD cards, SD cards and Flash drives sold via distributors and retail outlets. The report accounts for 'legal' shipments, but does not include
bundled or 'grey' market shipments or units brought from abroad by individuals as a part of personal baggage.
CMR uses the term "shipments" to describe the number of consumer storage flash memory devices leaving the factory premises for OEM sales or stocking by distributors and retailers. For the convenience of media, the term 'shipment' is sometimes replaced by "sales" in the press release, but this reflects the market size in terms of units of consumer storage flash memory devices and not their absolute value. In the case of flash memory devices imported into the country, it represents the number leaving the first warehouse to OEMs, distributors and retailers.
Notes to Editors:
About CMR
Notes to Editors:
CyberMedia Research conducts the Budget Smartphones Channel Audit to capture the perspectives, preferences, challenges and dislikes of retailers around 'value for money' (INR <10,000) smartphone brands, capturing a compelling picture of smartphone brands in the market.
About CMR