Cool design aesthetics, ease of use and affordability dictate consumer tech lifestyles.
When it comes to consumer tech lifestyles, Realme leads in overall brand trust, followed by Samsung
As an early driver of smart tech products, Xiaomi leads in brand awareness and usage.
Gurugram, 25 Nov 2021: Through the course of the past two years, smart tech-enabled lifestyles have gained an impetus in India. Today's consumers are increasingly adopting to smart consumer tech devices to connect, collaborate, control, shop or socialize from the confines of their home.
While many consumer technology brands have traditionally been operating in the market, with an array of tech products – from wearables to laptops, and, from air purifiers to robotic vaccums cleaners amongst others, the advent of Internet of Things (IoT) has opened up growth avenues for new market entrants, such as Smartphone OEMs.
Across an array of new consumer tech product segments, Smartphone OEMs are tapping emerging smart lifestyle opportunities with their Smartphone + IoT product portfolio. In doing so, they are competing against traditional consumer tech brands. It is in this context that CyberMedia Research (CMR) undertook the 'CMR Connected Consumer Survey 2021' to dive deeper into the psyche of the connected consumer, and map the play for smartphone brands across an array of connected tech products and appliances.
For connected consumers, the biggest expectations from consumer tech products and appliances include ease-of-use (96%), affordability (89%), and innovative design aesthetics (88%), amongst others. Laptops (39%), Tablets (31%) and Smart Bands (29%) are amongst the top three smart tech products and appliances that consumers are currently using.
According to Prabhu Ram, Head- Industry Intelligence Group (IIG), CyberMedia Research (CMR), "As technology becomes increasingly accessible, consumer lifestyles are getting increasingly reshaped and refined. Today's connected consumers are yearning for more democratized tech lifestyle experiences. To satisfy this consumer need, many smartphone brands have forayed into new consumer product segments. Of these, the smartphone brands that enjoy a strong brand salience amongst their users, are winning big on the consumer trust."
Underpinning the consumer yearning for democratized and affordable consumer IoT tech experiences from smartphone brands is predominantly brand trust. As per consumers polled for the CMR survey, Realme enjoys the highest brand trust score of 55%, Samsung was placed second with 51%, while Apple was placed third with 49%.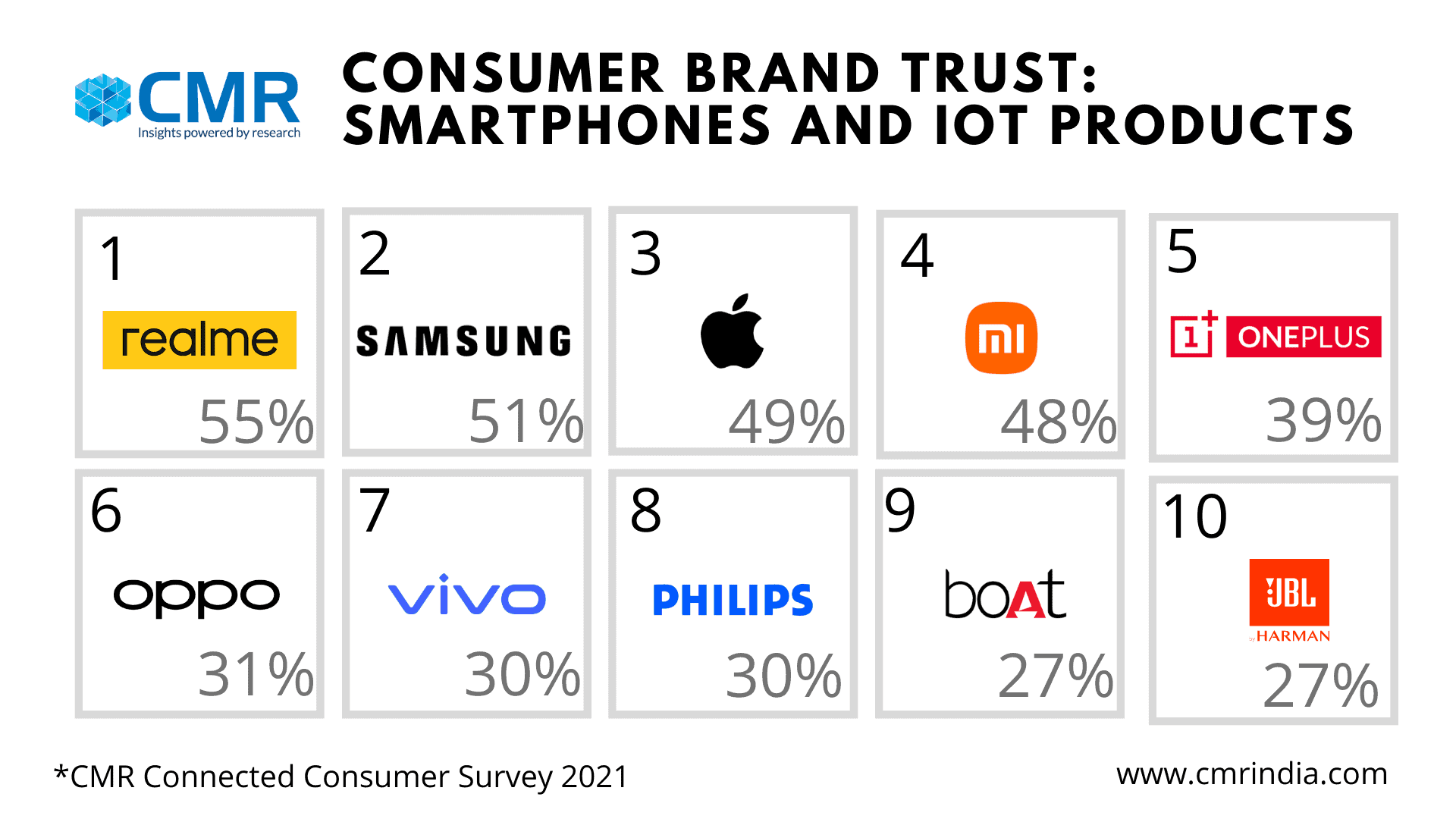 "Our research highlights that while some of the consumer product segments may have incumbent champion brands, a clear trend is of platform smartphone consumer tech companies gaining consumer trust, recommendation and preference. The high brand affinity and brand trust that some smartphone brands enjoy amongst consumers is translating into increased adoption of new consumer tech products from them," added Satya Sundar Mohanty, Head- Industry Consulting Group (ICG), CyberMedia Research (CMR).
Here are some of the key study highlights:
Consumer Tech Brandscape: By Brands
Awareness: Xiaomi and Samsung lead in brand awareness (96%) followed by Realme (91%)
Consideration: Realme is the most-considered (67%) brand followed by Xiaomi (62%) and Samsung (50%).
Satisfaction: Apple users are most satisfied (96%), followed by Samsung (94%).
Recommendation: Realme is the most-recommended (52%) brand followed by Xiaomi (48%) and Samsung (44%).
Overall Affinity Score: Realme enjoys the highest brand affinity score (a composite score derived from brand awareness, consideration, satisfaction and recommendation scores) of 76%. Xiaomi was placed second with 74%, while Samsung was placed third with 71%.
Consumer Tech Brandscape: By Major Segments
Smartphones: Realme leads in overall satisfaction (96%), followed by Samsung (95%).
Laptops: Three in every four smartphone users explored Lenovo before making final purchase of their Laptop. Realme is ranked first in terms of overall satisfaction (98%).
Tablets: Samsung (94%) followed by Apple (87%) has the highest brand awareness. Processor (94%) and battery (86%) are the top factors considered by users while selecting any tablet.
Smart Watch: Realme (78%) leads in terms of brand awareness, followed by Xiaomi (76%). Realme is the most recommended by consumers (25%). Tracking physical activity (83%) and monitoring blood pressure (82%) are the key consumer purchase ers.
Wireless Earphones: Boat (32%) is the highest recommended brand followed by Samsung (26%). Realme leads in awareness (74%) and satisfaction (98%). Battery life (94%) is the top-most consumer consideration.
Bluetooth Speakers: Boat (98%) leads in satisfaction, followed by Philips (96%). Portability (90%) and good audio quality (90%) are the top purchase drivers in this segment.
Smart TV: LG (92%), followed by Samsung (86%), has the highest awareness in Smart TV category. Fast user interface (86%) and voice control (86%) are the key consumer considerations.
Hair Dryers: Dyson (96%) followed by Philips (88%) leads in brand satisfaction.
Electric Toothbrush: Philips enjoys highest brand recommendation (43%). Two in every five electric toothbrush users seem to be promoting it to peers.
Air Purifier: Philips leads in awareness (73%) and consideration (36%). Samsung (96%) leads in satisfaction.
Notes for Editors
CMR defines Connected Consumers as those empowered tech-aware consumers who self-reported that they own and use smart devices atleast once per month.
For the purposes of this study, "smart devices" include smartphones, smart TVs, laptops, tablets, and other consumer appliances.
The CMR Survey covered >25 consumer tech products and appliances, from >16 consumer technology brands (including smartphone OEMs offering Smartphone + IoT products portfolio in India).
The CMR Connected Consumer Survey covered 2,010 consumers, cutting across top eight cities of India, including Delhi, Mumbai, Kolkata, Chennai, Bengaluru, Hyderabad, Ahmedabad and Pune. The survey was conducted from late-October to mid-November 2021.
For results based on a randomly chosen sample of this size, there is 95% confidence that the results have a statistical precision of plus or minus 3% of what they would be if the entire population had been surveyed.
For queries, please contact: releases@cmrindia.com