'Leader' states show consistency in policy formulation, administrative reforms, project implementation, capacity building and popularisation of e-Gov programmes
Increased all-round focus on building e-Gov and m-Gov platforms and apps to improve end-user experience, impart user education and strengthen project monitoring & control; Goa and Chhattisgarh emerge highest per capita public IT spenders in 'small' and 'large' state categories
Top ranking states presented 'Good Governance Awards' at the Dataquest-CMR e-Gov Summit
The Dataquest-CyberMedia Research e-Readiness Assessment of Indian States 2013 revealed that Delhi, Kerala, Goa, Gujarat and Andhra Pradesh had topped the rankings in the overall planning, implementation and outcomes generated from their IT policy initiatives, administrative reforms and roll-out of e-Governance programmes.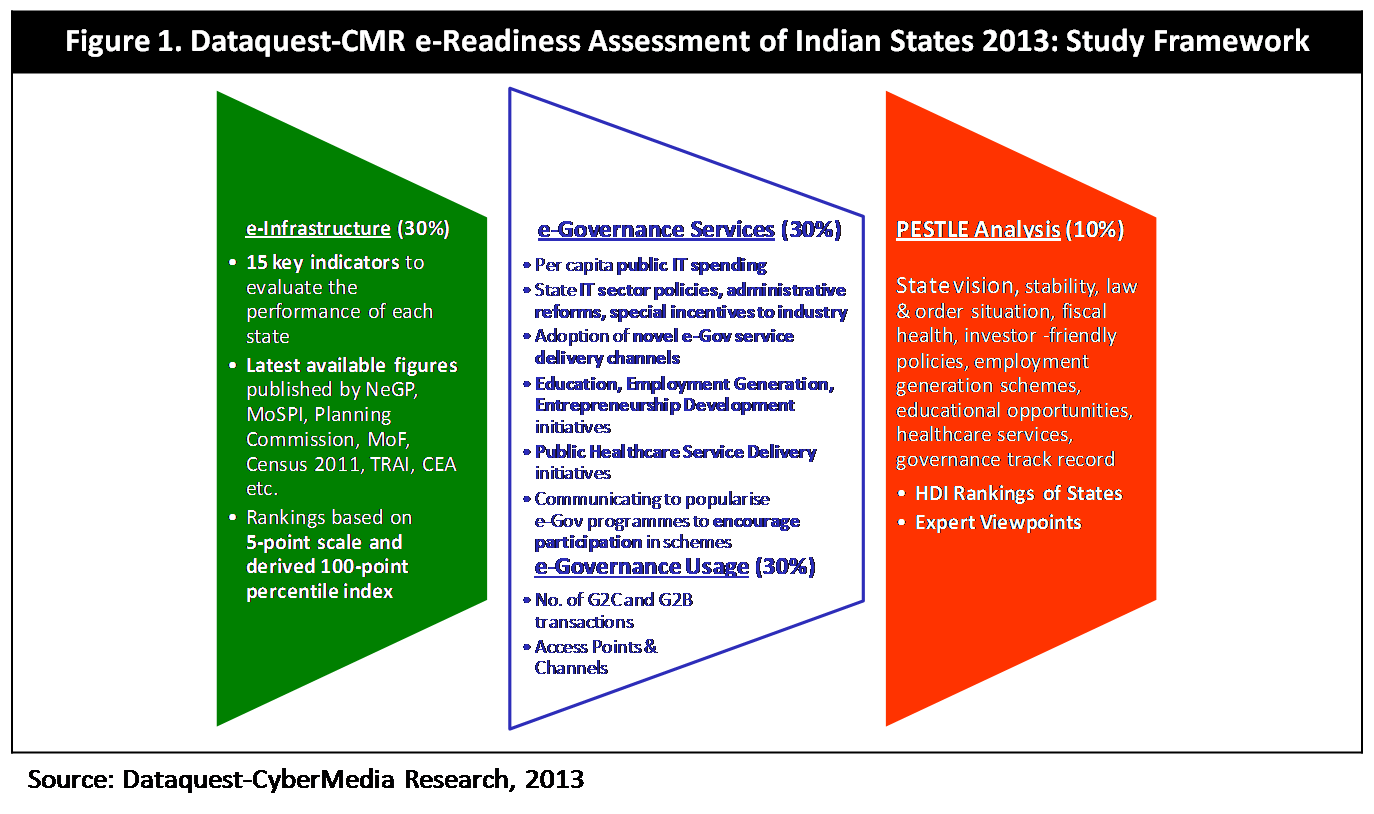 Key Lessons
"Close to 66% of India's population is currently under the age of 35 years. This means that the aspirations and wants of the current generation of Indians are very different from those of their parents' or grand parents' generations. The advent and widespread adoption of Information Technology, particularly the Internet and mobile telephony have added a completely new dimension to the awareness and expectation levels of Indians from all walks of life", stated Ibrahim Ahmad, Group Editor, Dataquest.
"Rising expectations and wants of citizens are forcing Central and state governments to devise schemes and programmes that can speedily and efficiently deliver the benefits of good governance to a large proportion of the population in a transparent manner. In this scenario, ICT comes as a 'boon' by enabling reliable, secure and affordable access to welfare projects for citizens living in remote corners of the country", opined Thomas George, Senior Vice President and SBU Head, CyberMedia Research.
"Good Governance is measured in terms of access to quality education, affordable housing, modern healthcare services, employment opportunities, robust public infrastructure, 'on-screen' delivery of government services and timely updates about welfare and financial inclusion schemes", said Vishaal Bhatnagar, Lead Analyst, CMR Public Sector Practice.
"Starting with the National e-Governance Plan, the Central and state governments have rapidly put in place core IT infrastructure such as SWANs, SDCs and CSCs. The focus has now shifted to providing easy, safe and affordable access to public welfare programmes through the deployment of robust 'middleware' gateways such as NSDG, SSDG, MSDG and 'front-end' delivery channels like Mee-Seva, e-Suvidha or Lok Mitra Kendras, state and national portals, and software tools to monitor the performance of CSCs and other service delivery channels", Vishaal concluded.
Dataquest-CMR e-Governance Summit-cum-Awards
As per government estimates, the total budget for National e-Governance Plan (NeGP) is estimated to be of the order of US$ 9.7 billion. As per the Dataquest-CMR study, Goa (INR 644 per person) and Chhattisgarh (INR 367 per person) emerged as the highest per capita spenders on public IT infrastructure among small and large states, respectively for the 24-month period ended 31st March 2013.
To recognise significant achievements in e-Governance policy formulation, project implementation and programme governance, Dataquest and CMR decided to award the leading states with 'Good Governance' awards. Towards this end, the Dataquest-CyberMedia Research e-Governance Summit-cum-Awards 2013 was held at the Shangri La, New Delhi today. The Summit was inaugurated by Mr. Wajahat Habibullah, former Chief Information Commissioner of  India and currently Chairperson, National Commission on Minorities.
The event witnessed attendance by senior bureaucrats and policy-makers from the Centre and states.
The winners received their awards from the country's e-Gov pioneer, Mr. R. Chandrasekhar, former Secretary, Department of IT and Department of Telecommunications, Govt. of India and President designate, NASSCOM.
A CMR analyst delivered a brief overview of the survey findings at the Summit. Copies of the Executive Summary of the Dataquest-CMR e-Governance Assessment of Indian States 2013 Status Report were shared with attendees.
– ENDS –
Dataquest-CMR e-Readiness Assessment Methodology
The Dataquest-CMR e-Readiness Assessment of Indian States 2013 focused on four key parameters of assessment:
a)       Availability of electronic infrastructure, and the means and capacity of the state's residents to access e-Gov services, schemes and programmes;
b)       Status of implementation of e-Gov Mission Mode Projects and programmes, enabling policies, rules and administrative reforms, as well as communication and popularisation initiatives of the government;
c)        Indicators of actual e-Gov or m-Gov service utilisation by the target beneficiaries, and
d)       PESTLE Analysis: HDI ranking of states and viewpoints of a panel of experts.
The study ran over four months (April-July 2013) and analysed feedback collected from depth interviews with nearly 120 key stakeholders across 29 states of India. This included state IT secretaries, state e-Governance / Nodal Agency directors, SeMT project managers, DeitY (Department of Electronics and IT) and NIC (National Informatics Centre) technical directors and other government IT purchase decision makers and influencers. The survey was capped off with a focus group discussion involving government sector experts, senior ICT industry executives, Dataquest editors and CMR analysts.
About Dataquest
Dataquest is the flagship IT publication of CyberMedia, South Asia's largest specialty media and media services group. Launched in December 1982, Dataquest has tracked, chronicled and analysed the rise of India's IT sector for over 30 years with many editorial "firsts" and innovations to its credit – the Dataquest Top 20 issues,  the Dataquest IT and BPO Best Employer Surveys, Dataquest Top Tech Schools Survey, Dataquest Mega IT Spenders Survey and the Dataquest e-Readiness Survey.
Dataquest also pioneered many innovations amongst India technology journals in print, online, events, integrated 360-degree go-to-market programmes and Custom Publishing.
Dataquest is the only B2B IT media platform that follows a paid circulation model, and is not dependent on charter distribution for its reach. It caters to a loyal online audience with a 'digital first' strategy and presence across primary, dedicated e-store apps on iOS and Android platforms.
For more details, please visit www.dqindia.com or www.cybermedia.co.in.
About CyberMedia Research
A part of CyberMedia, South Asia's largest specialty media and media services group, CyberMedia Research (CMR) has been a front runner in market research, consulting and advisory services since 1986.
CMR offers research-based insights and consulting services – market intelligence, market sizing, stakeholder satisfaction, growth opportunity identification, incubation advisory, and go-to-market services – covering the Information Technology, Telecommunications, Semiconductors, Electronics & Smart Infrastructure, Government, Energy & Utilities and Lifesciences sectors, as well as the large enterprise, SMB and consumer user segments.
Cyber Media Research Ltd., an ISO 9001: 2008 company, is an institutional member of the Market Research Society of India (www.mrsi.in) and senior CMR analysts are individual members of ESOMAR, the World Association for Market, Social and Opinion Research (www.ESOMAR.org).
CMR's core value proposition encompasses a rich portfolio of syndicated reports and custom research capabilities across multiple industries, markets and geographies. CMR's forthcoming studies include stakeholder satisfaction surveys, mega spender assessments and market mapping studies for these domains.
For more details, please visit http://www.cybermediaresearch.co.in or https://www.cmrindia.com.
For media queries, please contact:
Sanjiv Kataria, Strategic Communications & PR Counsel
+91-98100 48095, Sanjiv.Kataria@gmail.com
For India public sector research and consulting requirements, please contact:
Vishaal Bhatnagar, Associate Vice President, Public Sector Practice, CyberMedia Research
+91-98101 91634, VBhatnagar@CMRindia.com
For opportunities to advertise / partner with Dataquest in building government-focused media and 360-degree go-to-market programmes, please contact:
Satish Gupta, Associate Vice President, Marketing, Dataquest, Voice&Data and Global Services, CyberMedia
+91-98719 97785, SatishG@CyberMedia.co.in