India Smartphone market witnessed a whopping 48% decline YoY.

Almost 3 in every 4 smartphone shipped during Q2 2020 was Chinese.

Samsung led the overall mobile handset market in Q2 2020.

Spurred by early online sales festivals, smartphone demand looks set to improve in H2 2020.
 New Delhi/Gurugram, 30 July 2020:  According to CMR's India Mobile Handset Market Review Report for Q2 2020released today,total smartphone shipments in India in the three months ending Junedeclined by a whopping 41% QoQ, and 48% YoY, owing to the nationwide lockdown, disruptions in supply chain and curtailed domestic production.However, the smartphone market is showing some encouraging signs of revival, that sets it on a potential course for market recovery in H2 2020.
According to Amit Sharma, Manager-Industry Intelligence Group, CMR, "As a consequence of the pandemic, Q2 2020 was, in essence, a lost quarter. While the mobile handset industry faced multiple challenges with respect to their supply and demand side dynamics, the industry looks set on the path to a potential recovery in the coming months. The initial consumer demand in the unlock phase was driven predominantly through online channels and driven by need for urgent replacements. Facing upto the pandemic, smartphone brands debuted innovative hyper local delivery models, some of which have the potential to gain permanence."
During Q2 2020, the cumulative market share of Chinese smartphone brands dipped to 73%, and this is akin to the levels last seen in Q3 2019. An immediate beneficiary of the challenges facing Chinese smartphone brands was Samsung.
"With a resilient supply chain, Samsung was able to arrest its declining market share, and improve upon its market share. It remains to be seen if Samsung is able to maintain its market performance in the coming quarters, garner consumer demand, and compete against, and challenge the dominance of Chinese smartphone brands," added Amit.
Xiaomi (30%), Samsung (24%) and Vivo (17%) rounded off the top three spots in the smartphone leader board for Q2 2020.While Nokia smartphone share declined, Apple held onto the eighth position in the top ten smartphone leader board, on the back of good demand for iPhone SE (2020).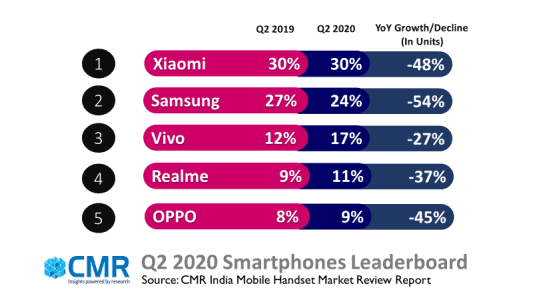 The Road to Recovery for Feature Phone Segment remains Uncertain
During Q2 2020, the feature phone shipments declined 64% YoY.
As a consequence of the pandemic, the consumers at the bottom-of-the-pyramid are the worst-hit economically. The return to pre-COVID levels for feature phones segment remains elusive, as consumers put off their discretionary purchases.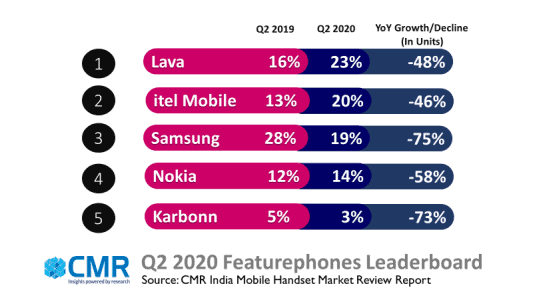 Q2 2020 – Key Market Highlights
Xiaomi remained the market leader with 30% market share in smartphones.It's Redmi 8A Dual, Redmi 8 and Redmi Note 8 together contributed to >60% of its overall shipments. Xiaomi launched its first 5G enabled smartphone, Mi 10.
Samsung captured 24% market share due to its good supply side dynamics leading to increase in its market share by 8% QoQ. However, Q3 will be the real test to demonstrate whether Samsung's demand side is gaining momentum. Samsung Galaxy M11, A21S and A31 contributed to almost 50% of its overall shipments.
vivo's market share in Q2 remained flat at 17%. Its V and Y series were most popular.The Y17 and Y91i along with newly released Y50 contributed to more than 55% of its overall shipments.
Realme, for the very first time, witnessed a 2% QoQ decline in its market share. Smartphone models, such as realme C2, realme C3, realme 5i and the newly launched,Narzo series, together contributed to three fourth of realme shipments in Q2 2020.
OPPO market share declined by 3% QoQ. Its 5th position in the leader board was driven by import of smartphone models, such as A31, A1k and the newly launched, A12. OPPO also launched its first 5G model in India, the Find X2.
OnePlus introduced its 5G enabled smartphones, OnePlus 8 and 8 Pro. Both the models contributed to one third of its Q2 shipments and three fourth of all 5G shipments in Q2.
Transsion Group (comprising of brands such as Tecno, itel and Infinix) witnessed a marginal QoQ decline of 3% in its market share. Some of the new smartphone models launched by them, included Tecno Spark 5, Spark Power 2 and Infinix Hot 9 series.
Future Outlook
Over the short-term, CMR believes the mobile market will improve in mid-Q3, spurred by early online sales fests, setting the smartphone market on a potential path to recovery towards the all-important festive season. During this period, smartphone brands will focus on showcasing their consumer-centric value propositions, focusing more on hyper local delivery models, and launching more 5G-ready smartphones. CMR's current estimates point to a better performance for the India smartphone market in H2 2020, with market anticipated to recover by >40%, in comparison to H1.
"The path to potential recovery will be led by pent-up consumer demand, driven by need for upgrades. In the run-up to the festive season, consumers will seek to go for meaningful value propositions, that bring devices and compelling content ecosystem offerings, together. This coupled by smartphone brands bringing more value for money offerings, backed by aggressive messaging, will potentially drive the market," added Amit.
Thus far, a key challenge for the smartphone market in India to grow has been the inability to offer value propositions that will help feature phone users to migrate to smartphones.
"We believe recent announcements, such as the Jio-Google deal, augur well for the future of the mobile handset industry in India, and in potentially enabling the migration of feature phone to smartphone users, with its focus on driving affordability," added Anand Priya Singh, Analyst, Industry Intelligence Group, CMR.