- Seagate and WD together captured 81% of the External HDD market.
- Overall SSD (Internal and External) witnessed 20% sequential growth in terms of unit shipments.
- QNAP Systems dominated the NAS (Network Attached Storage) market.
Gurugram/New Delhi, Dec 14, 2018: India External HDD market witnessed 24% growth when compared to 2Q CY2018 in terms of unit shipments, according to CMR's India Hard Drive Market Review for 3Q CY2018.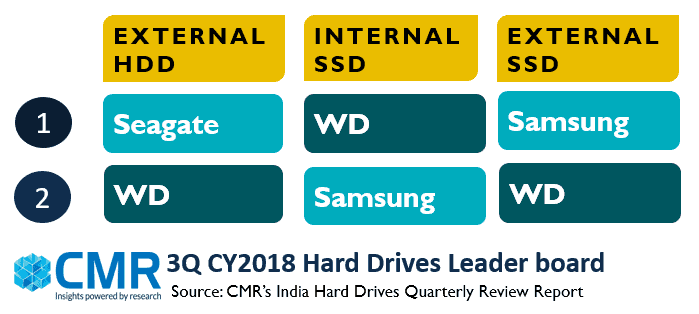 "2.5" External HDD continued its dominance contributing huge 99% market share due to its design, portability with large storage capacity features. External HDD sales is majorly driven through online platforms hence attractive deals offered during festive season accelerated the market growth in terms of unit shipments. Price reduction in the SSD segment due to 3D NAND application has uplifted its sales also contributing to the market growth," observed Shipra Sinha, Lead Analyst, CyberMedia Research
External HDD
2.5" form factor external HDD witnessed 28% sequential growth in terms of unit shipments. 3.5" form factor contributed just 1% to the external HDD market.
1 TB capacity segment remained the most popular among customers and contributed 52% market share followed by 2 TB contributing 34% market share with 44% sequential growth in terms of unit shipments.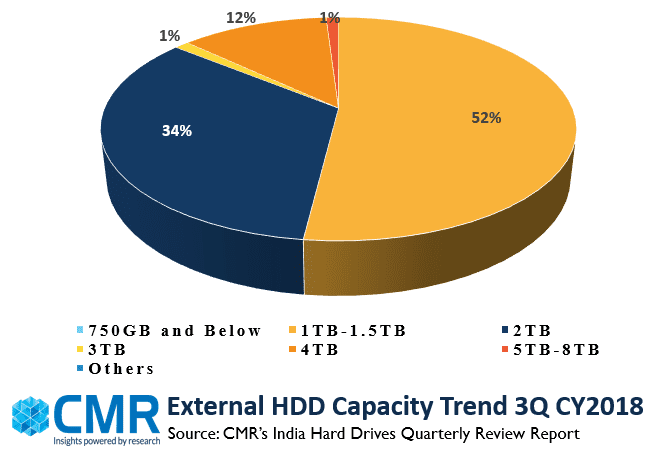 QNAP was the top contributor under NAS category with 39% market share followed by Netgear contributing 21% market share and witnessing 34% sequential growth in terms of unit shipments.
SSD
Internal SSD was the major contributor with huge 95% share in terms of unit shipments. External SSD contributed just 5% of the overall SSD market.
SATA as always was the most popular interface capturing 80% of the Internal SSD market due to its cost effectiveness. PCIE/NVMe interface saw huge 219% sequential growth in 3Q CY2018. Price of PCIe/NVMe reaching closer to the SATA interface due to 3D NAND technology is making it popular among the consumers looking for enhanced performance at a reasonable price.
In terms of capacity, 240-480GB contributed 49% market share followed by 120-180GB category contributing 40% market share in terms of unit shipments in the Internal SSD market.
Future Trends
According to Shipra, "Increase in the India PC market will drive the growth of the External HDDs. Extra space provided by the external HDDs clearing the disk space inside the laptops/PC for space consuming activities such as video editing will continue to make it favorite among consumers. On the other hand, SSD adoption is growing at a good rate due to the 3D NAND implementation making it a cost-effective product. From this we can expect replacement of HDDs by SSDs in next few years"

"Cloud storage services along with the less production capacity by using 3D NAND technology is expected to obstruct the External HDD and SSDs market growth in future. Hence vendors should focus on enhancing the features and performance of their products in pipeline. We anticipate the External HDD market to drop down to around 4.5 Lacs on account of the year end and major festivals ending by then" added Shipra.
Notes for Editors
CyberMedia Research (CMR) is a pioneering market intelligence and consulting firm that runs a comprehensive quarterly market update on the India Consumer Storage market. CMR's India Quarterly Hard Drives Market Review covers External HDD, NAS, Internal SSD and External SSD sold via distributors and retail outlets. The report accounts for 'legal' shipments, but does not include bundled or 'grey' market shipments or units brought from abroad by individuals as a part of personal baggage.
CMR uses the term "shipments" to describe the number of hard drive devices leaving the factory premises for OEM sales or stocking by distributors and retailers. For the convenience of media, the term 'shipment' is sometimes replaced by "sales" in the press release, but this reflects the market size in terms of units of hard drive devices and not their absolute value.
– ENDS –
About CyberMedia Research and Services Ltd
A part of CyberMedia (www.cybermedia.co.in), South Asia's largest specialty media and media services group, CyberMedia Research (CMR) has been a front runner in market research, consulting and advisory services since 1986.
CMR offers research-based insights and marketing consultancy services – market intelligence, market sizing, stakeholder satisfaction, growth opportunity identification, incubation advisory, and go-to-market services – covering the Information Technology, Telecommunications, Semiconductors, Electronics & Smart Infrastructure, Government, Energy & Utilities and Lifesciences sectors, as well as the large enterprise, SMB and consumer user segments.
CMR's core value proposition encompasses a rich portfolio of syndicated reports and custom research capabilities across multiple industries, markets and geographies. CMR's forthcoming studies include stakeholder satisfaction surveys, mega spender assessments and market mapping studies for these domains.
CyberMedia Research, a division of Cyber Media Research and Services Ltd., is a member of the Market Research Society of India (www.mrsi.in).