4G Tablets market registered 74% YOY growth.
The value for money tablet segment (INR 10,000 – INR 20,000) clocked a 155% sequential growth in Q1 2022
Lenovo led the tablet market with a 36% market share.
On the back of the new Apple iPad Air 2022, Apple registered strong growth in Q1 2022 in the premium segment (> INR 30,000).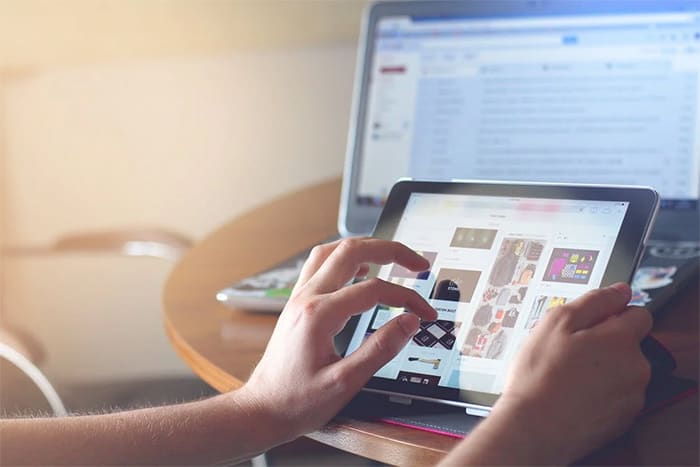 New Delhi/Gurugram, 16 May 2022: As per new insights from CMR's Tablet PC Market Report Review for Q1 2022 released today, the India Tablet market grew 68% year-on-year (YoY), while 4G Tablets recorded growth of 74% YoY.
According to Menka Kumari, Analyst-Industry Intelligence Group (IIG), CMR, "Driven by the pandemic and the continuous rise and ebb of the COVID19 cases, many of the sectors are persisting with hybrid or remote work. This is continuing to fuel the adoption of Tablets for work, e-learning and content consumption use cases.  The education and healthcare sector have contributed to the uptick in the overall tablet market in India."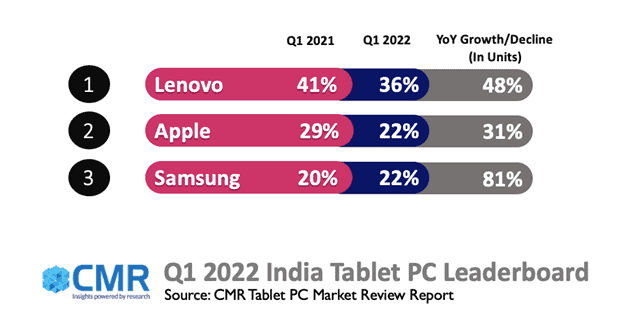 Shipment of Tablets with 8 inches display constituted 26% of the overall shipments in the Indian market. On the other hand, Tablets with 10-inch and above displays contributed to 61% of the shipments.
Lenovo (36%), Apple (22%), and Samsung (22%) captured the top three spots in the tablet leaderboard in Q1 2022, followed by Realme and Lava in Q1 2022.
Vendor Highlights – Q1 2022
Lenovo maintained the first position in the region, mainly driven by its commercial business and retail market. Lenovo Tab M8 (HD) (Wi-Fi+4G) 2GB 32GB series garnered 32% market share, primarily in the Value for Money (INR 7,000-INR 25,000) segment. Lenovo shipments recorded a remarkable 48% YoY growth in Q1 2022.
Apple maintained the second position for Q1 2022 with a 22% market share. Apple iPad 9 (Wi-Fi) had a 45 percent market share, followed by iPad Pro 2021 (Wi-Fi) at 11 percent share in the tablet market. Apple shipments recorded a remarkable 31% YoY growth in Q1 2022.
Samsung was placed in the third position on the market leaderboard with a 22% market share. Samsung launched 5G and 4G Tablets in Q1 2022, including the Galaxy Tab A8 WiFi + LTE, Galaxy Tab S8 WiFi + 5G, Galaxy Tab S8 Plus WiFi + 5G, and Galaxy Tab S8 Ultra WiFi + 5G. Samsung shipments recorded a remarkable 81% YoY growth in Q1 2022.
Future Outlook
CMR anticipates the Tablet PC shipments to record a healthy 10-12% growth in 2022.
"Driven by the increasingly availability of 5G-capable Tablets, as well as with new market entrants such as Xiaomi with its Pad 5, the Tablet Market in India is going to gain strength. With other potential Tablet market entrants, such as OPPO, vivo and OnePlus, in the offing, the consumers have more choices than before in the Android Tablet market. On the enterprise side, the commercial and government sector will continue to gain strength owing to the traction in digital economy and egovernance," added Menka.
Notes for Editors
This release is based on the CyberMedia Research (CMR) India Quarterly Tablet PC Market Review published at the conclusion of every calendar quarter.
The figures captured are of both enterprise and consumer shipments.
CyberMedia Research (CMR) uses the term 'shipments' to describe the number of Tablets leaving the factory premises for OEM sales or stocking by distributors and retailers. For the convenience of media, the term 'shipments' is sometimes replaced or used interchangeably with "sales" in the press release, but this reflects the market size in terms of units of Tablets and not their absolute value. In the case of Tablets imported into the country it represents the number leaving the first warehouse to OEMs, distributors and retailers. CyberMedia Research does not track the number of Tablets brought on their person by individual passengers landing on Indian soil from overseas destinations or 'grey' market Tablets (if any).
– ENDS –
About CyberMedia Research and Services Ltd
A part of CyberMedia (www.cybermedia.co.in), South Asia's largest specialty media and media services group, CyberMedia Research (CMR) has been a front runner in market research, consulting and advisory services since 1986.
CMR's core value proposition encompasses a rich portfolio of syndicated reports and custom research capabilities across multiple industries, markets and geographies. CMR's forthcoming studies include stakeholder satisfaction surveys, mega spender assessments and market mapping studies for these domains.
CyberMedia Research, a division of Cyber Media Research and Services Ltd., is a member of the Market Research Society of India (www.mrsi.in).
Contact: Menka Kumari, mkumari@cmrindia.com