By 2025, the share of Electric 2Wheelers (E2Ws) and Connected 2Wheelers (C2W) will both cross 50%.
The share of connected 2Wheelers (C2W) grew over 20% YoY in CY2022.
In CY2022, high-speed Electric Vehicles market grew a whopping +90%.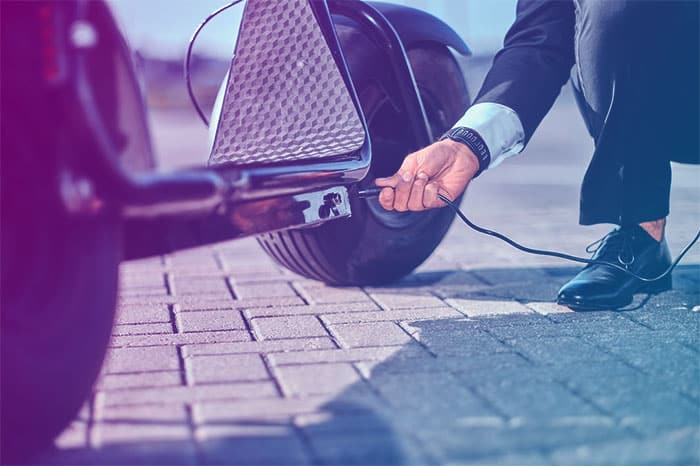 New Delhi/Gurugram, 9 February 2023: According to CyberMedia Research (CMR)'s India Electric 2 Wheelers (E2W) Report for CY2022 released today, the automotive Electric 2 Wheelers (E2W) market grew by >300% YoY in CY2022.
According to John Martin, Senior Analyst-Smart Mobility Practice, CMR, "In CY2022, there has been a growing momentum towards electric mobility with connected features. At CyberMedia Research (CMR), our market insights point to a significant shift in consumer outlook and appetite toward EVs and connected vehicle adoption. The supply side trends point to support this market momentum, with the automotive E2W market growing at a CAGR of >171%. In H2 2022, there was a strong growth uptick in E2Ws, driven by industry OEMs."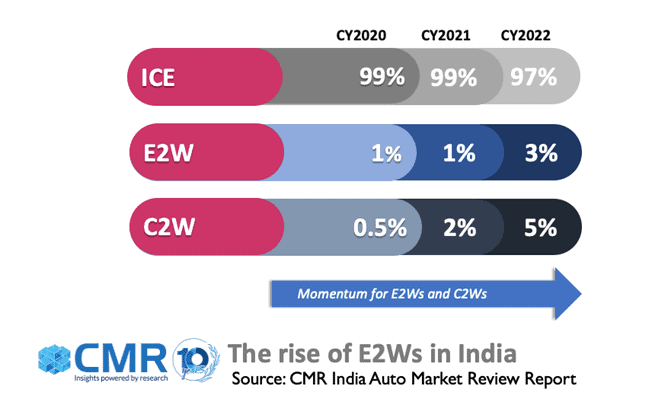 E2W Technology Highlights
During CY2022, the demand for high-speed E2W vehicles increased and accounting for +90% share. The share of Connected 2 Wheelers (C2W) vehicles grew over 20% YoY.
The Touchscreen technology market in two-wheelers accounted for around 1% of the overall 2-wheeler market. The touchscreen technology has expanded in the premium E2W segment (>INR 1,00,000 price segment) through Ather 450x, Hero Vida, Ola S1 Pro, and TVS iQube ST e-scooters, with an average screen size of 7 inches.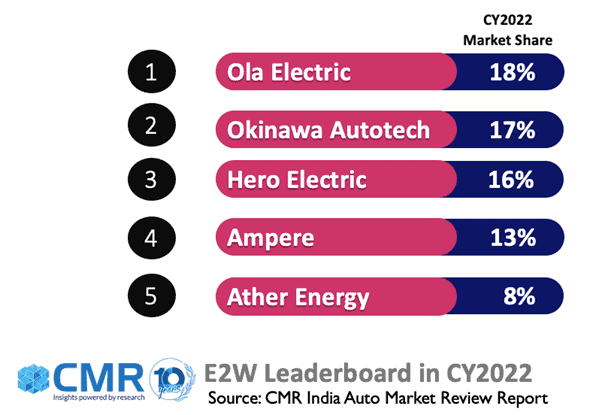 Ola Electric led the Indian E2W market in CY2022 with around 18% share, followed by Okinawa Autotech with 17% and Hero Electric with 16% share.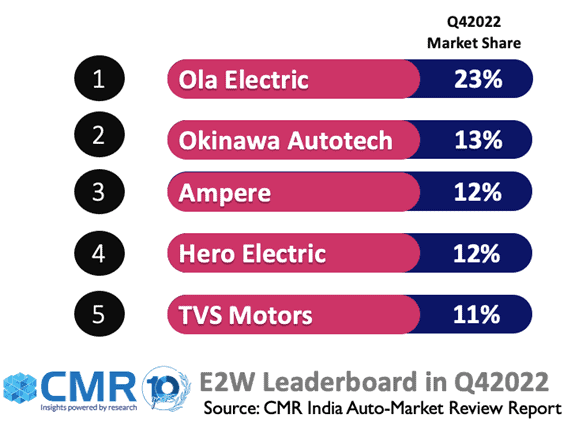 CY2022: Key E2W Market Highlights
Ola Electric debuted its smart e-scooters in Dec 2021. Since then, Ola Electric has managed to capture and led the growing E2W market with around 18% in CY2022. The Ola S1 pro was the most preferred E2W scooter in CY2022, with its smart-connected features.
Okinawa Scooters grew steadily in CY2022 with 239% YoY with its portfolio of high and low-speed scooters. The top in-demand Okinawa e-scooters include high-speed models, such as Praise and Ridge series, and low speed, comprising of R-30 and Lite.
Hero Electric grew around 109% during CY 2022. Optima CX was the most in-demand model from Hero Electric.
Ampere Energy grew around 538% YoY.
Ather Energy grew 222% YoY growth in CY2022. The Ather 450X e-scooters come with smart-connected features.
Future Market Outlook
In 2023 and beyond, CMR is bullish about E2W growth in India, and, especially the contribution of connected E2Ws. In 2023, CMR anticipates C2Ws to grow in double digits. By 2025, the share of E2Ws and C2Ws will both grow, crossing the threshold of 50% each.
"At CMR, we continue to see a strong growth momentum for E2Ws in India. Driven by the recent Union Budget announcement, we foresee a strong uptick in India's PLI-linked investments for lithium-ion battery manufacturing. This will spur further domestic value addition over the next four years. E2W OEMs are focused on enhancing vehicle performance, with respect to power, range and safety. Alongside, CMR's consumer pulse indicates a favorable outlook for E2W adoption," added John.
– ENDS –
About the CMR India Electric 2 Wheeler (E2W) Report
The CMR India E2W Report from the CMR Smart Mobility Practice provides technological and market evolution in the E2W market in India, with a focus on mapping the value chain, analysis on market dynamics and performance of key market players.
Key definitions
Electric 2-Wheelers (E2W) are the sub-segment of the 2-wheeler segment, where instead of Internal Combustion Engines used in conventional vehicles, an electric motor is used which powers the rear wheel. The energy is stored in battery packs rather than fuel tanks.
Connected 2-Wheelers (C2W) are 2-wheelers having advanced embedded technology in them, namely, the Telematics System, that makes many advanced features such as, navigation, vehicle-geo fencing, tracking, and more possible.