Gurugram/New Delhi, 19 July 2018: HTC, one of the most premium brands in India over the past decade, has finally shut its mobile handset operations in one of the most exciting growth market for smartphones. Earlier this year, HTC had sold off its design team to Google for $1.1 Bn. While we may conveniently ascribe HTC's exit to the rapid growth of Chinese brands in the past few years in India, it is more of a failure on the part of the brand to judge the competition as well as grasp the market realities.
HTC was among very few mobile handset brands that had garnered the sweetest spot that any brand can desire for in the market, which is, being perceived as an innovative brand as well as having a pull factor.  HTC was once a premium tag and users would flaunt of their HTC smartphones.  They were very right in doing so as the Smartphones were aesthetically appealing, using the best of the materials and finish to add to the premium finesse.
As per the CMR Mobile Industry Consumer Insights Survey, a pan-India consumer survey conducted independently by CyberMedia Research in early 2017, Samsung, Apple and HTC were rated by consumers as the most successful mobile brands in the first decade of smartphones in India. 78% of those surveyed named HTC as one of the most iconic brands in India, with HTC's brand pull being pinned down to its innovativeness, its design and looks and up-to-date technology.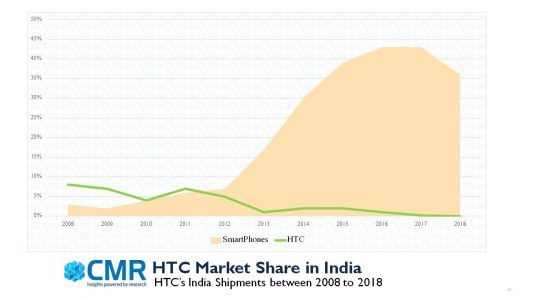 Faisal Kawoosa, Head – New Initiatives at CMR opines, "HTC as innovative it was in technology could not match it with innovations in the business model or execution.  Think of any business innovation, it was either too late to adopt or else didn't participate at all.  This was the main reason for HTC to chart out a different trajectory as against the market movements."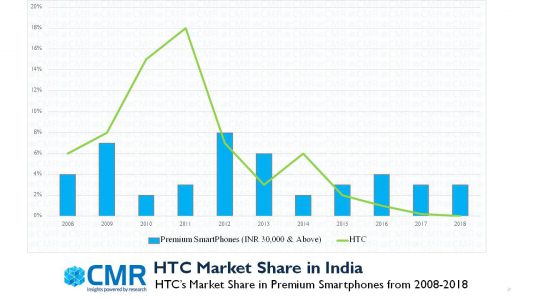 As per Prabhu Ram, Head – Industry Intelligence Group at CMR, "There are some key lessons for other smartphone brands emerging from HTC's India exit. While smartphone innovation, and the constant battle for 'latest specs' is centric to a brand success, it is critical that it goes hand in hand with consumer as well as market understanding and underlying market realities. HTC's most recent mid-range smartphone launch, the HTC Desire 12+, failed in getting its pricing right. At around 20,000 rupees, it did not offer a compelling reason for consumers to opt for it. Other mobile handset brands offer far more, at far lesser prices."
HTC's exit is indeed an unbecoming event for the Smartphone industry in India. However, it is leaving behind a lot of learning for others who are also feeling 'suffocated' due to various reasons that may not just be disruptive, but destructive as well.  Some of the key learnings for the brands would include the following: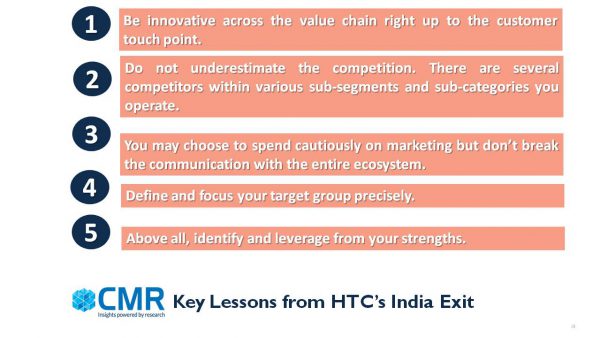 These may appear to be very simple statements. But, businesses which address the basic issues never entangle into complex problems. It is wise to arrest the issues when they can be handled at an early stage.

Notes to Editors:
About CMR
Notes to Editors:
CyberMedia Research conducts the Budget Smartphones Channel Audit to capture the perspectives, preferences, challenges and dislikes of retailers around 'value for money' (INR <10,000) smartphone brands, capturing a compelling picture of smartphone brands in the market.
About CMR