The world today is gearing up to see the next technological revolution after the computer and Internet as it sees a veritable swarm of drones globally. A drone, in a technological context, is an unmanned or unpiloted aircraft or spacecraft.
Drones, formally known as Unmanned Aerial Vehicles (UAV), are power-driven aircrafts that are designed to fly without a human operator on board; or to put in other words, they could be dubbed as 'flying robots'. The aerial system may be remotely controlled or can fly autonomously through software-controlled flight plans in their embedded systems in conjunction with GPS and are usually equipped with a camera and can also be armed with missiles.
Presently, in India, the Directorate General of Civil Aviation (DGCA) is working around regulations for commercial use of drones. The Indian armed forces have been using unmanned aerial vehicle for intelligence gathering and vigilance at international borders. But drones can be used for civil purposes like filming of aerial shots and agriculture management. Drones could be a saving grace during natural calamities such as earthquake, floods. They have the ability to undertake varied tasks such as–providing wireless internet, delivering medicines, assessing earthquake damage, recreational usage, and could also be used for amazing possibilities such as search and rescue, surveillance, traffic monitoring, weather monitoring and firefighting, for commercial as well as individual purposes.
Drones, however, are already starting to claim their place as the aerial wing of the Internet of Things (IOT): Initial applications include capturing footage for movies, TV, and documentaries, and data collection for agricultural and construction projects.
Today, over 90 nations and non-state groups are known to operate drones, including at least 30 countries that either operate or are developing armed drones.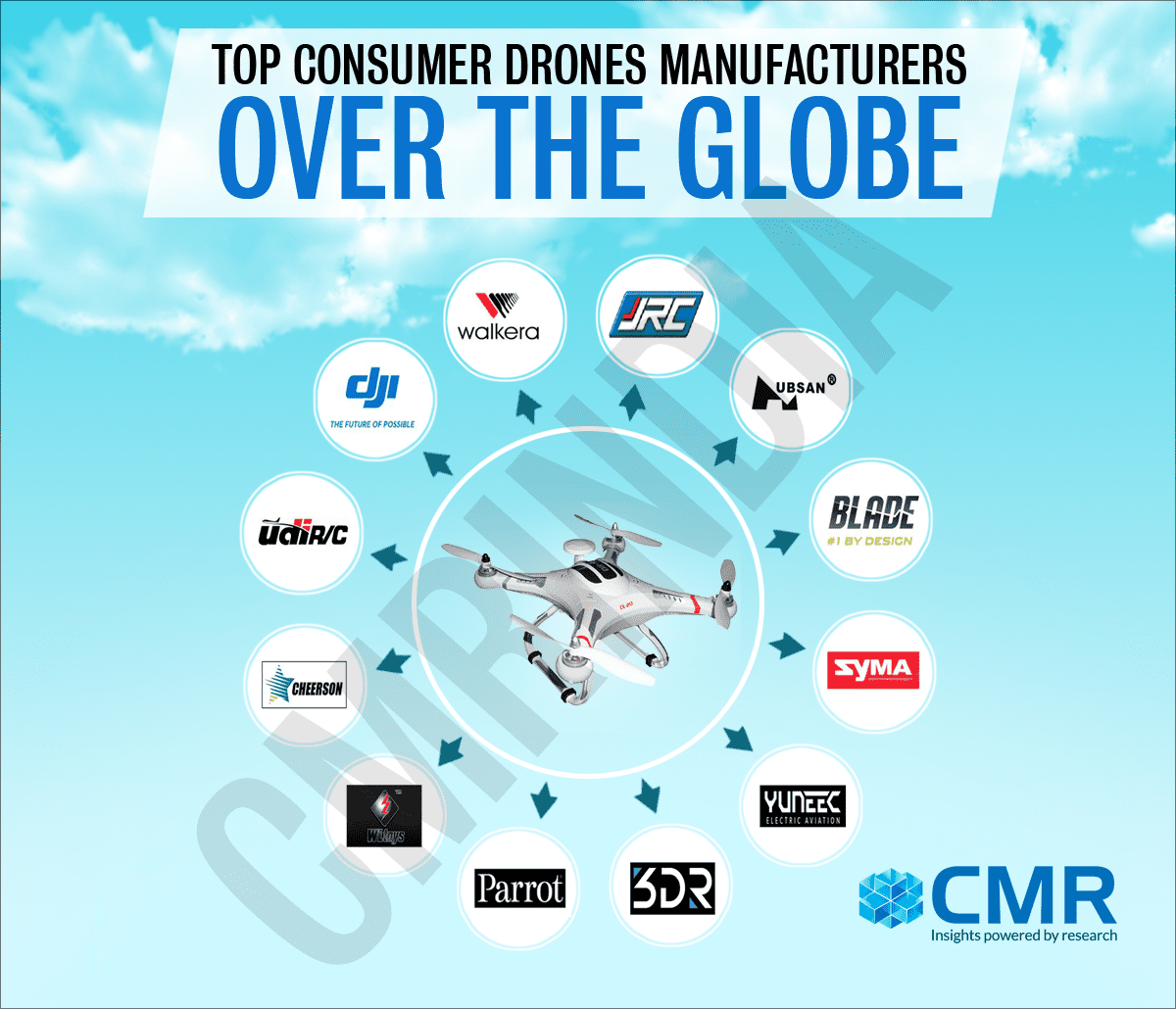 Drone Start-ups
The immense benefits offered by drones have caught the attention of companies like Reliance Industries and Raheja Corp and they have already used drones for aerial photography. As the progress of this market ascends to greater heights, we round up those domestic start-ups, which have made a mark for themselves in the world of drones.
In spite of the uncertain regulatory future, domestic start-ups are developing and using drones for both security and commercial purposes. Some cool Indian start-ups in the genre are:
1. Drona Aviation – A SINE IIT Bombay incubated company, focuses on aerial cinematography.
2. Atoms & Bytes – A Chennai-based firm which sells custom-made drones, drone kits, and accessories.
3. Edall Systems – Bengaluru-based Edall provides industry-oriented training of UAVs for engineering students and builds and supplies UAV components to the Defense Research and Development Organisation and National Aerospace Labs.
4. Airpix – A Mumbai-based startup offering aerial photography and video production services for city planning and disaster management.
5. Netra by Idea forge – Founded by a group of IIT-Bombay graduates, an unmanned aerial vehicle that was used during the Uttarakhand flood rescue operations.
6. Skylark Drones – Bangaluru-based Skylark came into being in 2014. The company offers a complete aerial solution for various terrestrial applications, also helps to publicize brands i.e., advertising. Equipped with a high-definition camera, it helps to generate 3D model of land surfaces, which can be used for land surveying (GIS), and in turn, helps to generate more revenues for Real Estate business.
7. Eazypilot – Eazypilot is one among a handful of drone controllers available globally that converts any drone into a user-friendly gadget around which applications could be developed. Eazypilot also helps eliminate some common problems associated with buying different components off-the-shelf and trying to integrate them into a separate drone.
8. Social Drones – A start-up that "designs and manufactures user friendly, easy to use, high-performance drones for social and unconventional applications." Social Drones made news when its drones were used to provide disaster relief in Uttarakhand after severe flooding in 2013. The company's drones were used to airdrop first aid kits to areas where relief efforts had been stalled, as well as to areas that were deemed unsafe for conventional relief methods.
9. Garuda Robotics – Garuda produces software to gather and analyze data collected by drones. The company also produces software to control unmanned aircraft. Garuda markets its products for a variety of uses that range from land and agricultural surveys to security, search and rescue, and logistics.
10. Quidich – Quidich provides professional aerial technology for news coverage, sports, commercials, films, agriculture, and surveying. The company uses state-of-the art Quadcopters and Octocopters to provide storytellers with a cheap replacement for cumbersome jibs and helicopters. Quidich thrives at the interface of technology and entertainment, leveraging its expertise in both domains to create visual magic.
11. NavStik – Combined with software, it becomes an autopilot system, sensing surroundings to decide the thrust required from rotors or the turn of the rudder, among other things. NavStik competes with the likes of US-based 3D Robotics and Airware. The latter is funded by venture capital firms Google Ventures and Andreessen Horowitz.
12. Aurora Integrated Systems – Aurora has got funding from the Tata group, one of India's most respected business conglomerates. It provides wartime operations to counter-terrorism and anti-insurgency operations and also redefining applications in civilian space such as Geo-Information Systems, Agriculture and Disaster Management by achieving unprecedented economy.
13. 3D Robotics – At present, 3D robotics is the highest financed start-up in the commercial drone space. 3D Robotics founded in 2009 reigns the hobbyist drone market, but is directing its funding towards the commercial arena. They have also established a series of open-source software for executing commands, management and tracking a number of drones. But it comes as an expensive stuff.
Applications Unleashed
Agriculture Walking and Management
Drones can do aerial surveys of crops and make the task of farmers easier by checking their irrigation systems, monitoring growth of plants and can even help in weeding out sick plants and can also check if any of the plants are sick owing to the use of infrared technology. Farms are often pretty damn big so the mobility and agility of the drone comes in handy. Besides, drones help in solar power plant performance monitoring, and spraying of pesticides over a large tract of land, also land improvements – design and install drainage system, terraces, waterways, buffer strips, etc.
Sporty View
Drones are great for sports as they can provide full-fledged entertainment by offering an aerial view of a game. Also, it gives coaches a unique and valuable perspective on how their players are performing. Drones have even made an appearance at the Olympics.
Eyeing Crime
The police departments across the country are buying drones in a bid to step up their surveillance related activities. Even the FBI is using them as it helps to control and fight crime.
Guard the Border
Like police, border patrol agencies are making use of this new tool for law enforcement. In fact, drones have been popular with this set for a while. Now, border control actually wants to arm the drones. Immigration activists are going to love that idea.
Planet Quality
All kinds of scientists are using drones to keep track of the environment, like the authorities potting for environment, testing quality of air. NASA is even using drones to test the makeup of the ozone.
Keep Wildfires at Bay
Speaking of the environment, drones are becoming an incredibly useful tool for firefighters, especially those who have the seemingly impossible task of putting out wildfires. The aircrafts are used not only for spotting wildfires and gauging their movement; they can actually fight fires now, keeping people out of harm'.
Monitor Wildlife
Drones aren't just being used to kill wildlife; they're also being used to monitor populations of animals in the wild, especially endangered ones. They are used by floating above the treetops and watching how the apes are dealing with deforestation, thus helpful in monitoring the wildlife.
Railways
The Indian Railways has used drones for the first time for inspecting a mega rail project to assess the progress on the ground and the flying machine would now be used to monitor other under-construction schemes. Besides, the public sector behemoth has also decided to use drones to assess the ground situation in the aftermath of train accidents. Currently about 170 projects, including doubling and laying of new lines, are being executed by railways.
Drones in Medical Industry
India could soon use drones to transfer human organs as doctors say UAVs could save lives by getting to patients faster. India currently uses the traditional way of transportation i.e., 'the green corridor'- where police escorts for ambulances carrying the organs which have to be transplanted. As each minute counts, it's imperative to vouch for the latest ways of making the availability of organs as early as possible, so the group has two designs in mind: design a drone with technology to preserve organs or variants that are able to carry organ in special box. The main focus is to deliver hearts faster, as other organs can be stored for longer.
Also, China unveiled self-flying 'passenger drone' to deliver human organs, thus initiating the start of something new and important.
Some Interesting Facts:
Mumbai became the first city to have a margarita pizza delivered via drone.
Amazon and Google are working on developing a drone that will help them to deliver parcels.
Facebook wants to fly giant drones that can carry internet signal to remote areas.
Drones are also being used to film documentaries and news report in dangerous and inaccessible areas.
Boeing has patented a flying drone that turns into a submarine.
India is also planning to buy UAVs two troops (eight drones each) of IAI Heron from Israel. Under the Rs 1,200 crore contract with Israel Aerospace Industries (IAI), India is developing UAVs that are capable of flying on solar power.
The Gujarat's police force is no longer the only one with drones, Karnataka's cops just one-upped their game with some serious tech savvy-ness , as they also indulged in with having drones ,the cops now have an eye from the sky to monitor high profile events, illegal mining and more.
The Future Beckons
With India's innovation flight taking off with Prime Minister's 'Make in India' campaign, the drone industry cannot be ignored considering its various uses and benefits in the field of agriculture, medicine, disaster management, law enforcement, journalism
etc. In fact, a lot of start-up companies are possibly looking at drone technology as a way to pierce through traffic, which would drastically improve their logistics. Also, with markets around the world demanding smarter drones, India's potential can certainly be tapped with adequate legal safeguards in place.
With the use of drones coming into the mainstream, they are also offered protection under various patent regimes across the world. For example, Amazon, one of the leading e-commerce websites, has applied for a patent for its drone delivery system that delivers products to the customer's doorstep within 30 minutes of the order. Boeing also obtained a patent for its "flying Submarine" drone which is adaptable for both flight and water travel.