7% of the Smartphones shipped were High-end Smartphones in 2015.
Samsung and Apple continue to dominate high-end Smartphone category
OnePlus is the only emerging brand to make it to top 5 in 2015, cornering impressive 6% share in 2015
New Delhi/Gurugram: CyberMedia Research (CMR) today released a first detailed research report on High-end Smartphone Market in India that closely looks at emerging trends in fast growing premium Smartphone segment.  According to the report, out of a total of 163 Smartphone brands, only 19 brands shipped Smartphones in the high-end price band (Rs 20K or above price point) in 2015, indicating high entry barriers and the brand loyalty enjoyed by incumbent brands in the segment. In contrast, in the sub 20K level, 46 brands shipped Smartphones and 153 brands shipped handsets in less than 10K band.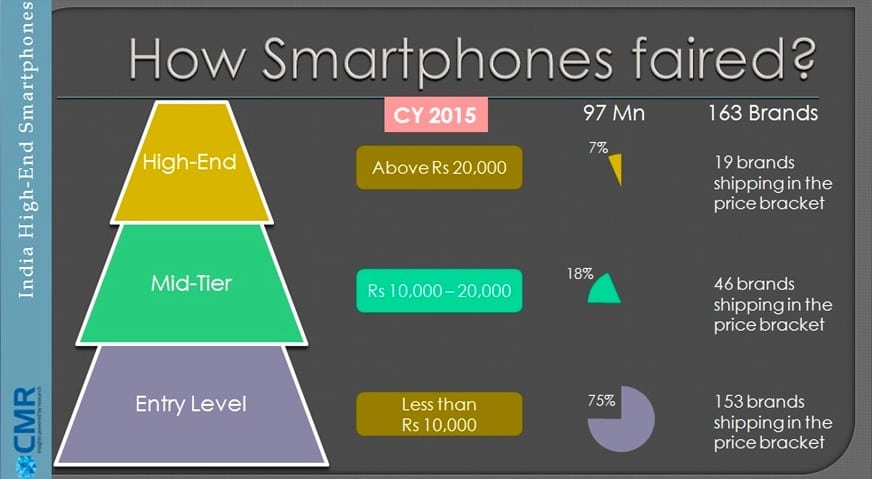 During 2015, Samsung and Apple increased their market share (in the price bracket of above INR 20k price band) to 44% and 27.3% , respectively. In contrast, Sony, HTC and LG have lost the market share during the period. OnePlus was the only emerging brand to make it to the list of top five in the same price point in 2015.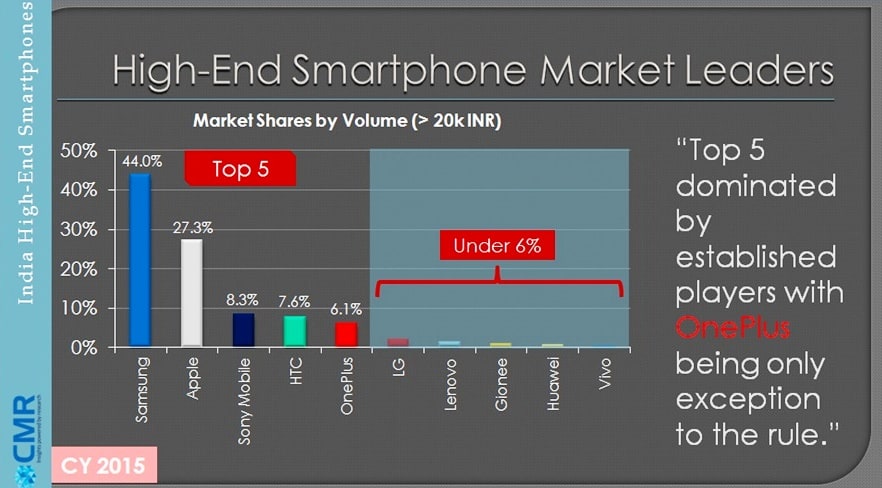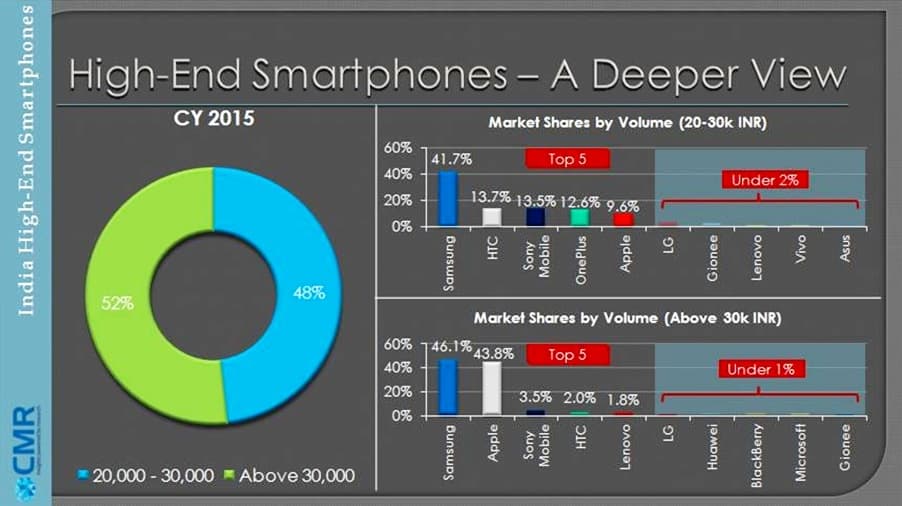 According to Faisal Kawoosa, Lead Analyst, Telecoms at CMR, "As we see Smartphones becoming the necessity in India, the significance of high-end Smartphones only amplifies for the reason that this many users would like to go for an upgrade from mid-level Smartphone to a higher order Smartphone."
"Post 2013, we saw Smartphones booming in India and a fair installed base is now ready for replacement and our observation is that approximately 70% of the users would go for an upgrade to a higher end Smartphone rather than replacement in the same price segment.  The upgrade is in terms of functionality, feature set and of course the price," Faisal added.
The report further observes that after successfully rippling the low and entry level Smartphone market, the high-end Smartphone market will be now shaken by the emerging brands.  Among these, OnePlus is a strong contender as it has already established in the league of leaders and continues to be positioned strongly.
Outlook for 2016
The High-End Smartphone market is expected to grow 19% in 2016 as against 15% in the previous year. While Samsung and Apple will continue to be strong players in this segment, CMR expects young brands such as Gionee, Huawei, Vivo and Lenovo to make some commendable inroads.  However, OnePlus will stand out of all these emerging brands and may enter into top 3 brands in the price segment, primarily pushed by its attractively priced OnePlus 3 that has received extremely rave reviews, online only business model presence and strong presence in highly active tech community that helps it grow organically through word of mouth.
From the new features, Virtual Reality will be high on the agenda of several high-end Smartphone brands, the report further reads.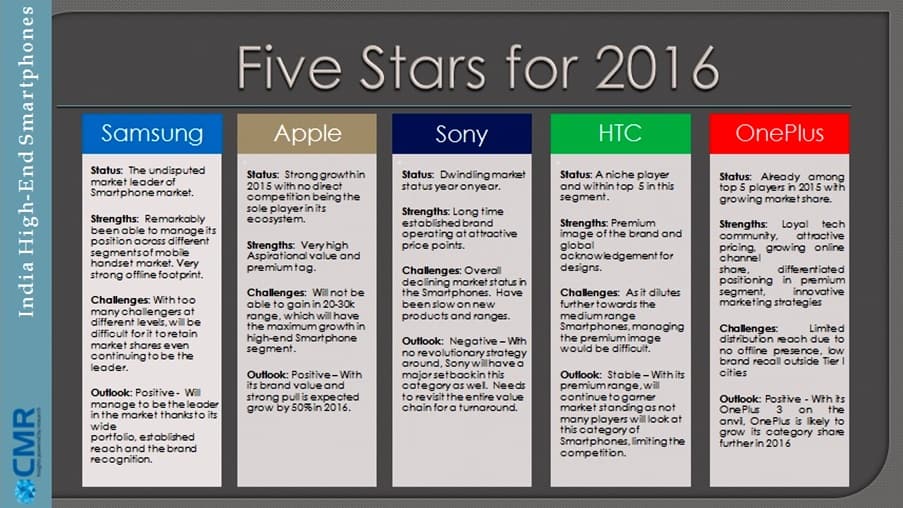 Notes to Editors:
About CMR
Notes to Editors:
CyberMedia Research conducts the Budget Smartphones Channel Audit to capture the perspectives, preferences, challenges and dislikes of retailers around 'value for money' (INR <10,000) smartphone brands, capturing a compelling picture of smartphone brands in the market.
About CMR