Gurugram/New Delhi, May 31, 2019: The India Consumer Storage Flash Memory Market recorded mere 1% growth when compared to 4Q CY2018 in terms of unit shipments, according to CMR's India Consumer Storage Flash Memory Market Review for March 2019.
"Highly impressive features like huge inbuilt storage, high resolution front and back cameras offered by the smartphone brands have taken a toll on the flash cards (Micro SD and SD) market. During the course of Q1 2019, Micro SD and SD card shipments reduced to 20% and 18% respectively when compared to 4Q CY2018. 1Q CY2019 also marked the end of FY2018 which resulted in less buying to prevent piling up of the stocks," observed Shipra Sinha, Analyst -IIG, CMR. 
"On the contrary, pen drive shipments witnessed 26% sequential growth. Instant data sharing feature between PC and mobile phone at an affordable price when compared to other storage devices led to the growth of the USB market. Pen drive manufacturing in India has also contributed in its growth," added Shipra.
Market Leadership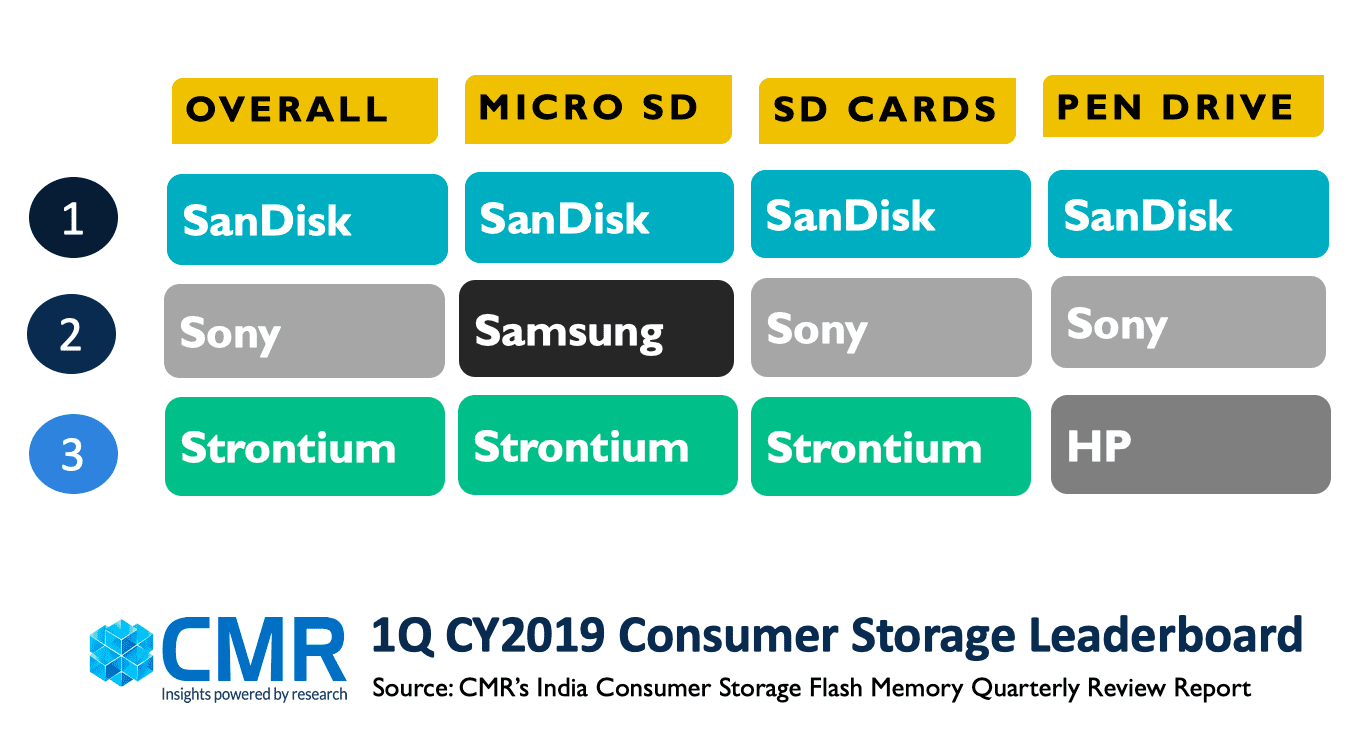 In the overall India Consumer Storage Flash Memory market, SanDisk continued to rule and contributed 66% market share in terms of units shipped. Sony stood at the second position. Sony and HP have become few of the major contributors after SanDisk in pen drive category due to their strategy of manufacturing in India.
Capacity Trends:
Overall market witnessed a noticeable shift towards the larger capacities like 32 GB and 64 GB. However,16GB continued to be the major contributor.32 GB and 64 GB recorded 40% and 42% sequential growth respectively when compared to 4Q CY2018 in terms of unit shipments.
Future Trends
According to Shipra, "Mobile and camera cards market are dependent on the market movement of their host devices. Continuous growth of affordable high-end smartphones with remarkable features will affect the sales in the near future. DSLR market has also dropped down to what it used to be few years ago. General Elections in the coming quarter will also affect the market as it has created an uncertainty around the policies. However, with the growth in IoT ecosystem, the information creation and exchange are rising, thus generating the need for blazing fast advanced storage solutions and devices. This will encourage consumers to buy more memory cards and pen drives."
"We anticipate FY2019-20 to end with 51.9 Mn units contributed by all the three categories. Overall market will continue its shift towards higher capacities due to low price gap due to adoption of NAND application in the manufacturing process" added Shipra.
Notes to Editors:
About CMR
Notes to Editors:
CyberMedia Research conducts the Budget Smartphones Channel Audit to capture the perspectives, preferences, challenges and dislikes of retailers around 'value for money' (INR <10,000) smartphone brands, capturing a compelling picture of smartphone brands in the market.
About CMR