SanDisk dominated the market followed by Strontium and Sony.
16GB capacity segment continued to be the major contributor.
SanDisk's Cruzer Blade was the most favored pen drive model in terms of unit shipments.
Gurugram/New Delhi, August 29, 2018: The India Consumer Storage Flash Memory Market witnessed 1% decline in 1H CY2018 when compared to 2H CY2017, according to CMR's India Consumer Storage Flash Memory Market Review for August 2018.
"With the advent of a new year, 1Q CY2018 witnessed 14% growth in terms of unit shipments. On the contrary, 2Q CY2018 witnessed 9% decline by the end because of holidays, price drop and less demand. Micro SD cards witnessed growth by just 3% on account of the start of the new year and new session. Availability of huge storage up to 64GB in the entry level smartphones has affected the Micro SD sales a lot" observed Shipra Sinha, Lead Analyst, CyberMedia Research. 
Market Leadership
In the overall India Consumer Storage Flash Memory market, SanDisk continued to dominate and contributed 51% market share in terms of units shipped. Strontium maintained its number two position and Sony replaced Samsung to be at the third spot in terms of unit shipments in 1H CY2018. Sony's India manufacturing, strong line and variety of products has led to 40% growth in its pen drive shipments in 1H CY2018 when compared to 2H CY2017.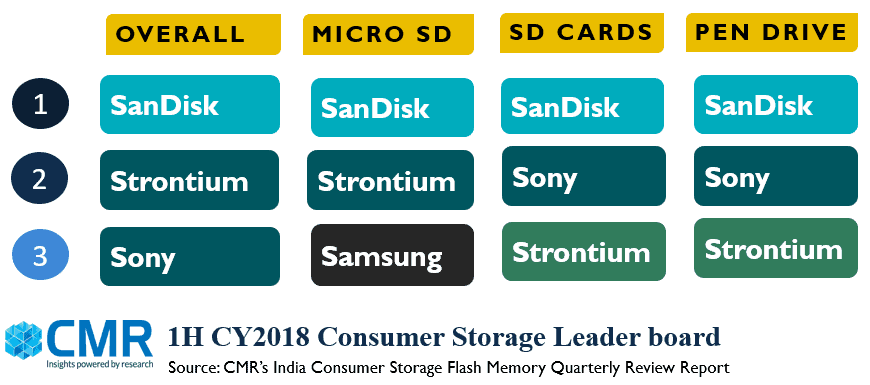 Capacity Trends:
32GB and 64GB capacity segment continued to grow and witnessed 14% and 49% sequential growth respectively when compared to 2H CY2017.However,16GB segment was the highest contributor in the overall consumer storage market in terms of unit shipments.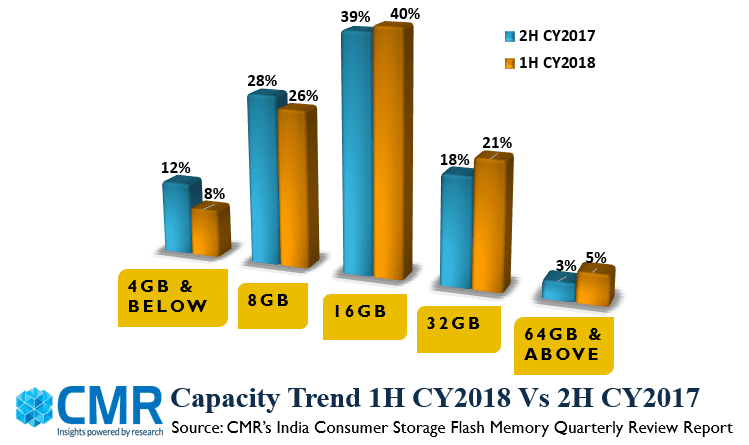 Future Trends
According to Shipra, "The rising need of personal storage space, industrialization, advancement of technology, urbanization, penetration of electronic devices and applications in every aspect of life will drive the growth of Micro SD cards in a long run. However, rise in huge storage capacity low priced smartphones will affect its growth for some time."
"Overall consumer storage market is anticipated to touch 30 Mn units in 2H CY2018 on account of the forthcoming festive and wedding season. Almost equal manufacturing cost as a result of the 3D technology will further shift the overall market towards higher capacities" added Shipra.
Notes to Editors:
About CMR
Notes to Editors:
CyberMedia Research conducts the Budget Smartphones Channel Audit to capture the perspectives, preferences, challenges and dislikes of retailers around 'value for money' (INR <10,000) smartphone brands, capturing a compelling picture of smartphone brands in the market.
About CMR