Cameras constitute more than half (58%) of the market opportunity in terms of value in 2014
Fixed-dome type network cameras most widely deployed
Axis Communication leads the market with 23% share, followed by Panasonic and Bosch
New Delhi / Gurgaon: According to CMR's India Video Surveillance Market Review, CY 2014, February 2015 release, the country's video surveillance market was pegged at Rs 1,800 crore in CY 2014, up 25% compared to the previous year. Analog Cameras continued to dominate the market with a 60% contribution, while the rest came from IP Camera sales. As per CMR estimates, by CY 2017, IP Cameras will overtake Analog Cameras in terms of market opportunity.
Commenting on the results Faisal Kawoosa, Lead Analyst for CMR SemiTronics Practice said, "Push from government for rapid creation of public infrastructure, and the generally positive sentiments currently prevailing in the market are likely to remain the two key drivers for growth in IP-based Camera deployments, besides continuing physical security concerns."
Cameras made up more than half the India Video Surveillance market opportunity at 58% in terms of value in CY 2014, followed by storage (DVR/NVR) at 34%, while the remaining 8% came from video management software (VMS).
Fixed-dome type IP-based cameras were the predominant form factor deployed in the India video surveillance market. The other form factors picking up in the market include Fixed-box and PTZ forms of network cameras.  Fish Eye and other advanced forms, including Thermal Cameras and cameras used for detecting explosives continued to see niche usage.  The major impeding factor in adoption of these types of cameras was the price.  At the same time, the nature of application / customer need also defined usage.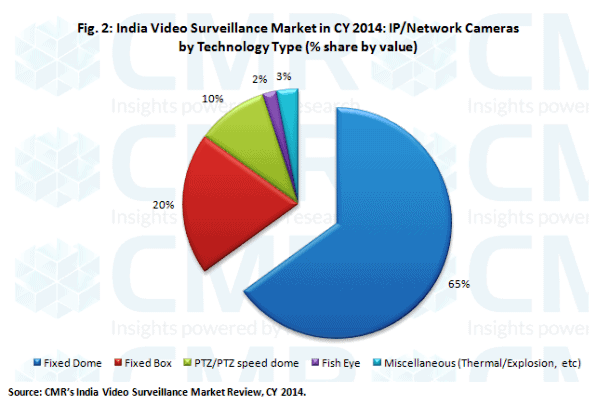 Mayank Maheshwari, Analyst, CMR SemiTronics Practice said, "For any player to make a sustainable proposition in this highly technology-driven market, it is imperative to act as a solutions vendor rather than a standalone product seller.  The vendor has not only to sell the product, but provide consultation for network planning and design, identify the growth elements based on the need and future plans, and finally provide prompt service to keep such a sensitive network up and running."
"This is a significant reason why the market has shown a marked preference towards 'Security as a Solution' approach," Mayank concluded.
Market Leadership
Many players are present in the IP/Network Camera market, essentially at the entry level, where several Chinese and Taiwanese players offer solutions. Axis Communication led the India IP/Network Camera market with a 23% share, followed by Panasonic and Bosch at 18% and 16%, respectively. The dominance of reputed international brands in this segment proves that customers look for quality and trust.  The benefit customers gain going with such brands includes network design services, consultation and after sales service, which is not the case with sellers of entry level solutions. Customers look to maximise value in the transaction and are even prepared to pay a premium for international brands.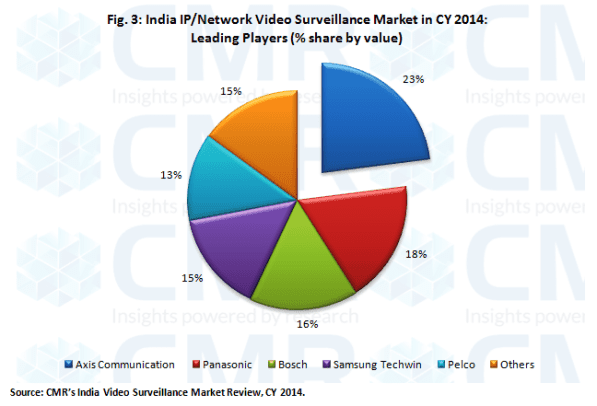 Notes to Editors:
About CMR
Notes to Editors:
CMR's India Mobile Handsets Usage and Satisfaction Study 2011, was conducted on a sample of 4,425 mobile users through face-to-face structured interviews in 18 major cities spread across the country from a representative set of mobile users by SEC class and age group. CMR ensured that the sample size achieved for each mobile handset brand was statistically valid. The sample distribution was done across different localities in each city to ensure a well balanced representation.
About CMR