The 4Q'2017 for Mobile Handset Industry in India witnessed a historic high with 88 million units shipped.The year saw alarm bells ringing for handset brands, including HTC, Asus, Intex and Gionee.
2017 witnessed the emergence of new promising breed of handset brands, including COMIO, NUU Mobile and 10.or (Tenor).
Samsung remained the leader for 2017 with 21% market share, followed by iTel, and Xiaomi with 9% market share each.
New Delhi/Gurugram, 12 February 2018:  According to CMR's India Monthly Mobile Handset Market Review Report released today, mobile handset vendors shipped 88 million mobile handset units in 4Q 2017.
For the entire year, mobile handset vendors have shipped around 287 million mobile handset units in India. The smartphone market recorded a 19% sequential decline in 4Q 2017, with 30 million units shipped. The featurephone market, on the other hand, witnessed a 36% sequential growth in 4Q 2017, and YoY growth of 62%.
Commenting on the major trends witnessed, Prabhu Ram, Head – Industry Intelligence Group (IIG), CMR said, "Traditionally, December is a lean period. However, 4Q 2017 bucked this trend. From the throes of demonetization at the beginning of 2017, the India mobile handset market touched a new historic high in OND'2017. If one were to look at historic trends, the India mobile handset market usually sees high refresh cycles in May-June, coinciding with the college admission season, and in September-October, owing to the festive season."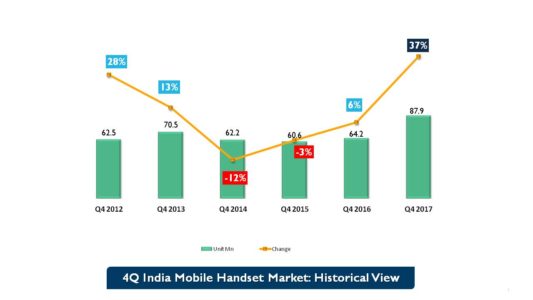 "2017 was remarkable with certain pioneering mobile handset brands like HTC, Asus and Gionee, among others, seeing worrisome warning signals, while a new breed of exciting handset brands, like Comio and NUU Mobile, among others, came to the fore. We believe this trend will deepen further in 2018," added Prabhu.
"LYF's JioPhone was major growth driver for 4Q CY2017. Its shipments grew more than five-fold in 4Q. This new trend led to surge in market share of feature phones. With local manufactured JioPhones hitting the market in coming quarters, the vendor is expected to better its performance" Narinder Kumar, Analyst, CMR-IIG. "In smartphones, Xiaomi became the clear market leader, on the back of its growing offline penetration and value for money products. We are expecting to witness revival in online strategy of Samsung alongwith its enhanced focus on enterprise business and Appgets."
"2018 will continue to witness growth of entry-level smartphones which will largely cater to first time smartphone buyers.  Aggressive, pre-paid 4G entry level plans launched by telcos in 1Q 2018 will further accelerate the adoption of 4G," added Narinder.
CMR 4Q Brand Leaderboard
In feature phones, LYF scaled a new high, emerging as the market leader with 27% market share, followed by Samsung with 14% market share.
In smartphones, Xiaomi emerged as the market leader with 25% market share, followed by Samsung with 23% market share.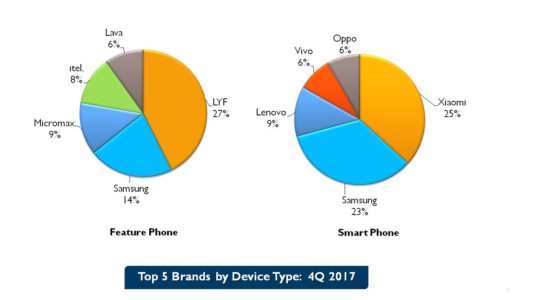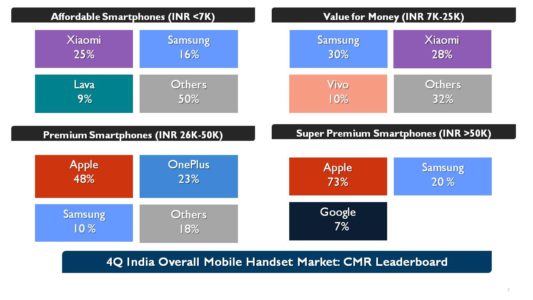 YoY Market Movement Trends – Winners and Losers: According to CMR Mobile Handset Report, major Chinese brands saw exceedingly healthy year-on-year growth. On the other hand, some pioneering brands saw their growth decline. For them, 2018 will be a challenging year.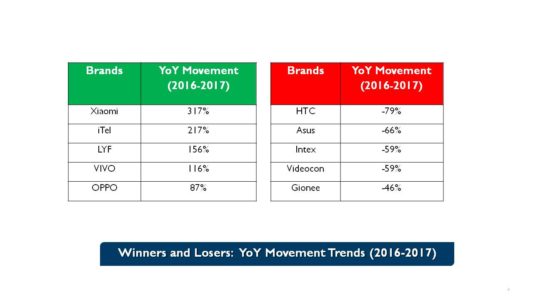 4Q Technology Insights
Continued growth of 4G Handset Market: In 4Q 2017, overall 4G handset market grew by 19%. 4G smartphones declined by 17%, while 4G feature phones grew 546%. 2G feature phones grew by 5%. 3G smartphones declined by 71% on a small base.
Trends in Screen Size: In smartphones, the 5 inch and 5.5 inch screen size together had a market share of 71%.
Dual cameras gain momentum: The market for dual cameras grew by 48% in 4Q 2017. Back dual cameras had a 60% growth quarter on quarter.
Trends in OS: In 4Q 2017, Nougat 7.0 became the leading contributor with 36% market share, replacing 6.0 Marshmallow. For Apple, iOS 11 became leading contributor with 45% market share.
Notes to Editors:
About CMR
Notes to Editors:
CyberMedia Research conducts the Budget Smartphones Channel Audit to capture the perspectives, preferences, challenges and dislikes of retailers around 'value for money' (INR <10,000) smartphone brands, capturing a compelling picture of smartphone brands in the market.
About CMR