Samsung retains leadership in the India market; leads Smartphone segment as well.
Against a q-o-q -18% decline in Featurephone shipments, Smartphones manage to limit the damage to -7% q-o-q.
Samsung improves market share, Micromax declines while Microsoft remains more or less static.
While Samsung, Micromax and Microsoft lead the market in that order, the third position in Smartphones is maintained by Intex in this quarter.
New Delhi/Gurgaon: According to findings of CMR's India Monthly Mobile Handsets Market Review, 1Q CY 2015, May 2015 release announced today, the India mobile handsets market declined 15% in terms of overall shipments over 4Q CY 2014. Of the total 53 million mobile handsets shipped during the quarter, 37% (19.5 mn) were Smartphones. Although Smartphone shipments also declined quarter-on-quarter, the decline registered was only 7%, as compared to over 18% in the case of the Featurephones segment.
Fig. 1: India Mobile Handsets Market: Shipments and Vendor Shares (%), 1Q CY 2015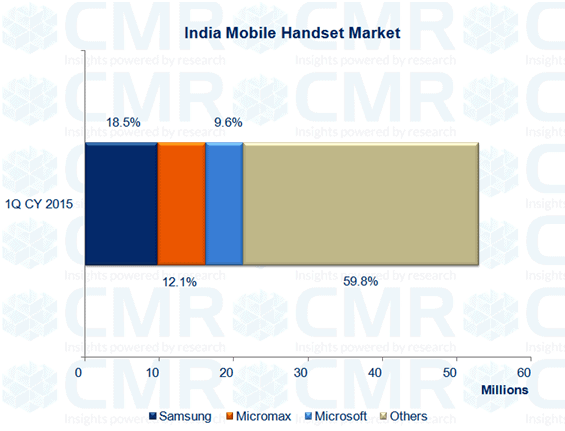 Highlighting the key findings of the quarter, Faisal Kawoosa, Lead Analyst, Telecoms Research at CMR said, "With major announcements of new handsets and entry of some new brands happening in a big way in 4Q CY 2014, there wasn't really something very exciting in the market for customers that could push up sales in 1Q CY 2015.  At the same time, change in duty structure and the consequent impact on the supply chain due to the Chinese New Year festivities contributed to the market contraction."
"From the perspective of handset brands, the interesting point to note is that Samsung has been able to garner a higher market share in featurephones during 1Q CY 2015 as compared to the previous quarter.  The company's share also increased in the Smartphones segment at 27.9%, up from 23.7% in 4Q CY 2014. Samsung's ability to add to its portfolio in all the major price segments within Smartphones, by launching new models in each of the entry-level, mid-range and high end segments of the market contributed to this increase," Faisal further added.
Fig. 2: India Mobile Handsets Market: Smartphone Shipments and Vendor Shares (%), 1Q CY 2015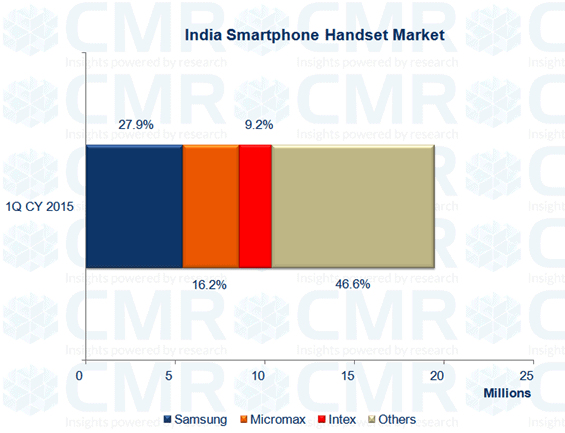 Market Share Movements
At the level of individual brands, the CMR report states that Micromax, at second spot, registered a decline to 12.1% in terms overall mobile handset shipments, while in the Smartphones segment its market share was 16.2% as compared to 14% and 17.8% in 4Q CY 2014, respectively. What is worrisome for the brand is its widening gap with Samsung, the market leader. While in 4Q CY 2014, Micromax was just behind by 1.2% compared to Samsung in the overall mobile handsets market and in the Smartphones segment the gap was 5.9%, in 1Q CY 2015, these gaps have increased to 6.4% and 11.7%, respectively. The significant gap in market shares in the Smartphones segment is the most critical issue for Micromax to address in the coming quarters. Possible reasons for this could be very few new models being launched by Micromax in the past year, and attempts to focus on a number of simultaneous marketing campaigns such as online sales and the Yureka sub-brand.
The third player in the market, Microsoft, on the other hand has been able to consolidate its position with 9.6% share in 1Q CY 2015, compared to 10.8% in the previous quarter for the overall mobile handsets market.
Within the Smartphones segment, Intex that emerged at third spot during 4Q CY 2014 continued to strengthen its ranking with a 9.2% market share in 1Q CY 2015, an increase of 1.3%.
Karn Chauhan, Telecoms Analyst at CMR, said "While seasonality had its play in this quarter, some players also need to revisit their strategies and perhaps not rely very heavily on online sales. e-Retailing works effectively for a brand aiming for 0-5% or 5-10% of the market share and those without a wide portfolio like Xiaomi and OnePlus. But, if you are Micromax, having a double-digit market share of middle to higher order price segment handsets, trying to replicate what Xiaomi and OnePlus are doing isn't a very good idea."
"At the same time one has to look at the segment contribution. While Xiaomi, OnePlus and other emerging brands are 'Smartphone only' brands, Micromax still gets around half its contribution from Featurephones," Karn concluded.
Notes to Editors:
About CMR
Notes to Editors:
This release is a part of the CyberMedia Research (CMR) Smart Mobility Market Review Programme.
CyberMedia Research (CMR) uses the term "shipments" to describe the number of handsets leaving the factory premises for OEM sales or stocking by distributors and retailers. For the convenience of media, the term shipments has been replaced by 'sales' in the press release, but this reflects the market size in terms of units of mobile handsets and not their absolute value. In the case of handsets imported into the country it represents the number leaving the first warehouse to OEMs, distributors and retailers. CyberMedia Research does not track the number of handsets brought on their person by individual passengers landing on Indian soil from overseas destinations or 'grey market' handsets. These are, therefore, not part of the CyberMedia Research numbers reported here.
CyberMedia Research (CMR) tracks shipments of mobile handsets on a monthly basis. However, as per convention, the market size is reported on a calendar quarter basis where appropriate to the context; in all such cases this refers to an aggregated number for the three calendar months in the quarter to which the press release refers.
About CMR