Samsung leads the market, with Lenovo and Datawind coming in at #2 and #3 respectively; Top 5 vendors account for 58.7% of all Tablet shipments
Enterprise Tablets market accounts for nearly 20% of total shipments
According to CMR's India Quarterly Tablet PC Market Review, 3Q (July-September) 2013, December 2013 release announced today 1,204,410 Tablets were sold (shipped) in the quarter by as many as 43 domestic and international vendors. However, only thirteen vendors shipped in significant volumes of more than 20,000 units during the period. The overall growth in shipments of Tablets in the India market registered a 9.0% year-on-year (3Q CY 2013 over 3Q CY 2012) growth, but a more modest 4.7% quarter-on-quarter (3Q CY 2013 over 2Q CY 2013) increase due to limited offerings from vendors battling BIS certification guidelines.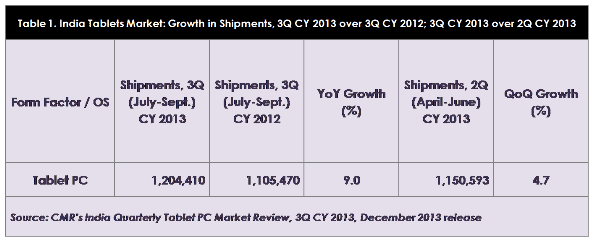 Tablets and the Indian Consumer
Enterprise Tablets Market
Starting this quarter, CMR will report the performance of Tablet shipments in the Enterprise space, separately. As per the estimates for 3Q CY 2013, enterprises consumed around 20% of total Tablet PC shipments for during the period July-September 2013.
Commenting on the results, Faisal Kawoosa, Lead Analyst, CMR Telecoms Practice stated, "It is becoming interesting to watch this space as the market grows and matures. Like the consumer segment, Android OS-based Tablets dominate the India Enterprise Tablet PC space as well. But with more vendors committing to Windows OS-based Tablets, the interest levels amongst customers are showing increasing trend. In a couple of quarters we expect Windows OS-based Tablets gaining significant traction within the India Enterprise segment."
"There is no clear leading industry vertical where the adoption has been distinctly higher than others. But going forward, BFSI, Pharmaceuticals and Retail are a few segments that are expected to take the lead.  Some interesting developments are taking place in these sectors on the Tablet PC as a platform. However, solutions-oriented ODMs are most likely to rule the roost", Faisal cautioned.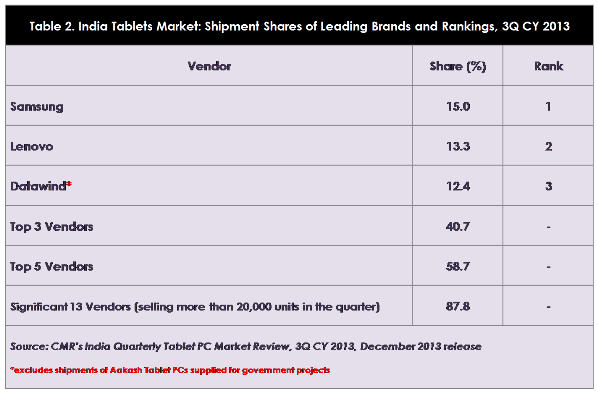 Dwelling on individual vendor performances, Tarun Pathak, Analyst, CMR Telecoms Practice said, "Lenovo has figured for the first time amongst the Top 3 India Tablet PC vendors, while Datawind continues to maintain its position in this exclusive club. However, we have saw quite a few vendors exiting the Tablet category altogether, or launching their offerings in the Enterprise Tablets space. Key reasons for this are low profitability in the entry-level Tablets market vis-à-vis a more promising future for growth of the Enterprise Tablets market."
"The market is expected to pick up towards the end of the year, once Tablet PC vendors are through with their BIS certifications. This is also expected to lead to some market consolidation. Only serious players with a long term vision are likely to remain committed to this category of devices. As far as technological trends are concerned, the 3G Tablets market will continue to grow and Android will remain the dominant OS, though it is expected to lose some share to the Windows and iOS platforms, once Windows 8.1 OS-based Tablet devices, the Apple iPad Air and Apple iPad Mini 2 launch in India during the October-December 2013 quarter," Tarun concluded.
Notes to Editors:
About CMR
Notes to Editors:
CyberMedia Research (CMR) has been the pioneer market intelligence and consulting group to run a comprehensive quarterly market update on the India Tablets market since the launch of these devices in the country in October 2010. CMR's India Quarterly Tablet PC Market Review compares Tablets on offer on over 70 features covering technology, apps, use cases, price bands etc.
CMR uses the term "shipments" to describe the number of handsets leaving the factory premises for OEM sales or stocking by distributors and retailers. For the convenience of media, the term shipments has been sometimes replaced with 'sales' in the press release, but this reflects the market size in terms of units of Tablet devices and not their absolute value. In the case of Tablet devices imported into the country, it represents the number leaving the first warehouse to OEMs, distributors and retailers.
CyberMedia Research does not track the number of Tablet devices brought on their person by individual passengers landing on Indian soil from overseas destinations or 'grey market' handsets. These are, therefore, not part of the CyberMedia Research numbers reported here.
CMR numbers reported here do not include shipments of Tablets for distribution by the Government of India or state governments, as part of their social welfare schemes, scholarship programmes etc.
CMR tracks shipments of India Tablets on a quarterly basis. Accordingly, as per convention, the market size is reported on a calendar quarter basis; in all such cases this refers to an aggregated number for the three calendar months in the quarter to which the press release refers.
About CMR