Consumer PC and Enterprise PC will grow on the back of increased consumer spending and positive business outlook.
HP contributed 29% market share of overall shipments.
Gurugram/New Delhi, June 28, 2018: According to CMR's India PC Market Review for 1Q CY2018, the India market is poised for growth on the back of positive business sentiment and increased consumer spending.
The Indian PC market witnessed 8.4% decline in 1Q CY2018 when compared to the 4Q CY2017. Consumer PC Market declined by 9.2% in 1Q vis-a-vis 4Q CY2017, while enterprise PC segment declined by 7.8%.
According to Amit Sharma, Analyst-Industry Intelligence Group at CMR, "In 1Q 2018, PC vendors spearheaded new initiatives to strengthen their channel business. The major vendors focused on incentivizing their business partners. All these trends portend good for renewed market growth for reminder of CY2018."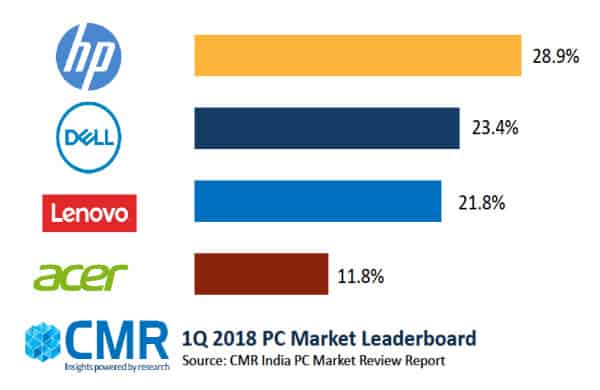 The CMR PC Leaderboard
Market leader HP Inc. recorded a market share of 28.9% in overall PC Market in 1Q 2018. The company regained its top spot with high level of retail penetration. Initiatives focusing on customers and catering to gaming PCs were the main drivers for HP's growth.
Dell, after gaining momentum in the 4Q 2017, lost the number one spot this quarter with a 23.4% market share in the overall India traditional PC market in 1Q 2018. Dell is focusing on strengthening channel and partner-led business. The focus has been on new strategies to bring the product in to the market with more emphasis on channel enablement.
Lenovo has maintained the third spot, with a market share of 21.8% in 1Q 2018 in overall India traditional PC market. Lenovo's focus in 1Q 2018 was to better incentivize channel partners through channel support initiatives. Alongside Lenovo's service campaigns played a major role for the brand to remain in the top three.
Looking Ahead
The India PC Market is slated to grow in the reminder of 2018, with increased enterprise and consumer spending. CMR anticipates that the overall PC market is likely to grow by 4% which is mainly driven by enterprise segment as compared to consumer segment. Enterprise segment is expected to grow at 5% this year whereas consumer segment is likely to see a growth of 2% as compared to last year.
"We believe the consumer spending will drive the uptake of new PC segments, including gaming laptops and convertibles. The enterprise PC segment will see renewed growth on the back of new Government initiatives under Digital India, and by increased spending from technology startups, and small and medium enterprises looking to deploy new PC devices," added Amit Sharma.
Notes to Editors:
About CMR
Notes to Editors:
CyberMedia Research conducts the Budget Smartphones Channel Audit to capture the perspectives, preferences, challenges and dislikes of retailers around 'value for money' (INR <10,000) smartphone brands, capturing a compelling picture of smartphone brands in the market.
About CMR