The market registers a 52% fall YoY in 1Q' CY 2017; MicroSD segment declines 67% YoY during the same period.
New Delhi/Gurugram, 25 July, 2017: The overall India Consumer Storage Flash Memory market, comprising Micro SD cards, SD cards and Flash drives, witnessed a 52% decline in 1Q CY 2017 as against 1Q CY 2016, in terms of units shipped.
However, when compared to 4Q CY 2016, the market recorded a 5% growth. This was revealed in CMR's India Consumer Storage Flash Memory Quarterly Market Review, 1Q 2017, July-17 release.

According to Shipra Sinha, Analyst, Consumer Storage Flash Memory Market, "The Micro SD Cards form a prominent share of the consumer storage flash memory market and therefore, the rising trend towards launching mobile phones with higher internal memory has influenced the sector. In 2016, we saw mobile phones with 8GB internal memory holding about 38% of the overall mobile handsets market. However, this year we are witnessing shipments with 16 GB internal memory topping the chart. However, the quarter was largely affected by demonetization and would see a turnaround soon."
Market Leadership
In the overall India Consumer Storage Flash Memory market, SanDisk was the most favored vendor, its market share grew from 40% in 4Q CY2016 to 50% in 1Q CY2017.
It witnessed 26% sequential growth in terms of units shipped in 1Q CY 2017. Samsung maintained number two spot followed by Strontium at number three position in 1Q CY 2017.
However, shipments of Unbranded Micro SD witnessed fall of 27% in 4Q CY2016 and 23% in 1Q CY2017 respectively on account of stocks piled up because of demonetization.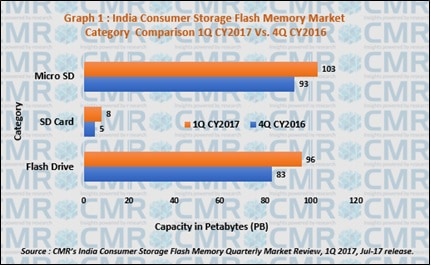 Around 181 PB (petabytes) capacity was added to the Consumer Storage Flash Memory market in 4Q CY2016 which increased to around 207 PB (petabytes) in 1Q CY2017.
Among the top ten Flash Drive models, SanDisk's Cruzer Blade (SDCZ50) and Ultra Dual Drive (SDDD2) were the most favored models in 1Q CY2017.
Capacity Trends
16 GB was the major contributor with 39% market share of the overall flash devices market in 1Q CY2017. This segment grew sequentially by 3% in 1Q CY2017 in terms of shipments.
8 GB capacity segment contributed 31% of overall flash devices market in 1Q CY2017.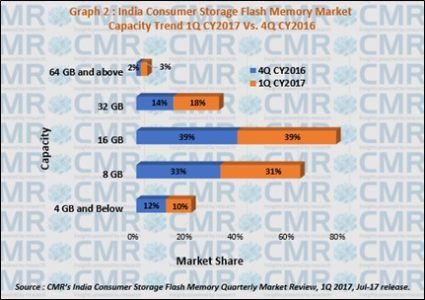 Future Trends
According to Shipra, "The market would witness a turnaround in the quarters to come as still a larger share of the mobile handset market is being captured by under INR 10K market, where microSD cards hold greater traction. Consumption of memory space by android, entertainment and gaming apps, and other apps would drive the growth of Micro SD in the near future. Although the smartphones are getting launched with higher internal memory these days, but the video hungry consumers would will play a key role in the overall growth of the market. Huge inclination towards 4G handsets because of affordable data plans available in India will be another push for the growth in Micro SD cards."
Notes to Editors:
About CMR
Notes to Editors:
CyberMedia Research conducts the Budget Smartphones Channel Audit to capture the perspectives, preferences, challenges and dislikes of retailers around 'value for money' (INR <10,000) smartphone brands, capturing a compelling picture of smartphone brands in the market.
About CMR