Samsung, Lenovo and Xiaomi emerge as the top three LTE devices brands.  Micromax only Indian brand in top 5.
Smartphones account for 98% of the LTE devices.  Data Cards and Tablets contributed remaining 2%.
Smartphones, Data Cards and Tablets grew 1981%, 148% and 90% respectively in 2015 in shipments.
India brands contributed mere 14% of the shipments. China brands growing rapidly in 4G segment.
New Delhi/Gurgaon: According to CMR's India annual LTE (4G) Devices Market Review, 2015 release announced today, the total LTE device shipments in the country reached 33 million in CY2015, 1676% increase compared to last year.  The 4G devices comprise of Smartphones, Tablets and Data Cards, representing 98%, 0.9% and 1.0%, contributions respectively, in CY 2015.
Commenting on the findings, Faisal Kawoosa, Lead Analyst, CMR Telecoms Practice said, "We have now over 35 million users equipped with 4G capable devices.  4G has come at a very opportune time to give impetus to the growth of devices market resulting in such high number growths."
"Contrary to 3G evolution, the ecosystem provisioning has been much rapid and smooth in case of 4G.  To make the technology successful is now the onus of the operators by alighting the networks where they have already been set up,"  Faisal added.
Market Leadership: India 4G/LTE Device Market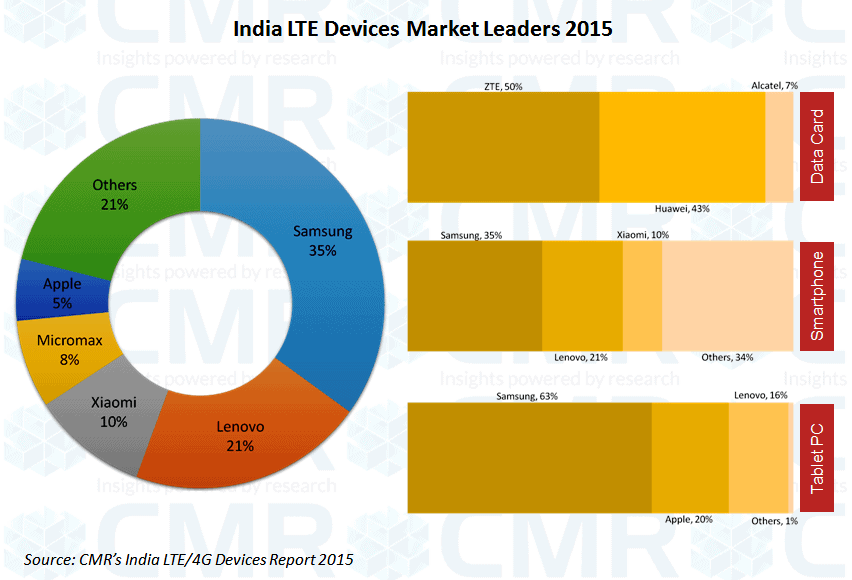 Global and Chinese brands are strongly positioned in 4G technology segment. India brands contribute mere 14% with Micromax being the only Indian brand in top 5.
Samsung leads overall as well as in the Smartphones and Tablet PCs with 35% and 63% market shares respectively. Lenovo and Xiaomi stood 2nd and 3rd with 21% and 10% market shares respectively.
Commenting on the market expectations, Krishna Mukherjee, Analyst, CMR Telecoms Practice said, "With all major operators embracing it, especially with Reliance Jio and Bharti Airtel's full-blown 4G launch, the Indian market is heading towards what can be called as the 4G era. The ecosystem is only expected to further catalyze the growth."
"Video and video based services will take the centre stage, however, the use cases in the Indian context need to be worked upon further," Krishna concluded.
Notes to Editors:
About CMR
Notes to Editors:
CyberMedia Research conducts the Budget Smartphones Channel Audit to capture the perspectives, preferences, challenges and dislikes of retailers around 'value for money' (INR <10,000) smartphone brands, capturing a compelling picture of smartphone brands in the market.
About CMR