Across smartphones and featurephones, 4G now has a 55% market share.
In January 2018, Xiaomi (27%), Samsung (25%) and Lava (8%) topped the smartphone leaderboard.
On the feature phone leaderboard for January, LYF (37.3%), itel (11%) and Samsung (7%) were the winners.
New Delhi/Gurugram, 5 March 2018:  According to CMR's India Monthly Mobile Handset Market Review Report for January 2018 released today, feature phone handset brand shipments had a market share of 72%, while smartphone shipments ended with 28% in January. On a YoY basis, feature phones saw a growth of 116%.
In January 2018, Reliance Retail's mobile handset brand, LYF topped the overall mobile handset leaderboard with 27% market share, followed by Samsung at a distant second with 12% share, and itel at third with 8% market share.
According to Prabhu Ram, Head – Industry Intelligence Group (IIG), CMR said, "LYF has continued its phenomenal growth from 4Q 2017, beginning the new year on a high. These results underline the importance and dominance of feature phones market segment in India. If LYF is able to maintain its strong performance through the reminder of quarter, we believe LYF is on course to take the top honors in 1Q 2018. This will end Samsung's continued reign as market leader in the overall mobile handset market."
Prabhu further added, "On the other hand, for Samsung to continue maintaining its overall leadership, it would need to increase its shipments in the rest of 1Q 2018 by atleast 25-30%. Going forward, Samsung should ramp up its strategy around the growing and increasingly exciting entry-level smartphone segment. Key areas of consideration for Samsung's strategy would include introduction of 4G feature phones, joining AndroidGo, as well as handset bundling with telcos."
In 4Q 2017, the smartphone market recorded a 19% sequential decline while the featurephone market saw a 36% sequential growth, and YoY growth of 62%.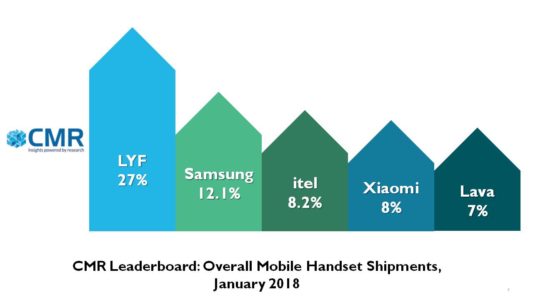 In January 2018, the smartphone leaderboard continued to be dominated by Xiaomi with 27% market share, while Samsung had a 25% market share, with Lava at third with 8% market share. On the feature phone leaderboard for January, the top three brands were LYF (37.3%), itel (11%) and Samsung (7%).
"One interesting trend that has emerged is the decline of Oppo. In January 2017, Oppo was one of the top four smartphone brands in India with 9% market share. This January, it has moved out of the smartphone leaderboard, ending with a market share of only 4%," said Narinder Kumar, Analyst, CMR-IIG.
****
About CMR India Mobile Handset Review Report
The CMR Mobile Handset Review Report is based on CMR's research methodology and proprietary tools, covering >100 unique datasets, and delivered to CMR clientele. The report is available in monthly, quarterly and half-yearly formats. The report deliverables include top-line findings and summary snapshot for India market in powerpoint, and in a user-friendly excel format. For more information on CMR's Mobile Handset Report, please contact Prabhu Ram at +91 9899440380 or pram@cmrindia.com
Notes to Editors:
About CMR
Notes to Editors:
CyberMedia Research conducts the Budget Smartphones Channel Audit to capture the perspectives, preferences, challenges and dislikes of retailers around 'value for money' (INR <10,000) smartphone brands, capturing a compelling picture of smartphone brands in the market.
About CMR