Rising trend of mobile computing and content consumption, falling device prices and data tariffs to drive growth of India data cards market
According to CMR's India Data Cards Market Review, AMJ 2013, August 2013 release, India recorded shipments of 1.83 million data cards for 2Q (April-June) 2013.

From 2Q 2012 to 2Q 2013 the shipments of CDMA data cards witnessed a significant decline, though quarter-on-quarter there has been a healthy growth, as shown in Table 2.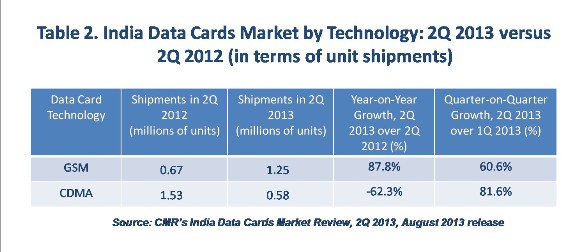 Commenting on the results, Faisal Kawoosa, Lead Analyst, CMR Telecoms Practice said, "There has been a significant decline in overall data card shipments on a yearly basis, mainly because of declining shipments of CDMA data cards. On the other hand, the high growth rate of GSM data cards is on account of fast increasing shipments of HSDPA 14.4, HSDPA+ 21.6 and LTE 100 data cards. "
"The numbers clearly reveal that India is going the LTE way. Even with the issues faced by subscribers using 3G networks, the adoption has not been adversely affected. Recent developments in 3G and LTE markets indicate a healthy potential for operators.  Moreover, uptake of 3G-enabled Tablets is also pushing up the consumption of GSM data cards," Faisal concluded.
The top 3 vendors of the India data cards market – ZTE, Huawei and Micromax contributed 74% to the total data card shipments in 2Q 2013, as shown in Table 3.

In GSM technology, the top three players – Huawei, Micromax and ZTE – together made up nearly 65% of shipments in 2Q 2013, while in CDMA technology ZTE and Huawei together contributed 95% of the total shipments during the same period, as shown in Table 4.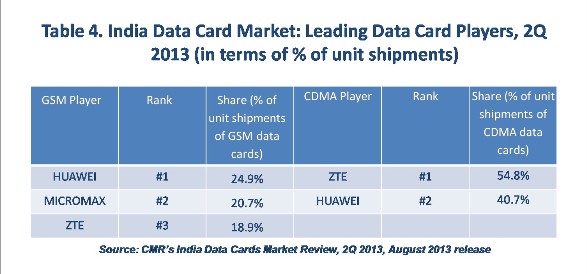 Mobility, Broadband Data Services, Content Consumption to Drive Market Growth
The ever increasing demand to stay connected anytime and anywhere, particularly on the part of business executives, students and consumers has opened up new growth avenues for the India data cards market. Data Card players have entered into bundling deals with mobile telephony service providers, laptop PC OEMs and tablet vendors to push device sales. Riding on this phenomenon, players like Alcatel, iBall and Lava also witnessed an upward trend in their data card shipment numbers during 2Q 2013.
Commenting on these results, Neha Shekhawat, Analyst, CMR Telecoms Practice said, "With the launch of 4G mobile telephony services by operators, players like ZTE and Huawei have launched 4G data cards to benefit from the 'first mover' advantage. To survive in a highly competitive market, these players are also providing innovative, new features on their devices. For instance, Huawei have embedded cloud storage with their data cards, offering up to 16 GB of online storage."
"Thus, rising consumption of data and content via multiple mobile computing form factors, expansion of high speed wireless broadband to newer geographies, falling device price points and data tariffs, and more intimate tie-ups between vendors, service providers and channel partners will continue to drive competition and growth in the India data cards market", Neha concluded.
Notes to Editors:
About CMR
Notes to Editors:
This release is a part of the CyberMedia Research (CMR) Smart Mobility Market Programme.
CyberMedia Research (CMR) uses the term "shipments" to describe the number of data cards leaving the factory premises for OEM sales or stocking by distributors and retailers. For the convenience of media, the term shipments is sometimes replaced by 'sales' in the press release, but this reflects the market size in terms of units of data cards and not their absolute value. In the case of data cards imported into the country it represents the number leaving the first warehouse to OEMs, distributors and retailers. CyberMedia Research does not track the number of data cards brought on their person by individual passengers landing on Indian soil from overseas destinations or 'grey market' handsets. These are, therefore, not part of the CyberMedia Research numbers reported here.
CyberMedia Research (CMR) tracks shipments of data cards on a quarterly basis. Therefore, as per convention, the market size is reported on a calendar quarter basis; in all such cases this refers to an aggregated number for the three calendar months in the quarter to which the press release refers.
About CMR