Smartphones dominate with 96% contribution to sales during the quarter
Apple leads shipments of 4G Smartphones and 4G Tablets.
 Alcatel rules 4G Datacard shipments
Apple leads the LTE Smartphone Chipset market while Qualcomm is the leader in non-proprietary chipsets for LTE Smartphones
New Delhi/Gurgaon: According to CMR's India Quarterly LTE (4G) Devices Market Review, CY 2014, March 2015 release announced today, total LTE device shipments in the country touched 1.06 million units during 4Q CY 2014. This includes Smartphones, Tablets and Datacards with shares of 96%, 3% and 1%, respectively in terms of shipments.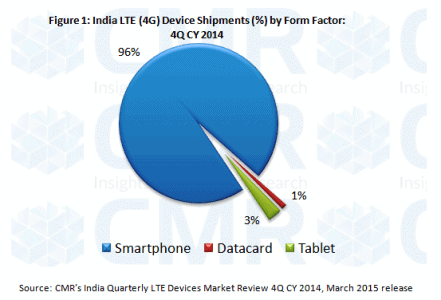 Commenting on the findings, Faisal Kawoosa, Lead Analyst, CMR Telecoms Practice said, "Till a few months ago we had Apple iPhone and a couple of other global brands offering 4G phones in the India market, but sales started to pick up with competitively priced devices coming into the market as a result of brands like Xiaomi, Oneplus and Lenovo starting to ship LTE phones towards the end of CY 2014. Though LTE services are currently restricted to a handful of cities in India, the reason for sales of 4G devices picking up can be attributed to the fact that consumers who were looking to replace their Smartphones were 'investing' in future-proof, LTE network-compliant phones."
"At the same time, several consumers were buying a Smartphone, without 4G support being a key purchase criterion. It just happened that they were able to get a Smartphone at an appropriate price-point, that also supports 4G," Faisal added further.
Market Leadership: India 4G Devices Market
Within Smartphones, the major type of LTE devices shipped into the India market, Apple leads with a 45% market share during 4Q CY 2014, followed by HTC at 19% and Samsung at 16%.
Within the Tablets segment, Apple again dominates the space with a 70.6% market share in terms of shipments during 4Q CY 2014, followed by Lenovo with 28.7%. The third player in this segment is HP, with a relatively insignificant presence during the period under review.
The LTE Datacard market is ruled by Alcatel with an 83% share of shipments during the fourth quarter of CY 2014, the second player shipping such devices being Huawei with the remaining 17% share. There was no other brand that shipped LTE Datacards during the quarter.
Commenting on the leadership positions, Vikrant Singh, Analyst, CMR Telecoms Practice said, "Apple enjoyed the early mover advantage and thus led the space during the fourth quarter. With players like Samsung and HTC also shipping LTE devices the contribution of global brands to the overall India LTE device market stood at 83%, while the rest was contributed by Chinese brands. Micromax was the only India brand that shipped LTE devices during the fourth quarter, marking the entry of Indian brands into the LTE device space, albeit with a marginal share of 0.1% of shipments during 4Q CY 2014."
"The up-tick in 4G-enabled device shipments in India, especially Smartphones, shows that it makes the right business proposition for other home-grown brands like Lava, Karbonn and Intex to foray into the LTE devices market," Vikrant further added.
"Another related development was that Qualcomm led the non-proprietary LTE Chipset market in India with a 44% share of LTE Smartphone shipments in 4Q CY 2014. However, in the overall India LTE Smartphone Chipset market Apple was the leader with a 45% share of shipments during 4Q CY 2014," Vikrant concluded.
Salient Highlights about the India LTE (4G) Devices Market
A cumulative total of close to 20 brands have shipped LTE devices into the India market.
Of the total LTE Smartphones shipped in India during 4Q CY 2014, 15% were exclusively sold online through retail e-commerce portals.
In their first month of shipping 4G Smartphones, Xiaomi and OnePlus garnered impressive market shares of 24% and 12%, respectively during December 2014. As a result, Xiaomi and OnePlus were able to make it to the 'Top 5' of the India LTE Smartphone brands in terms of unit shipments, during their first month of operations.
Notes to Editors:
About CMR
Notes to Editors:
This release is a part of the CyberMedia Research (CMR) Smart Mobility Market Review Programme.
CyberMedia Research (CMR) uses the term "shipments" to describe the number of handsets leaving the factory premises for OEM sales or stocking by distributors and retailers. For the convenience of media, the term shipments has been replaced by 'sales' in the press release in some instances, but this reflects the market size in terms of units of mobile devices and not their absolute value. In the case of devices imported into the country it represents the number leaving the first warehouse to OEMs, distributors and retailers. CyberMedia Research does not track the number of devices brought on their person by individual passengers landing on Indian soil from overseas destinations or 'grey market' devices. These are, therefore, not part of the CyberMedia Research numbers reported here.
CyberMedia Research (CMR) tracks shipments of mobile handsets, tablets and data cards on a monthly basis. However, as per convention, the market size is reported on a calendar quarter basis where appropriate to the context; in all such cases this refers to an aggregated number for the three calendar months in the quarter to which the press release refers.
About CMR