Total Tablet shipments stood at 0.68 million, down by 11% sequentially, in 2Q CY2017,
4G Tablet shipments grew by 36% during the quarter.
Lack of promotional activities & new innovation led to a slowdown of tablet market.
Price band of INR 20-30K aids to 406% sequential increase in 2Q CY2017.
New Delhi/Gurugram, Wednesday, September 13, 2017: According to CMR's India Quarterly Tablet PC Market Review- In 2Q CY2017, 0.68 million Tablet PCs were shipped in India, recording 11% decline over the previous quarter. Market recorded 29% YOY decline for the quarter. Datawind continues to be the leader during 2Q CY2017, with 27% market share, iBall at second with 16% market share followed by Lenovo & Samsung with 14% market share each.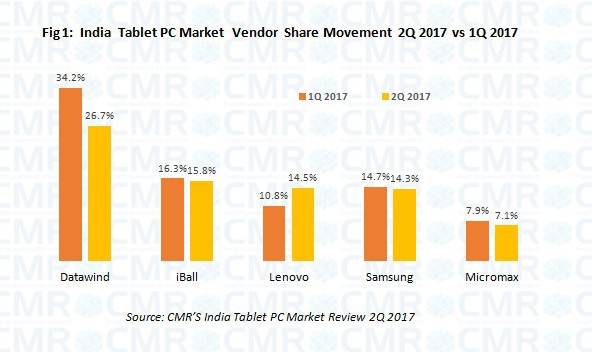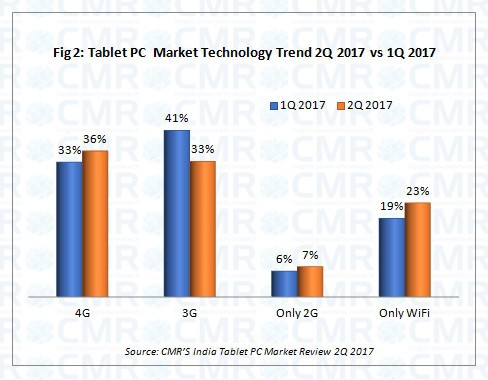 Technology Trends
4G, 2G & WiFi based tablets witnessed sequential increase of 8%, 17% & 21% respectively in 2Q CY2017 in terms of unit shipments, whereas 3G based tablets witnessed sharp decline of 19 % in 2Q CY2017 over to previous quarter in terms of unit shipments. Android continued to remain the preferred OS choice with 90% market share while iOS market share remained steady at 10%. Tablets with 2GB RAM & 16GB embedded memory witnessed sequential increase of 52% & 15% YOY sequential growth in 2Q 2017. 5 Megapixel primary camera tablets witnessed 61% YOY sequential growth whereas 2 Megapixel secondary camera tablets witnessed 63% YOY sequential growth. 10.1 inch of tablet witnessed huge sequential growth of 445% in YOY comparison. Datawind's tablet model Ubislate 7SC Star witnessed 473% YOY sequential growth. Sharp growth in tablets for INR 20-30 K price band segment is attributed to the entry of Apple iPad Wi-Fi model (32GB variant).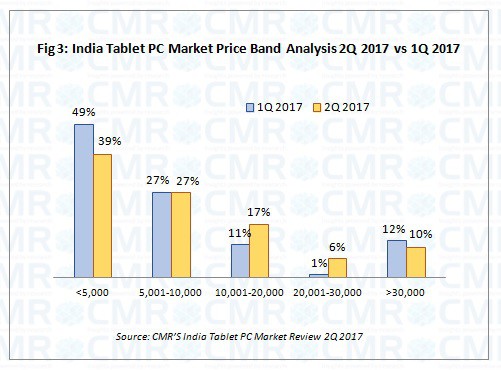 CMR insight on Tablet market
The smartphones have eroded the tablet market because smartphones are the primary devices with big screens, high mega pixel camera and many other attractive features for the users. On the other hand, tablet market share is declining due to their bulky weight and higher prices. Tablets face competition from the smartphone market as well as from lighter laptops. There are not much differentiating factors between laptops and tablets. Therefore, the tablet market needs to have a fresh positioning in the 4G tablet market at the price range of INR 20k-30k. The focus should be on innovative features (e.g. service enabled or solution based etc) with a well defined target audience.
The growing digital proliferation across industries in commercial segments especially in large enterprises are expected to lead towards an increased demand for tablets in government, medical and education sectors. This will drive vendors to focus more aggressively in gaining market share in the commercial market to sustain the Indian tablet market. Also, consumer's demand for tablets under INR 5K price band is more and there are wafer-thin margin for vendors. Also, the high demand of 5 megapixel camera featured tablet is expected to contribute in the growth of tablet market.
It is expected that phablets will be the next wave in the country and will eat out the market share of tablets as they have latest technologies like 3D life tab, pocket tab etc. and are launched at extremely low prices. Besides phablets, Graphic tablets, slate tablets and detachable tablets have the potential to attract new customers and therefore can pull up the whole tablet market if the companies plan to come up with creative marketing strategies (ATL and BTL activities), impressive channel and retail strategies to capture the market.
According to Menka Kumari, Analyst, CMR India; "Just like the smartphone market is moving towards 4G, we can see the same trend in the Tablet market. The demand for SIM-enabled devices will continue to grow, while WiFi enabled devices will continue to see demand from the student community".
Notes to Editors:
About CMR
Notes to Editors:
CyberMedia Research conducts the Budget Smartphones Channel Audit to capture the perspectives, preferences, challenges and dislikes of retailers around 'value for money' (INR <10,000) smartphone brands, capturing a compelling picture of smartphone brands in the market.
About CMR