Reliance Retail's JioFi that is procured from multiple OEMs accounts for 91% of market share whereas Huawei only at 3% in the Data Card segment, 2Q CY2017.
LTE/4G data cards affirmed its top position with 17% sequential growth, 2Q CY2017 in case of units shipped.
3G data cards declined by 61% in 2Q CY2017 as compared to 1Q CY2017.
LTE/4G based Mi-Fi devices market share at 97%, 2Q CY2017.
The quarter witnessed record breaking year on year growth of 614%.
Gurugram / New Delhi, Thursday, August 31, 2017: The shipment of Indian Data cards market grew to 4 million (16%) over 3.4 million in 1Q CY2017. The market witnessed 614% growth from 2Q CY2016 to 2Q CY2017 according to CMR's India Data Cards Monthly Market Review Jun-17, August 2017 release.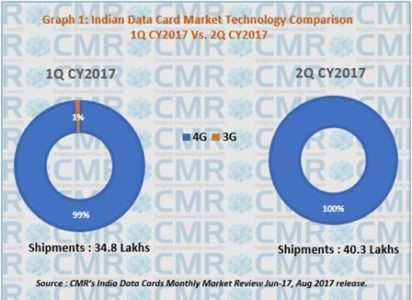 "LTE/4G data card shipments accounts for 17% sequential growth owing to Mi-Fi devices and has proved to be the most favored technology in the same time period. On the other hand, 3G data card shipments shrinked by 61% in 2Q CY2017 as compared to the first half of CY2017" stated Shipra Sinha Analyst, Industry Intelligence Practice at CMR.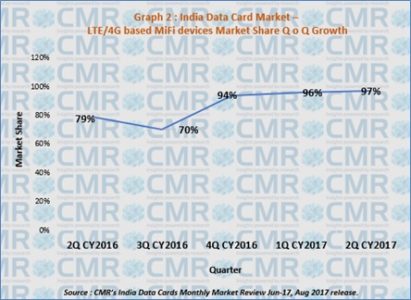 Launch of consecutive free data services followed by availability of Mi-Fi- data cards at different prices along with aided the consistent growth of Reliance Jio with 91% during the same time period. The other vendors' market shares are stagnant by 3% from the last two quarters. The units shipped of Alcatel witnessed the fastest growth by 522% in 2Q CY2017, whereas ZTE and D-Link shipments registered decline of 21% in case of former and 82% in case of latter respectively. Among Reliance Jio offered MiFi devices, M2S continued to be country's fastest selling model. JMR1140 stood second while JioFi ranked third.
Mi-Fi's primarily driven by Jio are gaining acceptance in Tier II and Tier III cities and towns that could result in erosion of potential broadband base for operators like BSNL.  In such towns and cities, users benchmark broadband speed and quality with that of  BSNL fixed line broadband, which in majority of the circles for popular plans is 2 MBPS for residential users. Mi-Fi could also slow the pace of 3G to 4G Smartphone replacement as the market looks for replacement opportunity in smaller towns and cities.
"RJio's MiFi devices (JioFi) also impact home router market. Our initial statistics from the channels suggest a decline of 60%-70% sales in major cities.  Now it has started affecting the SOHO / SMB router market in other cities and towns as well. To counter competition is attempting to level the equation by offering matching plans, etc. However, I expect Mi-Fi's to continue cannabalising the entry level router market for few more quarters from now," said Narinder Kumar, Analyst, Industry Intelligence Practice, CMR.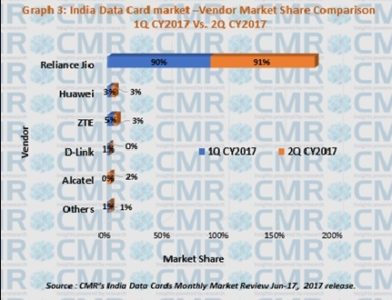 Data card with data rate of 150 Mbps accounted for 97% of the total market of overall shipments in 2Q CY2017. Around 92% of Data Cards were on Qualcomm Chipsets during the period.
Mi-Fi is going to play a pivotal role in the Digitalisation of the country.  As internet penetrated deep in to the towns and villages of the country, Mi-Fi devices are likely to have a critical role to play as it supports multiple connections giving the WiFi enabled fixed broadband experience to the users, does not require changing of the existing handsets and is also affordable from both initial investment as well as the data plans. It would be worth to consider for other operators to expand their digital footprints within their serviced circles as they look for new users in the non-metro and Tier 1 cities.
Notes to Editors:
About CMR
Notes to Editors:
CyberMedia Research conducts the Budget Smartphones Channel Audit to capture the perspectives, preferences, challenges and dislikes of retailers around 'value for money' (INR <10,000) smartphone brands, capturing a compelling picture of smartphone brands in the market.
About CMR