Seagate and WD together captured 77% of the overall External HDD (2.5"/3.5", NAS and Wireless) market.
1TB and 2TB External HDD (2.5" & 3.5") were most popular among consumers.
QNAP Systems sustained its top position in the NAS (Network Attached Storage) market.
Gurugram/New Delhi, March 13, 2019: India External HDD (2.5"/3.5", NAS and Wireless) market has crossed 1.8 Mn units for calendar year 2018, according to CMR's India Hard Drive Market Review for CY2018.
"Seagate and WD capture 77% of Overall External HDD Market in India: CMR"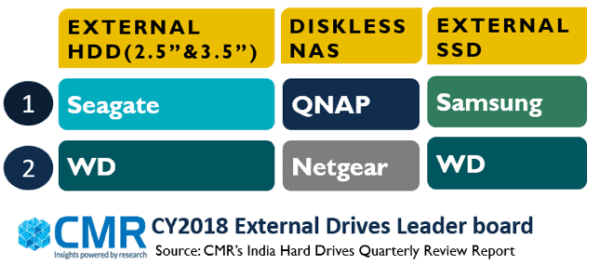 "The market was a bit slow in the early part of the year. It later recovered in the 2Q CY2018 on the back of a new financial year. External HDD is a consumer-friendly device and sold majorly through online platforms. Hence, attractive deals during the festivals proved to be the major growth driver in 3Q CY2018 for external HDD. However, by the year-end, the market witnessed a slowed-down and had a 51% sales drop in 4Q CY2018," observed Shipra Sinha, Analyst- IIG, CyberMedia Research (CMR).
External HDD & SSD: CY2018
2.5" form factor external HDD due to its portability was the most favored segment and contributed huge 97% market share in terms of unit shipments.
1 TB and 2 TB capacity segment collectively contributed 87% market share in terms of unit shipments.
QNAP captured the top spot under diskless NAS category with 44% market share followed by Netgear at the second position.
WD was the only contributor in the overall wireless market in CY2018. Samsung dominated the external SSD market with 41% market share in terms of unit shipments.
Internal SSD and Surveillance HDD: 4Q CY2018
SATA (2.5" and M.2) was the major contributor with 90% market share in the overall internal SSD market in terms of unit shipments due to its cost effectiveness. PCIe/NVMe contributed 10% of the overall Internal SSD market. 2.5" SATA internal SSD was most popular among consumers.
In terms of capacity, 240-480GB segment was mostly sold. This segment captured 49% market share followed by 120-180GB segment contributing 38% market share in terms of unit shipments in the Internal SSD market.
1TB and 2TB capacity segment captured 82% market share together.
Future Trends
According to Shipra, "With increase in usage of computer applications, has led to significant rise in the number of PC manufacturers creating the need of large storage. This will aid the growth of the external HDD market in near future. Simultaneously the speed and efficiency of SSDs and 3D NAND implementation has increased its adoption at a good rate."
"We anticipate the External HDD market to grow steadily in CY2019.1Q CY2019 will see rise in sales due to new year and stock clearance by the end of it" added Shipra.
Notes to Editors:
CyberMedia Research conducts the Budget Smartphones Channel Audit to capture the perspectives, preferences, challenges and dislikes of retailers around 'value for money' (INR <10,000) smartphone brands, capturing a compelling picture of smartphone brands in the market.
About CMR