Collaboration to foster skill development, incubation, research and analytics in Telecommunications in India.
Gurugram: Wednesday, February 15, 2017 – Telecom Sector Skill Council (TSSC) and CyberMedia Research (CMR) today announced that they have entered into a strategic alliance to work closely in emerging areas within telecommunications to contribute significantly in the creation of more vibrant and globally competitive sector in India.
The alliance will thrust on key initiatives of skill development, incubation, research and analytics in the telecommunications domain in India to support the ecosystem for the next wave of emerging opportunities within the sector.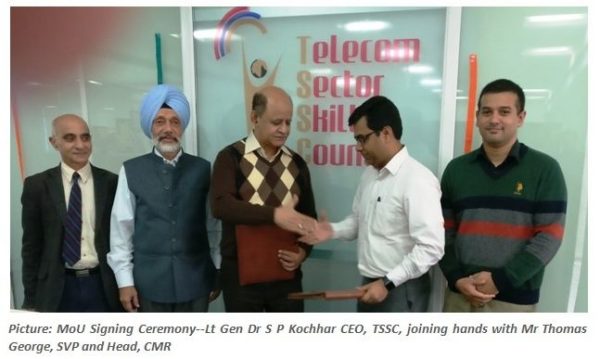 Announcing the alliance, Lt Gen Dr SP Kochhar, CEO Telecom Sector Skill Council said, "This collaboration would usher in a new chapter in the ongoing joint collaboration initiatives taken by TSSC. Surely, both parties would push up the need for further research in the crucial area."
On this occasion, Mr Pradeep Gupta, CMD, CyberMedia Research, said, "We are honoured to join TSSC as the Knowledge Partners and are excited to add value to the charter of the council by making significant increments in the ecosystem preparedness as India moves towards a Digital nation."
The alliance envisions intermeshing of synergies and competencies of both the organisations to support the ecosystem by way of creating new order skill initiatives, foster incubation and start-up arena, aiding entrepreneurs in the domain, co-creating analytics programmes and creating a repository of future-looking knowledge base for strategic road-mapping of the telecommunications sector.
About
Telecom Sector Skill Council
Telecom Sector Skill Council (TSSC) is a not for profit PPP between National Skill Development Corporation (NSDC) and Telecom Industry. It has representations from Academia, Industry associations as well as the Government (MeitY).
The council is committed to develop world class skilled manpower for the telecom industry – Nationally and Internationally. It develops necessary framework for standards, curriculum & quality assurance at all levels in vocational/technical programs to meet the need of the Industry.
Milestones Achieved
In a short span of time, TSSC has already enrolled 364,000 aspirants and certified 190,000 out of them in various segments of telecom sector. With a spread over 34 states & UTs, 495 cities & towns, TSSC today has more than 140 Industry partners, 569 Academia partners, 8 Assessment partners, 26 State Government partners and 507 training partners. Internationally, it has Government of Taiwan and University of Chicago as partners. For more visit, http://tsscindia.com.
Notes to Editors:
About CMR
Notes to Editors:
CyberMedia Research conducts the Budget Smartphones Channel Audit to capture the perspectives, preferences, challenges and dislikes of retailers around 'value for money' (INR <10,000) smartphone brands, capturing a compelling picture of smartphone brands in the market.
About CMR