Women are more active than men when it comes to playing mobile games on their smartphone, and up to several times in a week.
In terms of playing games at a stretch of 0-2 hours, women beat men.
While women are casual gamers, men prefer graphics-rich action-oriented games.
Gurugram, 23 September, 2019: As per a new survey from CyberMedia Research's Insights on the Go program that polled 2000 smartphone owners, contrary to common social perceptions, mobile gaming is no longer limited to one specific gender. In fact, an astonishing 95% of women surveyed, are very active mobile gamers, as compared to men (86%). What is more interesting is that 75% of those surveyed indicated playing games for upto 2 hours on their smartphone, with women (78%) spending more time than men (72%). 33% of those surveyed indicated playing mobile games several times in a week.
According to Prabhu Ram, Head-Industry Intelligence Group, CMR, "The CMR Insights on the Go Survey results have broken some of the most common notions associated with mobile gaming. Women are active in gaming. Yet, it is true to say that they prefer some unique games, and stick with free-to-play games, and generally speaking, avoid in-app purchases. They are hyper-casual gamers, and very much under served. For the gaming developer community, this cohort represents a significant opportunity."
So, what is fuelling the rise of gamers in India? One of the key reasons why women (and men!) have taken to gaming is the rise of smartphones with more powerful graphics and improvements in processing capabilities, across price points. Women are avid gamers only on smartphones and they eschew any other gaming platforms.
Women attributed their taking onto mobile gaming to multiple factors, including their peers and friends, to their spouse, and even, ads on social networks. Among key benefits cited by women, playing mobile games is seen as a major stress buster and mood elevator, serving as a distraction from the constant work pressures, or daily chores. The relative convenience of playing games on smartphones, anywhere, anytime, is an advantage, cited by women.
"Ranging from professionals playing mobile games in between breaks at work, or while on the commute, to women playing games at home amidst breaks from chores, to elderly women keeping up with technology, the demographic profiles of female gamers spans across age groups," added Satya Mohanty, Head-User Research Practice, CMR.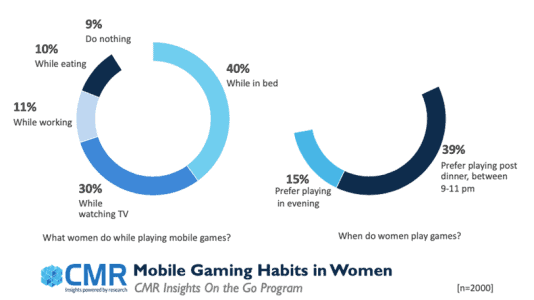 Women are avid casual genre seekers, and prefer free-to-play casual games (94%). Compared to men, women are more active on offline mobile games (33%). Women gamers prefer variety, and have between 1-4 games installed on their smartphones, spanning across predominantly puzzles, strategy and adventure games. The top three mobile games in India include PUBG Mobile (45%), Candy Crush Saga (22%) and Clash of Clans (22%). Amongst women, Candy Crush (39%), Clash of Clans (22%), and word puzzles (22%) are the three most popular games.
In choosing a new mobile game, beyond recommendations from peers and family, app store ratings as well as the storage space available on the smartphone also rank high in the consideration for women (66%). Almost 54% of the women surveyed preferred playing mobile games during late evening, with 39% playing games post dinner between 9-11 pm.
"What the CMR Insights on the Go Survey illustrates is that smartphones have contributed to a significant shift in gamer demographics. This, in turn, has opened up many new user personas and niches that the developer community should focus on. From a revenue perspective, these new niches may seem insignificant, but we believe given the future potential of the industry, this opportunity presents a massive opportunity to scale for independent developers," added Prabhu.
Notes to Editors:
About CMR
Notes to Editors:
CyberMedia Research conducts the Budget Smartphones Channel Audit to capture the perspectives, preferences, challenges and dislikes of retailers around 'value for money' (INR <10,000) smartphone brands, capturing a compelling picture of smartphone brands in the market.
About CMR