Samsung led the 5G smartphone market in Q2 2022
Xiaomi led the smartphone market with 20% market share, followed by Samsung at 18%
Itel Mobile led the 2G feature phone market with 25% market share, followed by Lava with 21%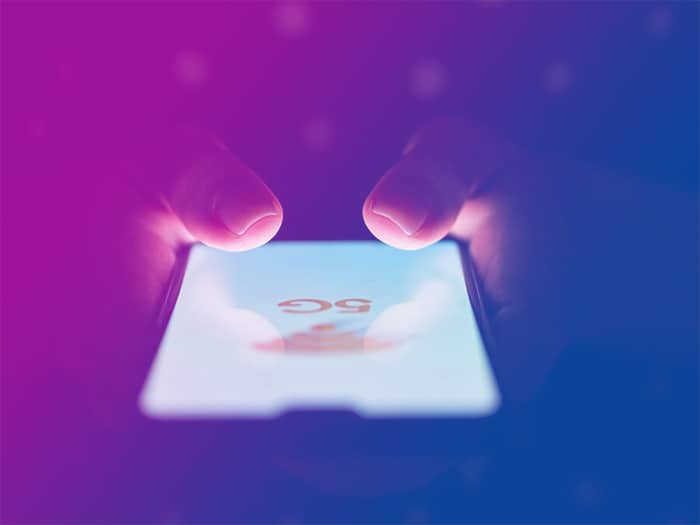 New Delhi/Gurugram, 4th August 2022: According to Cyber Media Research (CMR)'s India Mobile Handset Market Review Report for Q2 2022 released today, one out of every three smartphones shipped in Q2 2022 was a 5G capable smartphone. 5G smartphone shipments grew 7% QoQ and a stupendous 163% YoY in Q2 2022. Samsung led the 5G smartphone segment with a 28% market share, followed by Vivo with a 15% market share.
According to Menka Kumari, Analyst- Industry Intelligence Group, CyberMedia Research (CMR), "Shipments of 5G-capable smartphones has been growing robustly over the last few quarters. With the completion of 5G auctions, and anticipated roll-out of 5G services in India shortly, there will be further momentum in 5G smartphone shipments. During Q2 2022, consumer demand ebbed owing to the overall macro-economic environment. As H2 2022 begins, smartphone brands will focus more on offering lucrative schemes, offers and discounts to clear out their piling inventory."
Smartphone Segment
Despite the spurt of recent crackdowns in India, most of the major Chinese smartphone brands in the top five smartphone leaderboard registered a healthy growth during the quarter, barring the smartphone market leader. Consumer demand continues to remain robust for affordable smartphones from these brands.
Xiaomi (20%), Samsung (18%) and Realme (16%) captured the top three spots in the smartphone leaderboard in Q2 2022 followed by Vivo (15%) and OPPO (10%).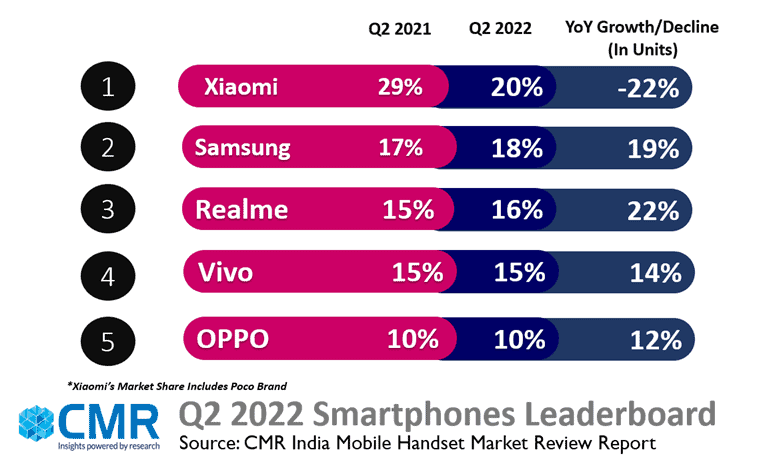 Value for money 5G smartphone shipments (INR 7,000-INR 24,999) grew >160% YoY, whereas overall smartphone shipments in this segment grew 12% YoY. Affordable smartphone shipments (sub-INR 7,000) declined 61% YoY.
Premium smartphones (INR 25,000-INR 50,000) and super premium smartphones (INR 50,000-INR 1,00,000) grew by > 80% and 96% YoY respectively. Consumer appetite in the premium smartphone segment continues to be robust.
Feature Phone Segment
In Q2 2022, the overall feature phone segment declined for the second consecutive quarter, driven by rising inflationary trends. The 2G feature phone grew 4% in YoY and 4G feature phone segment declined 45% YoY respectively.
Q2 2022: Key Smartphone Market Highlights
Xiaomi captured the top spot with 20% market share. Redmi 9A Sport, Redmi 10(2022) and Redmi 10A were the most popular models. Xiaomi's shipments declined 23% YoY owing to tough competition. Its sub-brand Poco recorded a 14% YoY decline in its shipments in Q2 2022.
Samsung was placed second with 18% market share in the smartphone market. Samsung's focus on the value-for-money 5G smartphone segment (INR 7,000-INR 24,999) enabled its market growth. With the upcoming launch of its fourth-generation foldable phones, Samsung will aim to further its leadership in foldable form factor innovation.
Realme was placed third with 16% market share with its shipments growing 22% YoY, the most amongst the top five players. realme C35, realme C11(2021), realme Narzo 50i, and realme C31 and were the most shipped models and accounted for most of Realme's market share.
Vivo garnered 17% market share along with its sub-brand iQOO. The vivo T1, vivo T1 Pro and vivo V23E models accounted for the bulk of its 5G shipments.
OPPO was placed fifth with 10% market share. The OPPO A16e, OPPO A16k and OPPO A55 series were highest shipped models. OPPO captured 5% share in the overall 5G shipments.
OnePlus shipments witnessed 60% YoY growth. The OnePlus Nord series accounted for >90% of OnePlus market share.
Apple topped the super-premium (INR 50,000-1,00,000) segment with 78% market share. The iPhone 12 and iPhone 13 series contributed to a majority of the iPhone shipments during the quarter.
Transsion Group brands (Itel, Infinix and Tecno) overall (smartphone + featurephone) shipments grew 8% YoY. Its smartphone shipments grew 5% YoY. Infinix shipments increased by a whopping 31%.
Future Market Outlook
CMR estimates the overall smartphone shipments topping the 174Mn mark in CY2022.
"We anticipate H2 2022 to potentially see some easing of supply-side constraints in the run-up to the festive season. With major smartphone brands lining-up their flagship launches in H2 2022, consumer demand in the premium smartphone segment will continue to remain robust with strong consumer appetite to switch and upgrade," added Amit Sharma, Analyst – Industry Intelligence Group (IIG), CyberMedia Research (CMR).
– ENDS –
About CyberMedia Research and Services Ltd
CMR offers industry intelligence, consulting and marketing services, including but not limited to market tracking, market sizing, stakeholder satisfaction, analytics and opportunity assessment studies.
A part of CyberMedia, South Asia's largest specialty media and media services group, CyberMedia Research (CMR) has been a front-runner in market research, consulting and advisory services since 1986. CMR is an institutional member of Market Research Society of India (MRSI).
For queries, please contact releases@cmrindia.com